Studiocanal have announced the UK Blu-ray premiere of Hayao Miyazaki's best loved work – Spirited Away [Sen to Chihiro no Kamikakushi], to be released in November. Arriving in a single edition with full extras, the release will also be included in The Hayao Miyazaki Collection – a complete Blu-ray set of all Hayao Miyazaki directed films at Studio Ghibli to be released in December 2014 (more this nearer the release date).
To choose a highlight from amongst the work of a filmmaker as lauded as the co-founder of Studio Ghibli, Hayao Miyazaki, seems an almost impossible task, but such is the strength of and love for his 2001 feature Spitited Away, that it regularly tops critic and fan polls as the most accomplished and well rounded not only of his films but of animate features the World over. It is a film of startling originality, imagination, intelligence and emotion.
he Inspiration for the story came from the 10-year old daughter of one of Miuyazaki's own friends. Having previously directed films such as My Neighbour Totoro and Kiki's Delivery Service for very small children and teenagers he realised he had never created a work with 10-year olds in mind and decided to create a heroine he felt they could look up to, instead of the romance-obsessed characters in Manga magazines aimed at them. To that end he crafted in Spirited Away one of the most compelling coming-of-age stories ever committed to animation, before or since. Packing in a multitude of themes beneath the beautiful simplicity of the story that run from the psychological to the sociological, Miyazaki tackles environmentalism and ecological awareness, consumerism and the anxieties of growing up and finding your own identity.
It follows stubborn 10-year old girl, Chihiro, who comes upon the entrance to a strange ghost world. Once inside, her parents having been turned into swine for unwittingly eating the food of the spirits without permission, she finds herself frightened and utterly alone. To survive she's forced to take a job in a magnificent bath house, whose proprietor is a wicked sorceress named Yoruba, and whose patrons are gods, demons and nature spirits. Rife with familiar influences from Lewis Carroll's Alice In Wonderland to Japanese folklore and legend, Spirited Away was a phenomenon on release, swiftly overtaking Titanic to become Japan's highest grossing film of all time and going on to become the first anime to ever win the Academy Award for Best Animated Feature, capping a string of accolades including The Golden Bear at Berlin Film Festival.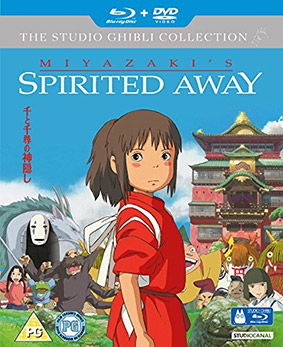 Spirited Away will be released on UK Blu-ray on 24th November 2014 by Studiocanal at the RRP of £24.99.
Extra features will include:
Alternative angle storyboards

The Making of Spirited Away featurette

Original Japanese trailers

Introduction by John Lasseter

Behind The Microphone voice talent featurette

Meet Hayao Miyazaki