UK home entertainment distributor Simply Media have announced the DVD release of three titles from the BBC's back catalogue: Common as Muck, Series 2, Vanity Fair and Nice Work. All three titles will be released on 24th November 2014. We do not have a reccomended retail price for any of these titles yet, nor details of any possible extra features.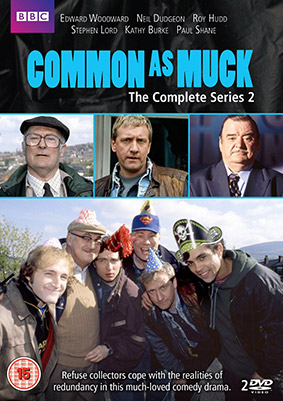 Common as Muck, Series 2 (1997)
Nev (Edward Woodward) and the lads are back in another series of William Ivory's award-winning bittersweet comedy drama. This second series takes a new direction, with the story moving on into a brave new world. The men face the harsh realities of privatization and redundancy, which stretches friendships to a breaking point, lays loyalties on the line and raises the spectres of suspicion, betrayal and double-dealing. New characters join the cast, played by Frank Finlay, Paul Shane and June Whitfield, with James Nesbitt as a parish priest.
William Ivory, like Jack Rosenthal, is known for creating popular drama with a comic touch. He combines comedy, tragedy and emotional intensity, creating multi-layered characters who, in Edward Woodward's phrase, are "all heroes in a way, and all bastards; there's astonishing range in every one". This range makes Ivory one of contemporary television's most celebrated writers. His other credits include Truckers, Made in Dagenham, Women in Love, The Sins and Minder.
His much-loved BBC series, Common as Muck is a cross between comedy and drama. It can't be described as a sitcom with each episode 50 minutes long, but the humour is sharp and always packs a punch. In the style of Auf Wiedersehen Pet and Boys from the Black Stuff, the series features a motley crew of characters, led by a strong-willed maverick. Filmed around Manchester, the series boasts an ensemble cast of the most popular actors of the time including Edward Woodward, Neil Dudgeon et al.
Series Two, first broadcast in 1997, is about adapting to change: different jobs and changing styles, including a bittersweet pensioner love story. Frank Finlay, June Whitfield, Paul Shane and James Nesbitt joining the cast.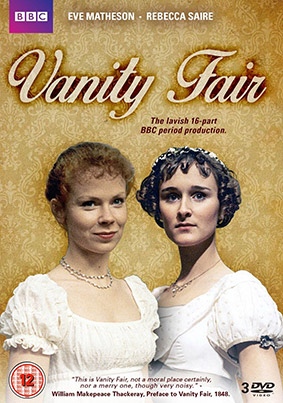 Vanity Fair (1987)
Eve Matheson and Rebecca Saire lead the cast in this 16-part adaptation of William Makepeace Thackeray's classic, filmed entirely at the Pebble Mill Studios.
Set in the Napoleonic Wars, Vanity Fair is a rich and resplendent satire of English society in which according to Thackeray, there is "great quantity of eating and drinking, making love and jilting, laughing and the contrary, smoking, cheating, fighting, dancing and fiddling".
Becky (Eve Matheson), the penniless, orphaned daughter of an artist and a French opera dancer, and Amelia Sedley (Rebecca Saire), the sheltered child of a rich City Merchant are unlikely, but firm friends. From the drawing rooms of Regency London to the fields of Waterloo, Vanity Fair tells their story. Becky, an irrepressible schemer – one of the most seductive social climbers of all time – will stop at nothing to get what she wants. While her friend, the meek and mild Amelia, pursues the opposite course. In the end both girls get what they want but not quite in the way they planned.
Jack Klaff stars as the red blooded Rawdon Crawley, Benedict Taylor as the dashing young officer, George Osborne, James Saxon as Amelia's brother, Jos, Simon Dormandy as Osborne's loyal friend, Dobbin, and Freddie Jones as the lecherous Sir Pitt Crawley.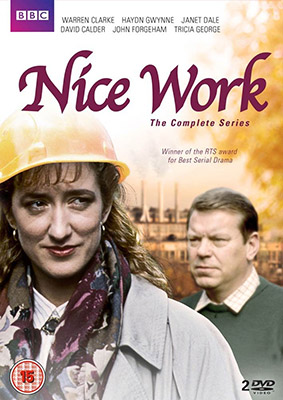 Nice Work (1989)
It's 1986 and Industry Year, which is great news for manufacturing in Rummidge, an unlovely sprawling city in the heart of the Midlands, raked by motorways. Thatcherism is working and the recession is levelling out. Suffering from the last round of cuts in funding, the University is desperate to cast off its ivory-tower image.
Its first effort towards achieving this is entering the 'Industry Year Shadow Scheme'. Robyn Penrose (Haydn Gwynne) is chosen as the University's representative. She's a young, idealistic lecturer in English Literature and an expert on the Victorian industrial novel. Straight from school into academia, she's never set foot in a factory. Now she finds herself shadow to Vic Wilcox (Warren Clarke), the middle-aged, self-made managing director of a Rummidge engineering firm. The thought of following his every move for one day a week for the next six months is totally unappealing to Robyn. And Vic, for his part, is equally hostile. But over time, they both find themselves drawn to each other...
Written and adapted by David Lodge, whose bestselling novel won the Sunday Express Book of the Year Award and was shortlisted for the Booker Prize.
Described by the Observer when the culture clash series was first broadcast on the BBC in October, 1989 as 'A work of immense intelligence, informative, disturbing and diverting', the story is set in the fictional town of Rummidge, a grey and dismal fictional representation Birmingham; many of the scenes were filmed on location at the University of Birmingham.