Arrow Films, the distributors of The Hunt, A Hijacking and Love Is All You Need, are pleased to announce the release of the German celebrated classic war movie, Stalingrad, which will be available on demand & digital and on Blu-ray & DVD in November. This release will mark the first time that Stalingrad has been made available on Blu-ray in the UK.
In the spring of 1942 German troops advance deep into the Soviet Union, en route to Stalingrad. Hitler, seriously misjudging the tenacity of the Red Army, is convinced that the city can be conquered before winter. Inadequately clothed and without sufficient food, the Nazi troops literally freeze and starve to death, largely abandoned by their leaders. For the soldiers Fritz, Hans, Rollo and GeGe the struggle for life has just begun. Gunfire and bombs are only one part of this hell; most of the soldiers will lose the battle against hunger and cold.
The film presents this turning point in World War II as a vast tableau of horror in which the average German soldier was as much a victim of Nazi evil as were the Soviet people.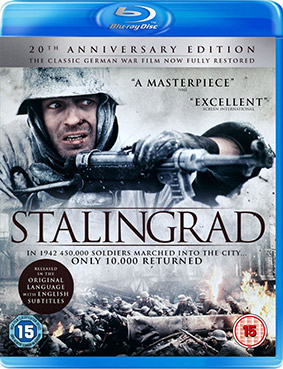 Described by The Onion AV Club as "one of the best anti-war films ever" and The San Francisco Chronicle as "stunning and depressing", Stalingrad will be released on UK DVD, Blu-ray and digital download on 3rd November 2014 by Arrow Films at the RRP of £12.99 for the DVD and £15.99 for the Blu-ray. The film will also be available to rent on-demand.
No extra features have been listed, but the film has apparently been restored and is being released with the original German language track with English subtitles. Anyone who heard the previous English dub will doubtless be breathing a sigh of relief.