Lars von Trier's extraordinary Breaking the Waves is of those films whose fame assures that the press release arrives with only a whisper of a description of the plot and next to nothing about its celebrated director. Actually, that's not true – if it were being released by Arrow, we'd have a sizeable essay about both to reproduce here, but Artificial Eye are not so forthcoming, but they provide a tad more on their web site when describing their previous DVD release of the film.
Bess McNeill (Emily Watson) lives a calm and quaint Christian life amongst the Scottish Highlands. Despite the unease of her local community and church, she marries the love of her life, a Norwegian oilrig worker, Jan (Stellan Skarsgård), who is often away working for long periods of time. Lonely and besotted, Bess prays for his quick return. It's a wish that is granted when an accident occurs on the rig paralysing Jan. He is flown back to the Scottish mainland, and determined that Bess should continue to enjoy all aspects of married life, encourages her to take a lover, a decision that has ultimately tragic consequences.
A moving and uplifting but brutal assessment of love, faith, social pressure and human dignity, Breaking the Waves earned an Academy Award nomination for Emily Watson in her breakthrough role and demonstrated to the world the power of Lars von Trier's filmmaking ability.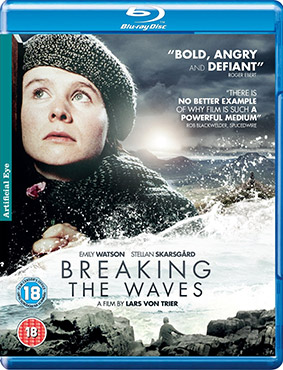 Breaking the Waves will be released on UK DVD and make its UK Blu-ray debut on 10th November 2014 from Artificial Eye at the RRP of £15.99 for the DVD and £19.99 for the Blu-ray.
Special features will include:
Selected commentary with Lars von Trier and editor Anders Refn, interviewed by Anthony Dod Mantle (44:42)
Trailers

Excerpts from the documentary Tranceformer - A Film about Lars von Trier (17:27)

Interview with Adrian Rawlins (2:09)

Casting of Emily Watson (with optional commentary) (2:05)

In Memomory of Katrin Cartlidge (Deleted scene) (1:11)

Lars von Trier promo clip – made for the Cannes Festival 1996 (0:15)

2 deleted scenes (with optional commentary) (3:34 / 2:53)

2 extended scenes (with optional commentary) (3:18 / 1:32)