Acclaimed director Ari Folman continues to develop the stunning and distinctive animation he brought to the award-winning Waltx With Bashir by fusing it with live action for his latest work, The Congress. Loosely adapted from Stanislaw Lem's novel The Futurological Congress, The Congress is both a sly science fiction satire of the film industry and a mind-bending look at a dark, dystopian future where life is more imagined than lived.
More than two decades after catapulting to stardom, aging actress Robin Wright (playing a version of herself) decides to preserve her digital likeness for a future Hollywood. Her alias will be controlled by Miramount Studios, and will star in any film they want with no restrictions. In return she receives compensation so she can care for her ailing son, and her digitized character will stay forever young, but she must agree to never act or perform again. Twenty years later under the creative vision of the studio's head animator, Wright's digital double rises to immortal stardom. With her contract expiring, she is invited to take part in "The Congress" convention as she makes her comeback straight into the world of future fantasy cinema, a world where movie stars license their essence to studios and audiences abandon cinema in favour of chemical cocktails that allow them to experience life as a celebrity of their choice.
Robin Wright gives what was described by Sight & Sound as a "career best performance" as an actress struggling against pressure from an Industry obsessed only with youth, losing control of her own life and likeness in the process. The Congress co-stars Harvey Keitel, Danny Huston, Jon Hamm and Kodi Smit-McPhee.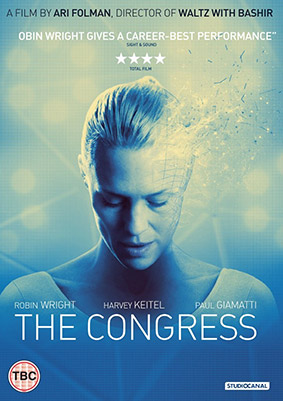 Described as "Weird and wonderful" by Total Film, The Congress will be released on UK DVD and Blu-ray on 8th December 2014 by Studiocanal at the RRP of £17.99 for the DVD and £22.99 for the Blu-ray.
Extra features on both discs include: