The BFI's final DVD release this year as part of Sci-Fi: Days of Fear and Wonder is Out of This World – Little Lost Robot, which will be released on 24th November 2014 alongside Out of the Unknown. This long-awaited DVD presents the only surviving episode of the legendary ABC science fiction series, an adaptation of the Isaac Asimov story. Extra features include an audio commentary and audio recordings of two otherwise lost episodes.
Designed as an offshoot of the legendary Armchair Theatre, Out of This World was devised by television colossus Sydney Newman (Doctor Who, The Avengers) and Irene Shubik (Out of the Unknown, The Wednesday Play, Rumpole of the Bailey) in 1962.
An anthology series, produced by Leonard White, it dramatised the cream of literary science fiction, from such writers as Isaac Asimov, Clifford Simak and Philip K Dick, using the considerable scriptwriting talents of Clive Exton, Leon Griffiths and Terry Nation. The show was a tremendous success, paving the way for Irene Shubik's later classic series Out of the Unknown (also released on DVD by the BFI on the 24 November). Hosted by veteran actor Boris Karloff, the series presented science fiction at its intelligent best. Each episode explored every aspect of the genre – from satire to suspense, from tense drama to sparkling comedy, with the greatest flair and invention that Sixties television could provide.
Also included in this release are a newly recorded audio commentary with producer Leonard White, an alternative presentation of Little Lost Robot which has undergone the VidFIRE process to recover the 'studio' look of the original broadcast version and audio recordings of two otherwise lost episodes – Impostor By Philip K Dick, dramatised by Terry Nation who devised the Daleks for Doctor Who the following year, and Cold Equations, Tom Godwin's suspenseful tale featuring a very young Jane Asher, the impeccable Peter Wyngarde and a screenplay by Clive Exton. Exton's script for John Wyndhams' lost episode Dumb Martian, which heralded the series, is also included to download on PDF.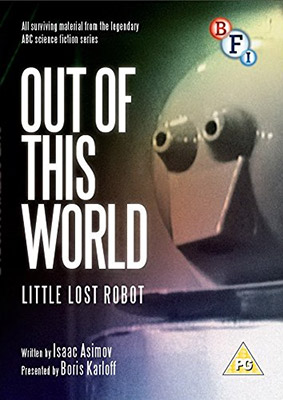 Out of This World – Little Lost Robot will be released on UK DVD on 24th November 2014 by the BFI at the RRP of £19.99.
Featuring a digitally remastered and alternative VidFIRE presentations of Little Lost Robot, the disc will have the following extras:
Audio commentary with Leonard White and Mark Ward, moderated by actor-comedian Toby Hadoke

Cold Equations (Paul Bernard, 1962, audio only): adaptation of a short story by Tom Godwin

Impostor (Peter Hammond, 1962, audio only): Terry Nation's adaptation of a Philip K Dick story

Dumb Martian (1962): downloadable PDF of the script for this lost episode, adapted from a story by John Wyndham

Illustrated booklet with essays by Oliver Wake and Simon Coward, and full credits