Network Distributing has announced the titles set for release within its 'The British Film' collection for January – March 2015.
Highlights include three films available on Blu-ray from Alfred Hitchcock in January – The Man Who Knew Too Much, The Lady Vanishes and Young And Innocent; two features from Michael Winner – The Nightcomers starring Marlon Brando, and his early feature West 11, with an outstanding performance from Diana Dors; the third instalment of British Musicals Of The 1930s; and two Blu-rays featuring original scores from Oscar-winning composer John Barry – Raise The Titanic and The Tamarind Seed.
Each feature once again benefits from a new transfer, an instant play facility and will be presented in special slim-line space-saving packaging.
More details on each title will be confirmed nearer the individual release dates.

12th January 2015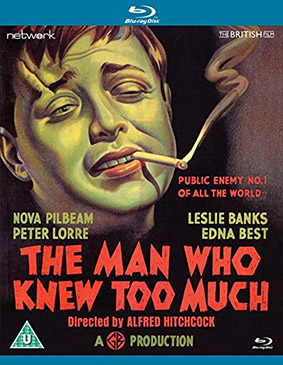 The Man Who Knew Too Much – Blu-ray £14.99
Classic suspense thriller directed by Alfred Hitchcock about a family who are accidentally caught up in a murder whilst holidaying in Switzerland.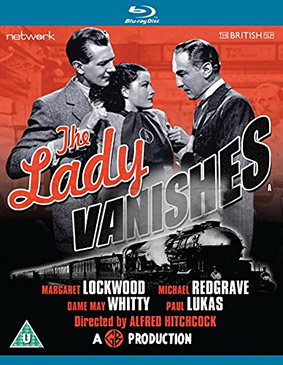 The Lady Vanishes – Blu-ray £14.99
Comedy thriller from 1938 directed by Alfred Hitchcock about a young woman who strikes up an acquaintance with an elderly English governess, who then disappears without a trace.
A Nice Girl Like Me – DVD £9.99
Romantic drama from award-winning director Desmond Davis (Clash Of The Titans, Girl With Green Eyes), about an unworldly schoolgirl who travels the world.
You Can't Escape – DVD £9.99
Crime drama starring Robert Urquhart (The Curse Of Frankenstein, Dunkirk), Guy Rolfe (Dolls, Yesterday's Enemy) and BAFTA-nominee Noelle Middleton (Court Martial, The Iron Petticoat), about a novelist who accidentally kills his former mistress.
Fascination – DVD £9.99
Early talkie from 1931 about a wronged wife who discovers her husband's dalliance, starring Madeleine Carroll who went on to become Hitchcock's ice blonde in The 39 Steps.
British Musicals Of The 1930s Volume 3 – DVD £14.99
Third volume of the highly successful British Musicals series, which includes For The Love Of Mike, Facing The Music: Stanley Lupino, My Song Goes Round The World and Heart's Desire.
19th January 2015
The Stolen Assignment – DVD £9.99
Crime thriller directed by Hammer stalwart Terence Fisher (Horror Of Dracula, The Curse Of Frankenstein) about two reporters on the case of a suspected murder.
The Intruder – DVD £9.99
Drama from Bond director Guy Hamilton (Goldfinger), about a retired colonel who tried to help an old comrade turn his life around.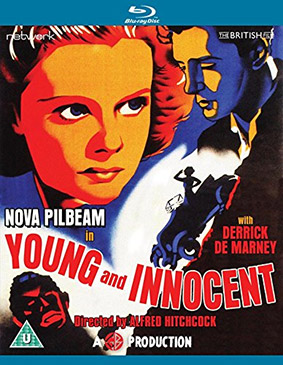 Young And Innocent – Blu-ray £14.99
One of Hitchcock's most significant pre-war thrillers, this classic man-on-the-run story stars Derrick De Marney (Things To Come, Harpers West One) and Nova Pilbeam (The Man Who Knew Too Much).
The Flying Scot – DVD £9.99
A tense crime thriller set on the famous train starring Lee Patterson (One Life To Live, Reach For The Sky) and Kay Callard (Knight Errant Limited, They Who Dare).
Our Man In Marrakesh – DVD £9.99
A traveller journeying through Morocco finds himself enmeshed in a web of suspicion and counter-espionage in this spy thriller with a difference.
26th January 2015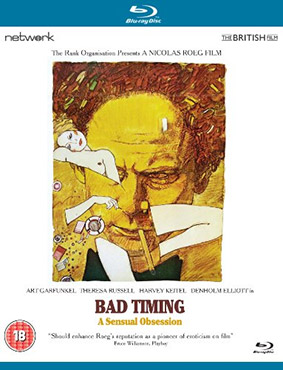 Bad Timing – Blu-ray £14.99
Starring Theresa Russell (The Believer, Kafka) and Art Garfunkel of Simon and Garfunkel fame, as a young American couple in a volatile relationship in late 70s Vienna.
Biddy – DVD £9.99
Starring Celia Bannerman (The Land Girls, The Tamarind Seed) as a nursery maid in Victorian England, the film follows the powerful relationships between Biddy and the young children put in her gentle care.
Golden Ivory – DVD £9.99
This safari adventure depicts the many dangers faced by a group of British settlers in East Africa during the last decade of the 19th century. Starring Robert Urquhart (You Can't Escape) and John Bentley (The Stolen Assignment).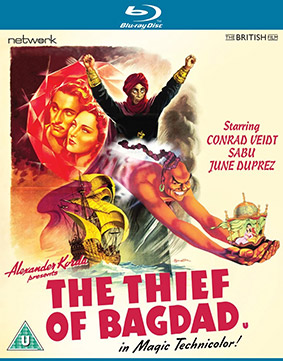 The Thief Of Bagdad – Blu-ray £14.99
Multiple Oscar-winning film of the classic story starring Conrad Veidt (Casablanca, The Spy In Black), Sabu (Jungle Book, Black Narcissus) and June Duprez (The Four Feathers, None But The Lonely Heart).
Baby Love – DVD £9.99
Rare and controversial film starring Linda Hayden (The Blood On Satan's Claw, Taste The Blood Of Dracula) as an emotionally deprived, sexually provocative teenage girl.
Intimate Relations – DVD £9.99
A married couple enjoy dalliances outside their relationship in this romantic comedy with a twist. Starring June Clyde (Make-Up) and Moore Marriot (Oh Mr Porter, Cheer Boys Cheer).
Into The Blue – DVD £9.99
A mysterious stowaway opens the door to adventure for two unsuspecting holidaymakers in this comedy feature from Herbert Wilcox (Odette, Irene).
2nd February 2015
A Man About The House – DVD £9.99, Blu-ray £14.99
Two sisters inherit a Neapolitan villa and move to Italy in order to sell the property, but the handsome and charismatic caretaker has other ideas.
Someone At The Door – DVD £9.99
Comedy directed by Oscar-nominated Herbert Brenon (Sorrell and Son, Beau Geste) about a journalist who looks to make his first big scoop; by making his sister disappear and he'll be arrested for her murder.
A Political Party – DVD £9.99
Comedy icon Leslie Fuller (Pride Of The Force, Why Sailors Leave Home) stars in this comedy about a chimney sweep who stands for Parliament.
Walk A Tightrope – DVD £9.99
Tense crime drama starring Patricia Owens (The Fly, Sayonara) as a happily married woman who confesses to her husband she's being followed.
My Irish Molly – DVD £9.99
Musical about a young girl left in the clutches of her cruel guardian aunt after her parents die in an accident.
9th February 2015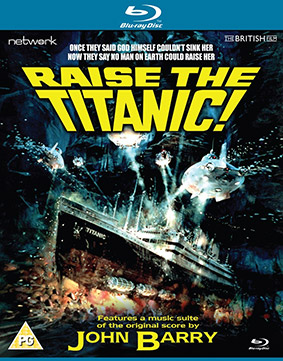 Raise The Titanic – DVD £9.99, Blu-ray £14.99
With a beautiful score by John Barry, two time Oscar-winner Jason Robards (Once Upon A Time In The West, Philadelphia), Alec Guinness (Lawrence Of Arabia, The Bridge On The River Kwai) and Richard Jordan (Dune, Logan's Run) star in this 1980 adaptation of Clive Cussler's book.
The Tamarind Seed – DVD £9.99, Blu-ray £14.99
Bafta-nominated romantic drama set against the backdrop of Cold War paranoia, Julie Andrews (Mary Poppins, The Sound Of Music) and Omar Sharif (Lawrence Of Arabia, Doctor Zhivago) star in this acclaimed feature, with an original score by John Barry.
16th February 2015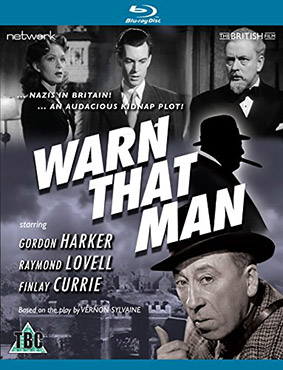 Warn That Man – DVD £9.99, Blu-ray £14.99
An intriguing war-time thriller based on the hit stage play. At the height of World War II, the Germans discover that Winston Churchill is to stay at the country house of Lord Buckley and plot to kidnap.
Silent Dust – DVD £9.99
Emotional post-war drama starring Stephen Murray (The Magnet, The Door In The Wall) as Sir Robert, who loses his sense of perspective when his son is killed on active service.
We Joined The Navy – DVD £9.99
Hilarious nautical comedy following the adventures of Lt Commander "Bodger" Badger, RN – a bumbling Dartmouth Naval College cadet leader.
Night Birds – DVD £9.99
The exploits of "Flash Jack" – a criminal gang leader who preys on the rich and is at large in London.
The Good Beginning – DVD £9.99
Newlyweds Jonny and Kit move into their first home together and she hopes she'll help with the running of his business, but a lack of understanding causes problems.
23rd February 2015
West 11 – DVD £9.99
Gritty crime drama from Michael Winner (Death Wish, The Sentinel) about the son of middle-class parents who decides he needs a violent shock to shake him out of his rut and accepts the mission of murdering a total stranger.
The Nightcomers – DVD £9.99, Blu-ray £14.99
Starring Marlon Brando (The Godfather) alongside Stephanie Beacham (Horror Planet, Marked Personal) in this atmospheric, sexually charged feature by Michael Winner. Following the deaths of Flora and Miles' parents they are left in the care of a repressed governess and a malevolent Irish servant.
Assassin For Hire – DVD £9.99
Crime thriller from cult studio Merton Park starring Sydney Tafler (The Spy Who Loved Me, Alfie) as a hired killer who uses the proceeds to support his family.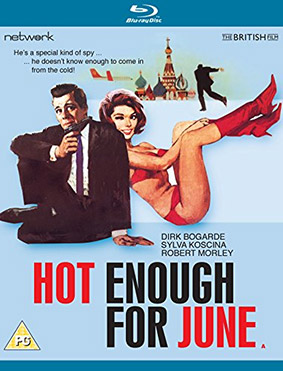 Hot Enough For June – Blu-ray £14.99
Dirk Bogarde (Death In Venice, The Servant) stars in this 1960s spy comedy about an out of work author who accepts an all-expenses-paid business trip behind the Iron Curtain.
Manuela – DVD £9.99
Bafta-nominated drama from future Bond director Guy Hamilton about the growing relationship between the skipper of a ship and a beautiful Spanish stowaway.
Circle Of Danger – DVD £9.99
Oscar-winner Ray Milland (Dial M For Murder, The Lost Weekend) stars as Clay Douglas, a man who arrives in London to investigate the mysterious death of his Commando brother.
2nd March 2015
Waterfront – DVD £9.99, Blu-ray £14.99
Starring Richard Burton (Where Eagles Dare, Who's Afraid Of Virginia Woolf?) in a performance from his early career, he stars as Peter McCabe, a man who walks out on his wife and 14 years later returns, sacked and humiliated.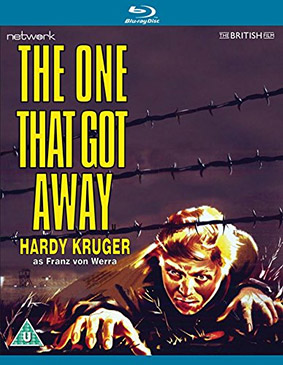 The One That Got Away – Blu-ray £14.99
True story about the only German POW who managed to escape back to Germany.
Pacific Destiny – DVD £9.99
Drama from 1956 starring Oscar-nominee Denholm Elliot (Trading Places, A Room With A View) as a Colonial Service cadet who is stationed on a remote Pacific island with his wife.
9th March 2015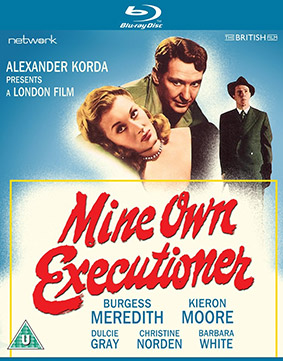 Mine Own Executioner – DVD £9.99, Blu-ray £14.99
Double Oscar-nominee Burgess Meredith (A Rooms With A View, Rocky) stars as the wife of a POW in this psychological drama set in post-war London.
My Brother Jonathan – DVD £9.99
A major box-office success in 1948, husband and wife Michael Denison (Shadowlands, The Importance Of Being Earnest) and Dulcie Gray (Howards' Way, Mine Own Executioner) star in this drama about a medical student with ambitions to become a surgeon, but has to lower his sights to GP on the death of his father.
Captain Bill – DVD £9.99
Comedy starring Leslie Fuller (Boys Will Be Girls, The Doctor's Secret) as a luckless bargee who unwittingly gets himself involved with a gang of gun-runners.
Little Red Monkey – DVD £9.99
Cold War thriller starring Richard Conte (The Godfather, Ocean's Eleven) alongside Russell Napier (A Night To Remember, Twisted Nerve) in another cult film from Merton Park Studios.
16th March 2015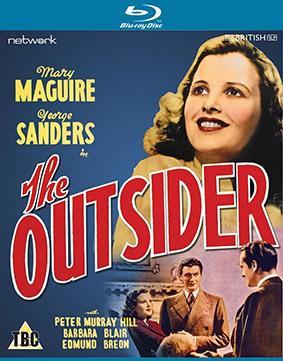 The Outsider – DVD £9.99, Blu-ray £14.99
Emotional medical drama starring Oscar-winner George Sanders (Rebecca, All About Eve) and Mary Maguire (Mysterious Mr. Moto) as a young disabled woman who is so desperate for a cure she resorts to unorthodox measures.
The March Hare – DVD £9.99
Comedy co-written by Oscar-nominated writer Gordon Wellesley (Night Train To Munich). Sir Charles Hare gambles his all on one of his horses at Ascot, and loses! He's forced to sell his estate, but his aunt secretly buys a promising foal to raise.
No Trees In The Street – DVD £9.99
Hard-hitting drama set in the pre-war London slums following the life of Hetty, who is trapped in a squalid existence and tries to escape the clutches of her horrible mother and would-be gangster brother.
Guilt Is My Shadow – DVD £9.99
Elizabeth Sellars (The Shiralee, The Barefoot Contessa) stars as a woman tormented by her own conscience in this haunting, atmospheric crime thriller.
23rd March 2015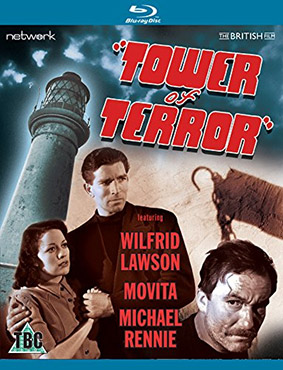 The Tower Of Terror – DVD £9.99, Blu-ray £14.99
Wartime drama about a death camp escapee on the run from the Nazis, who seeks refuge in a lighthouse manned by a half-mad keeper and an undercover spy.
She'll Have To Go – DVD £9.99
Starring Bob Monkhouse, Alfred Marks (Alfred Marks Time, Valentino) and Hattie Jacques (Sykes, Carry On Cabby) in this 1960s comedy farce about two impoverished brothers who plan to get their hands on their cousin's inheritance.