Network Distributing has today announced it will release the long-awaited Space: 1999 - The Complete Second Series, digitally restored in High Definition, on Blu-ray and DVD in Autumn 2015.
As the countdown to series 2 begins, a special edition Blu-ray release of Space: 1999 – The Bringers Of Wonder, which features two key episodes from the second series, will be available exclusively through networkonair.com on 8th December 2014 (pre-buy available now), RRP £13 and limited to just 1,999 copies.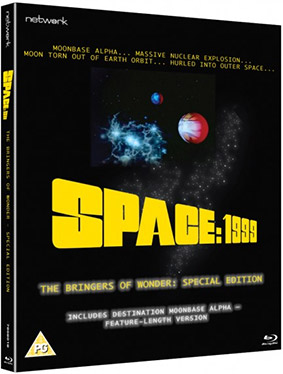 Each Blu-ray is presented in an exclusive digipack and will include both episodes of The Bringers Of Wonder and the feature-length version of Destination Moonbase-Alpha, compiled from these two episodes, all in HD.
When a Superswift spaceship crewed by friends and relatives from Earth arrives on Moonbase Alpha, it looks as if rescue is finally within the Alphans' grasp. Only one man – Commander John Koenig – sees the visitors for what they really are: hideous jelloid creatures who thrive on radiation. With the rest of Alpha under the aliens' spell, Koenig must prevent them from completing their mission to detonate the moon's nuclear waste dumps.
Networkonair.com will also hold a competition for all customers who order Space: 1999 – The Bringers Of Wonder before 8th December. These customers will automatically be entered into a draw to win one of three copies of Space: 1999 – The Complete Second Series. Three order numbers will be drawn at random soon after 8 December, when the Moonbase Alpha computer will display the winning numbers.
Space: 1999 – The Complete First Series is available on Blu-ray and DVD.