In the span of just a few hours, the city of Silverton, Oklahoma is ravaged by an unprecedented onslaught of the most furious twisters they've ever seen. The entire town is at the mercy of the erratic and deadly cyclones, even as storm trackers predict the worst is yet to come. Most people seek shelter, while others run toward the vortex, testing how far a storm chaser will go for that once-in-a-lifetime shot.
Directed by Steven Quale (Final Destination 5 – yep, there really were that many), Into the Storm stars Richard Armitage (The Hobbit: An Unexpected Journey, The Hobbit: The Desolation of Smaug) as single father Greg; Sarah Wayne Callies (The Walking Dead, Prison Break) is meteorologist Allison; Matt Walsh (Ted, The Hangover) is filmmaker and storm chaser Pete; Alycia Debnam-Carey (The Devil's Hand, Dream Life) is high school student Kaitlin; Arlen Escarpeta (Final Destination 5, Star Trek Into Darkness) is skilled camera operator, Daryl; Max Deacon (Hatfields & McCoys, Summer in February) is Gary's teenage son Donnie; Nathan Kress (iCarly, Chicken Little) is Gary's other son Trey; and Jeremy Sumpter (Friday Night Lights, Excision) is Jacob, also a camera operator.
Told through the eyes and lenses of professional storm chasers, thrill-seeking amateurs, and courageous townspeople, Into the Storm throws you directly into the eye of the storm.
As someone who in another life would probably have been a storm chaser, I'd love to tell you that Into the Storm, which was described by Games Radar as "a found-footage Twister," has built a reputation as the definitive tornado movie, but advanced word is not quite so encouraging. JoBlo said that "It's like a splendid 30-minute VFX reel persistently interrupted by a bad acting troupe," while CineVue suggested that "when you're pining for Bill Paxton and the relative emotional realism of Twister, you know you're in trouble." The effects, however, are supposed to be quite something, though personally I'd be surprised if they weren't.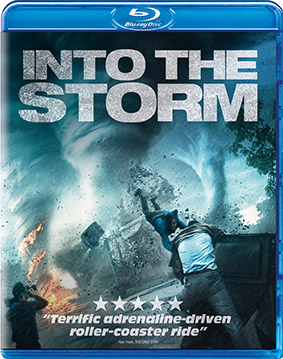 Either way, if teens chasing storms is your thing then Into the Storm lands on UK Blu-ray and DVD on 15th December 2014 from Warner Borothers at the RRP of £25.99 (how much?) for the Blu-ray and £20.99 for the DVD. It will also be released on Digital HD on 13th December 2014, hopefully for a bit less.
The Blu-ray extra features are:
Into the Storm: Tornado Files
Titus: The Ultimate Chasing Vehicle
Fake Storms: Real Conditions
Extras on the DVD are limited to:
Fake Storms: Real Conditions