In 1984, a conservative government under Prime Minister Margaret Thatcher declared war on the unions, taking on the strongest in the country the National Union of Mineworkers. Following a secret plan, the government began announcing the closure of coal mines, threatening not just an industry but whole communities and a way of life.
Thirty years on, this is the raw first-hand experience of those who lived through the UK's longest strike. Using interviews and a wealth of rare and never before seen archive, Still the Enemy Within draws together personal experiences whether they're tragic, funny or terrifying to take the audience on an emotionally powerful journey through the dramatic events of that year.
Directed by Owen Gower, Still the Enemy Within was described by Trainspotting author Irvine Welsh as "an amazing film, an emotional, harrowing critique of those who run the UK," while journalist John Pilger said of it, "It moved and inspired me. Everyone – not only in Britain – should see this superb film." We were equally enthusiastic, as it happens, and you can read our review here.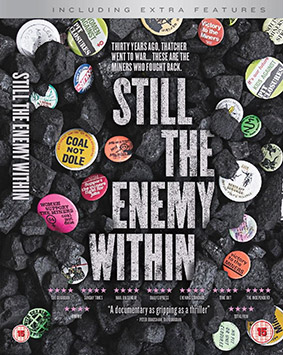 Still the Enemy Within will be released on UK DVD on 8th December 2014 from Lace DVD at the RRP of £14.99.
The following special features will be included:
Two featurettes: The Musicians Within and The Producers Within

One extra scene: A Christmas like never before

Director/producer commentary

Dancing in Dulais: The Real Story Behind Pride

Trailer

Highlights of London premiere

Ridley Report
You can pre-order the disc directly from the film's official web site at:
http://the-enemy-within.org.uk/product/pre-order-the-dvd/