Arrow Films, the distributors of The Hunt, A Hijacking and Love Is All You Need, have announced the home entertainment release of God's Pocket, available on demand & digital and on Blu-ray & DVD from 26th December 2014.
When Mickey's crazy stepson Leon is killed in a construction 'accident', nobody in the working class neighbourhood of God's Pocket is sorry he's gone. Mickey tries to bury the bad news with the body, but when the boy's mother demands the truth, and a local reporter starts sniffing around, Mickey finds himself stuck in a darkly comedic life and death struggle. A body he can't bury, a wife he can't please and a debt he can't pay.
Based on the novel by award winning author Pete Dexter (The Paperboy, Mulholland Falls), 1970's set God's Pocket is a chilling and gritty dark comedy starring Philip Seymour Hoffman (one of whose last films this was) and an eclectic ensemble cast including Richard Jenkins (Jack Reacher, The Visitor), Christina Hendricks (Mad Men, Drive), John Turturro (Barton Fink, Fading Gigolo), Eddie Marsan (Filth, Tyrannosaur) and Caleb Landry Jones (Antiviral, X Men: First Class).
Nominated for the Grand Jury Prize at Sundance Film Festival 2014, God's Pocket marks the feature film directirial debut of acclaimed actor John Slattery (Mad Men, The Adjustment Bureau).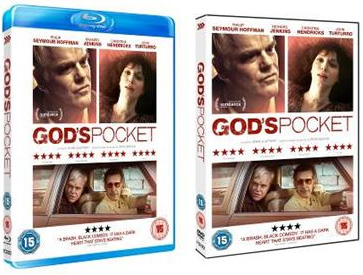 God's Pocket wil be released on UK Blu-ray and DVD on 26th December 2014 by Arrow Films at the RRP of £17.99 for the Blu-ray and £15.99 for the DVD.
No extra features have been listed.