Introverted and hard-working snow plow driver Nils (Lars von Trier regular Stellan Skarsgård) has just been named citizen of the year, when he receives news that his son has died of a heroin overdose. Disbelieving the official report, Nils soon uncovers evidence of the young man's murder – a victim in a turf war between the local crime boss, known as 'The Count', and his Serbian rivals. Armed with heavy machinery and a good dose of beginner's luck, Nils embarks upon a quest for revenge that soon escalates into a full-blown underworld gang war, with the body count spiraling ever higher and higher.
Described by Shortlist as "The Norwegian Taken," In Order of Disappearance [Kraftidioten] is nowhere near as po-faced as that description makes its sound. Indeed, its virtues are nicely outlined in a review from Screenjabber that says of it: "If you've ever wondered what would happen if Quentin Tarantino and the Coen Brothers teamed up to make a Norwegian film, then this is probably the closest you're going to get. In Order of Disappearance is a genuinely hilarious and blood-splattered action comedy that is well-crafted in every sense of the word."
Directed by Hans Petter Moland (The Beautiful Country, A Somewhat Gentle Man), the film also stars Birgitte Hjort Sørensen (Borgen, At the World's End), Kristofer Hivju (After Earth, Game of Thrones), Tobias Santelmann (Kon-Tiki, Hercules), Jakob Oftebro (Kon-Tiki, Lillyhammer) and the great Bruno Ganz (Downfall, Wings of Desire).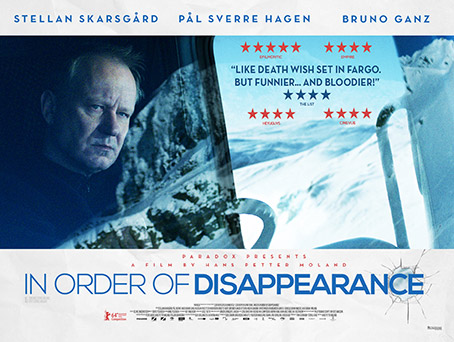 In Order of Disappearance will be released on UK DVD on 2nd February 2015 by Metrodome Distribution at the RRP of £14.99.
As often with Metrodome discs, there are no extra features listed. At least we have a trailer.