Set amid the magnificent scenery of the Kenyan bush, this safari adventure from 1954 starring Robert Urquhart (The Professionals, The Avengers) and John Bentley (African Patrol) depicts the many dangers faced by a group of British settlers in East Africa during the last decade of the 19th century.
Released in the United States as Outlaw Safari and later given an exploitation slant by AIP with the title The White Huntress, Golden Ivory was among the series of films made in Kenya by French-American expatriate George Breakston. Most starred former Paul Temple and future Crossroads regular John Bentley, whom Breakston would later cast in the lead role of his Kenya-set police series African Patrol.
Golden Ivory is featured here in a brand-new transfer from the original film elements in its as-exhibited theatrical aspect ratio.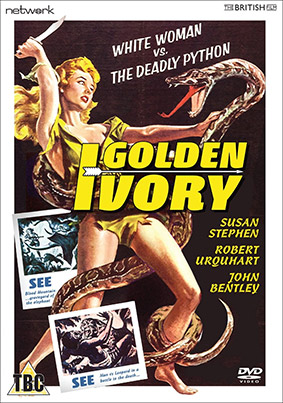 Golden Ivory will be available to own on DVD from 26th January 2015 at the RRP of £9.99, courtesy of Network Distributing's 'The British Film' collection.
Extra features will include: