The 1983 Biddy is that rarest of films, one that at the time of writing has no external reviews, no user comments and no votes on its IMDb page, while the only Message Board post from 2010 is a loud question (it's all in capitals – don't do this!) asking how the poster can see this film. There have still been no replies. Well mariascorpio, soon you'll finally get the chance you've been waiting for when it gets its long awaited DVD release from Network Distributing as part of their ongoing 'The British Film' collection.
Biddy is a warm and sometimes poignant film, this film from 1982 celebrates the powerful relationships between Biddy and the young children that are placed in her gentle care as they grow into adulthood.
Featuring acclaimed actress and theatre director Celia Bannerman (The Land Girls, The Tamarind Seed) in the title role, Biddy takes a nostalgic journey into the delicate and loving life of a nursery maid in Victorian England.
Earning Bannerman an award at the Moscow Film Festival, this intensely human film was written, directed and produced by the multiple Oscar and BAFTA-nominated team of Christine Edzard and Richard B. Goodwin – founder-directors of internationally renowned production company Sands Films (Little Dorrit, The Fool).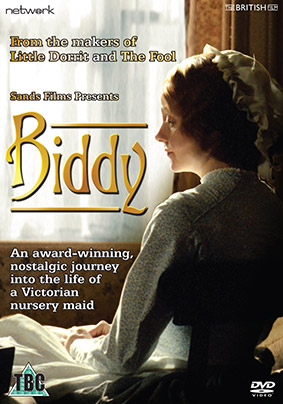 Biddy will be released on UK DVD on 26th January 2015 by Network Distributing as part of 'The British Film' collection at the RRP of £9.99.
Presented here in a brand-new transfer in its original aspect ratio from original film elements only listed extra is an image gallery.