From director David Cronenberg (A History of Violence, Eastern Promises and a whole string of films we absolutely love), comes the intense and twisted Hollywood tale with a stellar ensemble cast, Maps to the Stars.
Set in Hollywood, the land of the stars, this haunting story features outstanding performances from Julianne Moore (The Kids Are Alright, Magnolia) Golden Globe nominee for Best Performance By An Actress for her role as famous but quickly fading actress Havana Segrand; Mia Wasikowska (Lawless, Stoker) as estranged pyromaniac Agatha Weiss; John Cusack (Grosse Point Blank, High Fidelity) as TV psychologist Dr. Stafford Weiss; Olivia Williams (Anna Karenina, Sabotage) as his wife, Christina Weiss; Robert Pattinson (The Twilight Saga, Water For Elephants) as limo driver and struggling actor Jerome Fontana; and Evan Bird (Chained, The Killing) as Benjie, son of the Weiss family.
Maps to the Stars follows a secret-filled Hollywood family on the verge of implosion. The Weiss family is the archetypical Hollywood dynasty; father Stafford (Cusack) who has made a fortune with his self-help manuals and mother Cristina (Williams) mostly looks after the career of their child star son Benjie (Bird). One of Stafford's clients, Havana (Moore), is an actress who dreams of shooting a remake of the movie that made her mother, Clarice, a star in the 60s. Clarice is dead now and visions of her come to haunt Havana at night. Adding to the toxic mix, Benjie has just come off a rehab program he joined when he was 9 and his sister, Agatha (Wasikowska), has recently been released from a sanatorium where she was treated for criminal pyromania and befriended a limo driver Jerome (Pattinson) who is also an aspiring actor. The result is a modern Hollywood Gothic about the ravenous 21st Century need for fame and validation - and the yearning, loss and fragility that lurk in the shadows underneath.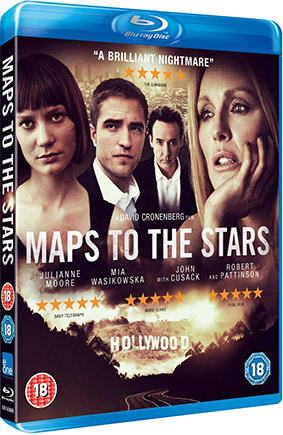 Described by The Guardian as "A brilliant nightmare" and Radio Times as "A fiercely original twisted Hollywood fairy tale," Maps to the Stars will be released on UK Blu-ray and DVD on 2nd February 2015 by Entertainment One at the RRP of £19.99 for the Blu-ray and £17.99 for the DVD.
Special features will include:
Commentary with screenwriter Bruce Wagner

Interviews with cast and crew

On the red carpet
Maps to the Stars will also be available on digital download from 19th January 2015.