Eureka! Entertainment have announced the release of Wooden Crosses [Les croix de bois], from Raymond Bernard, the director of the epic and definitive French screen adaptation of Les misérables. Alongside All Quiet on the Western Front and Paths of Glory, Wooden Crosses is perhaps the greatest depiction of World War I ever put on screen.
The film that most firmly established the talent of French director Raymond Bernard before his epic adaptation of Victor Hugo's Les misérables, Wooden Crosses was widely hailed at the time of its release in 1932 for its searing depiction of the horrors of the European front during World War I; subsequently, Bernard was named soldier of honour of the 39th Infantry Division.
Adapted from a novel by Roland Dorgelès (a former corporal of the 39th), Wooden Crosses offers a kaleidoscope of cinematographic technique to present a visceral, enveloping recreation of one regiment's experience of battlefield hell. (Its entire cast is comprised of war veterans.) It is an epic tapestry that rivals John Ford's Four Sons and Lewis Milestone's All Quiet on the Western Front in both its poetry of trauma and steadfastness of conviction that war must be held in contempt.
From a gorgeous new Pathé restoration carried out for the centenary for the start of the Great War, Raymond Bernard's Wooden Crosses retains a ferocity that continues to reverberate across generations.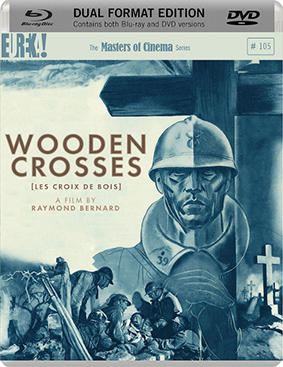 Wooden Crosses will be released in a Dual Format (Blu-ray and DVD) edition by Eureka! Entertainment as part of the Masters of Cinema Series on 30th March 2015 at the RRP of £19.99.
featuring a new HD 1080p presentation of the film from Pathé's astonishing 2014 restoration and optional English subtitles, the release will have the following extras:
Video interview with historian Marc Ferro and film historian Laurent Veray

A short documentary on the new restoration

Wooden Crosses: A Sonic Adventure, documentary exploring early sound design

Archival interview with Roland Dorgelès

Archival interview with Raymond Bernard

Vintage 1914 newsreels

Documentary piece on early 20th century poster artist Adrien Barrère

The Absent Battle, the Omnipresent War, a collection of photography from WWI taken by André Schnellbach who served with Dorgelès in the 39th

Booklet featuring a new and exclusive interview by film critic Emmanuel Burdeau, and rare archival material