Metropolitan opera star Robert Rounseville plays Hoffmann, a university student who is spectacularly unlucky in affairs of the heart. Each of his love affairs with Olympia (Moira Shearer), an animated doll, Venetian courtesan Giulietta (Ludmilla Tchérina) and soprano Antonia (Ann Ayars) is doomed to failure due to circumstances far beyond our hero's control.
Based on Jacques Offenbach's opera of the stories of romantic poet E.T.A. Hoffmann, The Tales of Hoffmann gave regular collaborators Powell and Pressburger another opportunity to eschew realism and celebrate artifice and creativity. A lavish cinematic fantasy of technicolor, music and dance, the entire film is shaped around Offenbach's original score, pre-recorded by The Royal Philharmonic Orchestra, under the baton of the legendary conductor Sir Thomas Beecham.
The film has been beautifully restored in 4k by The Film Foundation, supervised by Martin Scorsese, Thelma Schoonmaker and Ned Price. Newly discovered sequences from Act Three and the Epilogue, which were missing from previously released versions of the film, were found in the nitrate material held at the BFI and put back into the film as the directors, Michael Powell & Emerich Pressburger, originally intended.
Part of StudioCanal's Vintage Classic Collection – showcasing iconic British films, all fully restored and featuring brand new extra content, further information can be found on the Facebook page – The Tales of Hoffmann is a visual and sonic masterpiece that stands the test of time. A critical darling that won the 1951 Special Award at the 1951 Cannes Film Festival, The Met Opera's production, Les Contes D'Hoffmann, was released in cinemas on 31st January.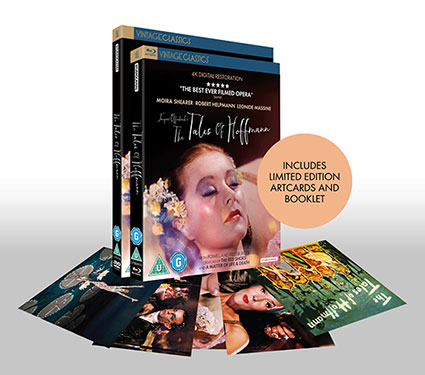 The Tales of Hoffmann will be released on UK Blu-ray and DVD on 23rd March 2015 by StudioCanal at the RRP of £22.99 for the Blu-ray, DVD price to be confirmed.
Extra features will include:
Introduction from Martin Scorsese

Interview with Thelma Schoonmaker

Trailer

Stills gallery