Winner of three Academy Awards and four BAFTAs, including Best Actress for Julie Christie, Darling, celebrating its 50th anniversary, is the lavish and critically acclaimed motion picture set in London in the heart of the swinging sixties.
Darling is the story – based on fact – of a goodtime-girl of the era. A freelance female who moves from bed to bed on the presumption that fidelity means having only one man in it at a time, she opportunistically bends her ambitions to take advantage of whatever (or whoever) the moment offers her. There are three men in her life, each of whom willingly or involuntarily helps her on her way to the top: Dirk Bogarde plays a TV interviewer, an honest man striving to tell illusion from reality; Laurence Harvey, an advertising executive, totally cynical about manipulating society's values; and Roland Curram, a gay magazine photographer battening parasitically on glossy society. There is also a 'fourth man' – the one whom Darling marries, only to find herself a prisoner of the smart world she has conquered.
One of the coolest and most defining films of the sixties, Julie Christie and Dirk Borgarde were perfectly cast, Christie as the sexual careerist model and Bogarde as the well-intentioned journalist, as they were global icons adored the world over.
Part of StudioCanal's Vintage Classic Collection – which showcases iconic British films, all fully restored and featuring brand new extra content – Darling has endured the test of time, visually as sleek and stylish as it was upon original release, and the tale of the desperate and at times tragic pursuit of fame is as relevant in today's image conscious society as it was back then.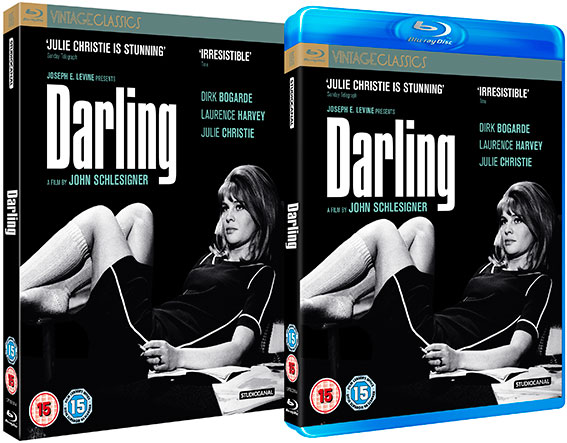 Darling will be released on UK Blu-ray, DVD and digital download as part of its Vintage Classic Collection on 30th March 2015 by StudioCanal at a yet to be confirmed RRP.
A little disappointingly, the only listed extra is a trailer.