To celebrate the centenary of Orson Welles' birth, Mr Bongo Films has announced the release of a brand new restored 50th Anniversary Edition of his masterpiece Falstaff Chimes at Midnight.
One of the most radical and groundbreaking of all Shakespeare adaptations, Chimes at Midnight was Orson Welles' favourite of his films and will be in UK cinemas from 1st May 2015 as part of the 100 years of Orson Welles celebrations. This will be followed by a DVD and Blu-ray release on 29th June 2015 alongside the first UK release of Welles' debut feature Too Much Johnson, which was amazingly rediscovered and restored in the last decade. On the same date the superb Immortal Story starring Jeanne Moreau and Orson Welles and the gripping thriller The Stranger, the first film after World War II to show footage of concentration camps, starring Edward G Robinson, Orson Welles and Loretta Young will both be released on DVD.
On the brink of Civil War, King Henry IV (John Gielgud) attempts to consolidate his reign while fretting with unease over his son s seeming neglect of his royal duties. Hal (Keith Baxter), the young Prince, openly consorts with Sir John Falstaff (Orson Welles) and his company. Hal's friendship with the knight substitutes for his estrangement from his father. Both Falstaff and the King are old and tired; both rely on Hal for comfort in their final years, while the young Prince, the future Henry V, nurtures his own ambitions.
Welles gives a mesmerising performance as Falstaff, in a role that he was born to play, and stars alongside a fantastic cast including John Gielgud, Keith Baxter, Jeanne Moreau, Fernando Rey, Margaret Rutherford and Ralph Richardson as the narrator. The film's harrowing war scenes have proven especially influential, cited in Kenneth Branagh's Henry V and Mel Gibson's Braveheart.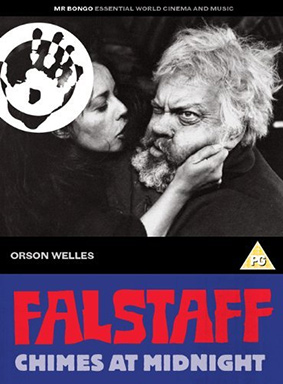 Falstaff Chimes of Midnight will retail at £13.99 for the Blu-ray release and £12.99 for the DVD. Special features will be announced nearer to the release date.
Also coming to Blu-ray and DVD from Mr. Bongo to mark the 100 years of Orson Welles are the following titles:

Too Much Johnson (1938) – Blu-ray (£13.99) | DVD (£12.99)
Shot in 1938, Too Much Johnson was Welles' first feature, the film that helped him hone his craft and led him to create to the masterpiece that is Citizen Kane. The footage was presumed destroyed in a fire in Welles' home in 1971 but was recently rediscovered in Italy and the restored 66 mins version makes its UK DVD debut.
Too Much Johnson is an elaborate 1890s farce of mistaken identity. Cuckolded husband Dathis (Edgar Barrier) is on the tale of a man named Billings (Joseph Cotten), who has been having an affair with Dathis's wife (Arlene Francis). Billings flees by ship to Cuba, where now also hiding from his own wife (Ruth Ford) and mother-in-law (Mary), he adopts the identity of a plantation owner named Johnson, who is expecting a mail-order bride. Orson Welles plays a Keystone Kop.

The Immortal Story (1968) – DVD (£12.99)
Welles' second-to-last feature, The Immortal Story is an adaptation of a book by Danish author Isak Dinesen and stars Jeanne Moreau.
The year is 1860 in the Portuguese colony of Macao, Mr. Clay (Welles) is an aging, rich merchant, who is the subject of town gossip. He likes his clerk Levinsky (Roger Coggio), to read to him to help him relax in the evenings and one night he recounts a tale about a rich man who paid a poor sailor five guineas to father a child with his beautiful young wife. Mr. Clay has no wife and no heir to his fortune and resolves to make the story true...Levinsky approaches Virginie Ducrot (Moreau), another clerk's mistress, and strikes a bargain for 300 guineas. Now to find the sailor...

The Stranger (1946) – Blu-ray (£13.99) | DVD (£12.99)
Based on Victor Travias' Oscar nominated original story, The Stranger earned Orson Welles a nomination at the Venice Film Festival. The first film after World War II to show footage of concentration camps, this restored classic noir stars Edward G Robinson, Orson Welles and Loretta Young.
Mr Wilson (Edward G Robinson) of the War Crimes Commission is seeking Nazi war criminal and architect of the Holocaust Franz Kindler (Orson Welles). Erasing all evidence of his past, Kindler is now Charles Rankin, a high school teacher married to the headmaster's daughter Mary Longstreet (Loretta Young). In order to entrap Kindler, Wilson releases his former comrade Meinike (Konstantin Shayne) from prison and follows him to Connecticut.
With the arrival of his ex-Nazi comrade and his wife's growing suspicion, Kindler knows that his past is catching up with him and will go to any lengths to prevent his identity being revealed.
Special features:
Original Theatrical Trailer

Image Gallery

Orson Welles Wartime radio. Four complete programmes exemplify Welles' blending of propaganda and entertainment: Alameda (Nazi eyes on Canada 1942), War workers (Ceiling Unlimited 1942), Brazil (Hello Americans 1942), Bikini Atomic test (Orson Welles Commentaries 1946).