Eureka Entertainment to release Japanese Director Nagisa Ôshima's landmark film Cruel Story of Youth, a shocking tale of youthful delinquency in post-Hiroshima Japan.
This second feature by the Japanese cinema-insurgent Nagisa Ôshima (In the Realm of the Senses, Merry Christmas Mr. Lawrence) galvanised its home-turf with its topsy-turvy directorial dexterity and stinging castigation of an indolent, self-indulgent youth culture reposing on the eve of the turbulent 1960s.
When high-schooler Makoto is saved from the advances of a lecherous middle-aged man by university student Kiyoshi, the pair embark on a fits-and-starts affair that finally settles into a sexually extortionary, mutually exploitative dependency that promises to spell their relationship's doom.
Ôshima's breakthrough portrait of alienated youth comes courtesy of the 2014 Shochiku 4K scan that resurrected the film's glorious colour palette, recently described by critic and programmer James Quandt as "running riot with retro: pulsing neon, turquoise telephones, hair teased into shellacked grandeur."
The adult subject matter was too much for the BBFC who rejected the film for a UK cinema certificate in 1960. It was finally passed uncut with a 15 certificate in 2008.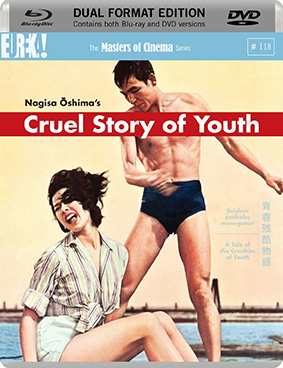 Cruel Story of Youth will be released on UK dual format (Blu-ray and DVD) on 17th August 2015 by Eureka! Entertainment as part of the Masters of Cinema series at the RRP of £15.95.
Featuring a gorgeous 1080p presentation of the film on Blu-ray from the 2014 4K Shochiku restoration and optional English subtitles, the release will have these extra features:
New video interview with film critic Tony Rayns

Original theatrical trailer

36-page booklet containing an essay, interview material, and rare archival imagery