Arrow Video has announced the UK premiere Blu-ray release of 80s classic The Adventures of Buckaroo Banzai Across the 8th Dimension, which went on to become one of the decade's defining cult movies. Starring Peter Weller, Christopher Lloyd, Ellen Barkin and John Lithgow, Buckaroo Banzai draws heavily from its principle influences, namely the pulp adventures of 1930s sci-fi, making this very much a film made by fans for the fans and counts noted filmmakers including Wes Anderson and Kevin Smith among its admirers. It remains to this day one of only two features directed by W.D. Richter, whose screenplay credits include Invasion of the Body Snatchers, Brubaker and Big Trouble in Little China.
Peter Weller is Buckaroo Banzai, a physicist-neurosurgeon-martial arts master-secret agent-rock star who has just made history with his invention, the Oscillation Overthruster. The Overthruster allows him to travel to the 8th Dimension, but this feat draws the attention of the Red Lectroids, an alien race (led by Christopher Lloyd) who have teamed up with Banzai's nemesis, the deranged Dr Lizardo (John Lithgow). Lizardo and the Red Lectroids are seeking the Overthruster to take over the world and Banzai, with his team of agents/band musicians, The Hong Kong Cavaliers, must stop them before it's too late!
Coming loaded with a host of exclusive and archive extras, this new disc is the complete and definitive home entertainment release of Buckaroo Banzai featuring an audio commentary with writer-director W.D. Richter and Reno (writer Earl Mac Rauch) and an archive Q&A with stars Peter Weller and John Lithgow moderated by filmmaker Kevin Smith.
Alongside this, the disc will also feature brand new interviews with Weller and Lithgow, Buckaroo Banzai Declassified, an original featurette on the making of the film featuring W.D. Richter, stars Peter Weller, Ellen Barkin and John Lithgow, as well as a visual essay by critic and author Matt Zoller Seitz. Other exciting features include an alternate opening featuring Jamie Lee Curtis and a host of deleted scenes taken directly from the workprint.
Rounding off the Blu-ray is the iconic, title-free closing sequence, trailers, Banzai Radio, Easter Egg and a gallery, presented with original and new artwork packaging by Matthew Griffin and a collector's booklet with new writing on the film by critic James Oliver and illustrated with original stills.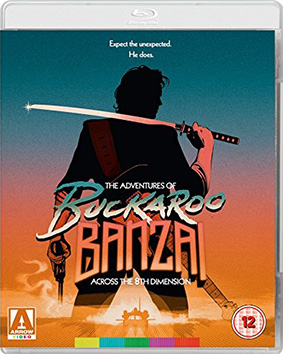 The Adventures of Buckaroo Banzai Across the 8th Dimension will make its UK Blu-ray premiere on 20th July 2015 from Arrow Video at the RRP of £24.99.
Featuring a high definition digital transfer of the film from original elements by MGM, 5.1 DTS-HD Master Audio and 2.0 stereo soundtracks and optional English subtitles for the deaf and hard of hearing, the disc will have these extras:
Audio commentary with writer-director W.D. Richter and Reno (writer Earl Mac Rauch)

The Tao of Buckaroo: A brand new interview with Peter Weller on his role as Buckaroo

Lord John: A brand new interview with John Lithgow who discusses working on the film

Buckaroo Banzai Declassified: An original featurette on the making of the film featuring W.D. Richter, stars Peter Weller, Ellen Barkin, John Lithgow and more!

Lincoln Center Q&A featuring Peter Weller and John Lithgow moderated by filmmaker and Buckaroo fan Kevin Smith, filmed as part of the 2011 New York Film Festival

Adventures in the 8th Dimension: A visual essay by critic and author Matt Zoller Seitz

Alternate opening featuring Jamie Lee Curtis

Closing sequence presented without credits

Deleted scenes, featuring fourteen scenes from the workprint

New Jet Car trailer and teaser trailer

Easter Egg (should you really be announcing this?)

Gallery

Banzai Radio

Reversible sleeve featuring original and newly commissioned artwork by Matthew Griffin

Booklet featuring new writing on the film by critic James Oliver, illustrated with original stills