Eureka Entertainment is to release King Hu's Dragon Inn [Long men kezhan], the influential 1967 blockbuster which broke box-office records on release in Taiwan, Korea and the Philippines, on dual format in September.
A quintessential entryway into the highly stylized, tightly choreographed wuxia genre of martial arts cinema, Dragon Inn was a global breakthrough for the form's greatest practitioner, King Hu. Its influence remains incalculable, from its annihilation of traditional expectations of what kind of role an actress should inhabit (also chipped away at by Hu's previous masterpiece Come Drink with Me), to the formation of many of the genre's archetypes – such as the Eunuch, the Swordswoman, and the Family of Murdered Loyal Officials – that are still recognizable in the martial arts films of today.
It's the middle of the Ming Dynasty. The powerful eunuch Cao (Pai Ying) has killed the Loyal Minister Yu, and Yu's children are exiled to the border, whereupon Cao undertakes efforts to massacre the remnants of the family. As Yu's children take refuge in the Dragon Gate Inn, Xiao the righteous swordsman (Shih Jun) and the surviving loyalists of Minister Yu engage in a series of battles to the death against the forces of the blood thirsty eunuch.
After having returned to the spotlight in 2003 as the backdrop for Tsai Ming-liang's modern classic Good Bye Dragon Inn, Hu's film is again resurrected by way of the dazzling 2014 4K restoration presented here, so that a new generation may revel in some of the most astonishing action sequences ever committed to film: Vincente Minnelli and Gene Kelly in a dance of death, pointing forward to the modern films of Tsui Hark and Johnnie To.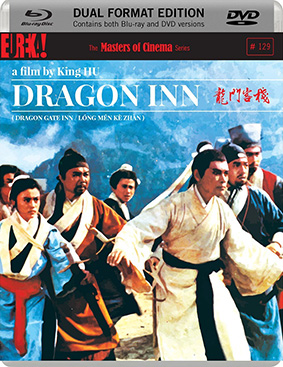 Dragon Inn will be released in the UK as a dual format edition (DVD and Blu-ray) on 28th September 2015 by Eureka! Entertainment as part of the Masters of Cinema series at the RRP of £17.99.
Featuring a gorgeous 1080p presentation of the film on Blu-ray from the 2014 4K Chinese Taipei Film Archive restoration, and optional English subtitles, the release will include these extras:
New documentary and interview material to be announced soon

36-page booklet containing a testimonial about King Hu by Tsui Hark; the eight characteristics of "the inn" in King Hu's films; a King Hu dossier; archival imagery; and more!
And here's a clip: