Eureka Entertainment is to release George Stevens' Shane, a masterpiece of great beauty told against the breathtaking backgrounds of the western plains, in a Special Blu-ray edition as part of the Masters of Cinema Series in November.
One of the landmark and most enduring Westerns of the 1950s, George Stevens' Shane struck a chord with audiences at the time of its release, and continues to influence admirers today, even as it served as a template for the series of groundbreaking spaghetti-westerns of Sergio Leone.
Alan Ladd plays the titular gunslinger, the archetypal "man alone" who wanders into town and shortly afterward becomes embroiled in a conflict between a group of Wyoming homesteaders and the nefarious cattle baron who has designs to wrest away their land. As the conflict escalates, and a romance develops between Shane and homesteader Marian Starrett (Jean Arthur in her last screen role before an early retirement from motion pictures), a who's-who of studio system character talent revolves through the production — Van Heflin, Jack Palance, Elisha Cook, Jr. — before the proverbial ride into the sunset...
Writing in The New York Times in 2001, Woody Allen said: "Shane, I think, is [Stevens'] masterpiece. I've seen it many, many times. Certainly more than 20."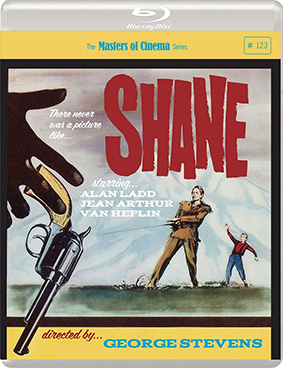 Shane will be released on UK Blu-ray for the very first time on 16th November 2015 by Eureka Entertainment as part of the Masters of Cinema series at the SRP of £15.95.
Featuring a gorgeous 1080p presentation of the film on Blu-ray and optional English subtitles for the deaf and hard-of-hearing, the release will have these special features:
Full length audio-commentary by George Stevens, Jr. and Ivan Moffat

Original theatrical trailer

24-page booklet containing writing on the film, archival imagery, and more!