Arrow Films has to announce the release of one of Aleksei German's modern masterpiece, Hard to Be a God, which premiered at the London Film Festival in 2014 and will be released on Blu-ray and DVD in September.
A group of scientists visits the distant planet Arkanar, and discovers a society still trapped in its own medieval era. Unable to interfere with the course of its history, they can only watch in mounting horror as all sparks of intelligent and independent thought are mercilessly snuffed out by Arkanar's cruel rulers. Will they remain enmired in their squalid existence for ever, or can the visitors subtly nudge the more open-minded in the right direction? Truly, it's hard to be a god.

Based on the novel by legendary Russian sci-fi authors Arkady and Boris Strugatsky (whose Roadside Picnic was adapted by Andrei Tarkovsky as Stalker) the film, a dream project for director Aleksei German since the late 1960s, commenced shooting in 2000, would take six years of shooting, a further six of post-production and a posthumous premiere before his masterpiece was finally unveiled. His son, Aleksei German Jr. (a respected director in his own right) finished the editing of the film before its premiere where it has gone on to play the festival circuit in various cities including Rome, Göteborg, Karlovy Vary and Seattle.
Presented on DVD and Blu-ray with specially revised subtitles and brand new extras presented in Blu-ray packaging designed be celebrated graphic artist Andrzej Klimowski and on DVD with artwork featuring the stunning new UK poster artwork.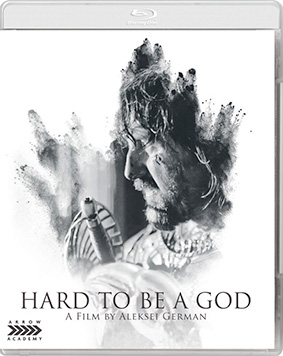 Hard to Be a God will be released on Blu-ray and DVD on 14th September 2015 by Arrow Films at the RRP of (we think) £19.99 for the Blu-ray and £15.99 for the DVD.
BLU-RAY SPECIAL FEATURES:
High Definition Blu-ray (1080p) presentation

Original Russian 5.1 DTS-HD Master Audio Surround Sound

Optional English subtitles, revised especially for this edition

Introduction by co-screenwriter Svetlana Karmalita

Exclusive interview with Aleksei German Jr, who completed his father's film after his death

The History of the Arkanar Massacre, an appreciation of the film by Daniel Bird

The Unknown Genius: Michael Brooke looks at Aleksei German's creatively dazzling but politically troubled career

Extensive galleries of film and behind-the-scenes stills

Theatrical trailer

Reversible sleeve featuring original and newly commissioned artwork by Andrzej Klimowski

Limited Edition booklet featuring new writing on the film and more!
DVD SPECIAL FEATURES:
Dolby Digital 5.1 Surround Sound

Optional English subtitles, revised especially for this edition

Introduction by co-screenwriter Svetlana Karmalita

Exclusive interview with Aleksei German Jr., who completed his father's film after his death

Theatrical trailer