Kate Mercer (Charlotte Rampling) is planning a party to celebrate her 45th wedding anniversary. One week before the celebration, however, a letter arrives for her husband, Geoff (Tom Courtenay), containing news that reawakens troubling and long-hidden memories.
Though Kate continues to prepare for the anniversary, she becomes increasingly concerned by Geoff's preoccupation with the letter and the ensuing revelations about his past. By the time the party comes round, there may not be a marriage left to celebrate.
Anchored by sensational performances from Charlotte Rampling and Tom Courtenay, 45 Years is an intimate, moving and beautifully restrained portrait of a marriage shaken to its core by things left unspoken. Winning Best Actor and Best Actress awards at this year's Berlinale Film Festival, Andrew Haigh's (Weekend, Looking) 45 Years was described by The Spectator as "Quite, quite magical, and wholly transfixing."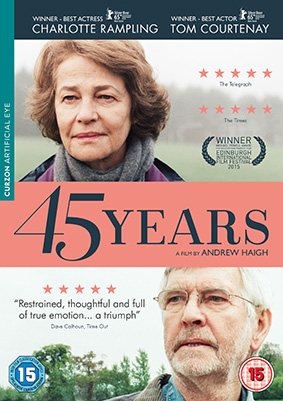 45 Years will be released on UK Blu-ray and DVD on 11th January 2016 by Curzon Artificial Eye at the RRP of £19.99 for the Blu-ray and £15.99 for the DVD.
Special features: