Nikkatsu, the oldest film studio in Japan, inaugurated a star system in the late 1950s, finding talent and contracting to their Diamond Line for a series of wild genre pictures. This collection celebrates these "Diamond Guys" with three classic films from directors Seijun Suzuki (Branded to Kill), Toshio Masuda (Rusty Knife) and Buichi Saito (Lone Wolf and Cub: Baby Cart in Peril).
An old hand at tough guy action roles, Hideaki Nitani (Tokyo Drifter, Massacre Gun) stars in Suzuki's Voice Without a Shadow [Kagenaki koe] (1958). Asako, a former telephone operator once heard the voice of a murder suspect which has continued to haunt her. Years later her husband invites his boss, Hamazaki, over for dinner and she realises his voice is suspiciously like that of the killer. Before she can investigate further, Hamazaki is found dead and her husband becomes the prime suspect...
Next, 50s subculture icon Yujiro Ishihara (Crazed Fruit) stars in Masuda's Red Pier [Akai hatoba] (1958) as "Jiro the Lefty", a killer with a natural talent. Shortly after arriving in Kobe, he witnesses a man die in a crane accident which turns out to be a cover-up for a murder. Jiro soon finds himself on the run, tailed by a determined cop...
Finally, in Saito's The Rambling Guitarist [Guitar o motta wataridori] (1959), mega star Akira Koabyashi (Battles Without Honour and Humanity) stars as wandering street musician Shinji, who falls in with mob boss Akitsu after saving one of his henchmen in a bar fight. Tasked by Akitsu with evicting an offshore fishery, Shinji finds himself in the middle of a very unusual domestic dispute...
Presented on Blu-ray and DVD for the first time in the West, these thrilling genre films feature Nikkatsu's leading talent at their best.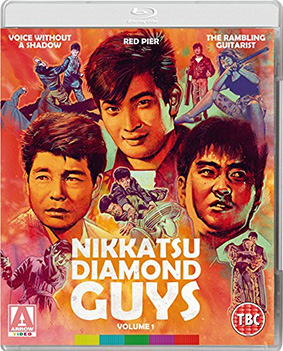 Nikkatsu Diamond Guys will be released in the UK as a 3-disc dual format edition by Arrow Video on 25th January at the RRP of £29.99.
Disc specifications:
High Definition digital transfers of all three films, from original film elements by Nikkatsu Corporation

High Definition Blu-ray (1080p) and Standard Definition DVD presentation

Original uncompressed mono audio

Newly translated English subtitles
Special features:
Specially recorded video discussions with Japanese cinema expert Jasper Sharp on Diamond Guys Hideaki Nitani and Yujiro Ishihara

Original trailers for all three films and trailer preview for Diamond Guys Vol. 2

Extensive promotional image galleries for all three films

Reversible sleeve featuring original and newly commissioned artwork by Graham Humphreys

Booklet featuring new essays on all three films and director profiles by Stuart Galbraith, Tom Mes and Mark SchillingBritish critical reaction at the time, and a personal reminiscence by David Del Valle