Jessica Chastain, Tom Hiddleston and Mia Wasikowska star in visionary director Guillermo del Toro's chilling and beautiful supernatural horror Crimson Peak, which arrives on UK Blu-ray and DVD on 15th February 2016, courtesy of Universal Pictures (UK).
This ghostly horror features a frighteningly talented cast including: Mia Wasikowska (Alice in Wonderland, Jane Eyre) as Edith Cushing; two-time Academy Award nominee Jessica Chastain (Zero Dark Thirty, Mama) as Lady Lucille Sharpe; Tom Hiddleston (Marvel Avengers Assemble, Thor) as her brother, Sir Thomas Sharpe; Charlie Hunnam (Pacific Rim, Sons of Anarchy) as Dr. Alan McMichael; and Jim Beaver (Supernatural, Adaption) as Edith's father, Carter Cushing.
Young Edith Cushing (Wasikowska) is an aspiring author living with her father in New York at the dawn on the 20th century. When her father dies in mysterious circumstances, seductive stranger Thomas Sharpe (Hiddleston) sweeps Edith away to Allerdale Hall, a house atop a mountain of profitable blood-red clay: a place filled with secrets that will haunt her forever. Every room holds a new mystery, from the subterranean mines to the forbidden attic, from the library of secrets to the cage-like elevator with a mind of its own. The house is designed like a butterfly killing jar to allure and trap the beautiful and the innocent. It also hides the Sharpe family's darkest secrets and reveals unspeakable truths.
As love turns to madness and nightmare becomes reality, everyone who sets foot into Allerdale Hall is in grave danger. But will this living death trap reveal the truth or seal their fate? Who will make it out alive? Between desire and darkness, between mystery and madness, lies the truth behind Crimson Peak.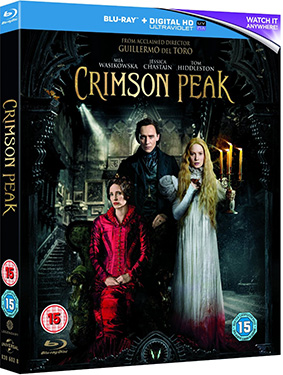 Crimson Peak will be released on UK Blu-ray and DVD on 15th February 2016 by Universal Pictures (UK) at the RRP of £24.99 for the Blu-ray and £19.99 for the DVD.
Blu-ray special features:
Feature Commentary with co-writer/director Guillermo del Toro

The Light and Dark of Crimson Peak – A stylised turn of the century with carefully crafted visuals that provide the perfect backdrop for Del Toro's brand of psychological horror. Follow the phases of production to discover a booming America and a dark and removed England portrayed with a multi-layered sophistication unlike any seen in recent cinema

Hand Tailored Gothic – Costume designer Kate Hawley unravels her collaboration with Del Toro and reveals the symbolism constantly at play in the wardrobe's design

I Remember Crimson Peak (The Gothic Corridor, The Scullery, The Red Clay Mines, The Limbo Fog Set) – A series of interviews with director Guillermo del Toro and his standout cast, Mia Wasikowska, Tom Hiddleston and Jessica Chastain

Deleted Scenes – The Park; Thomas' Presentation; Father Consoles Daughter; Thomas Sees A Ghost; Lucille At The Piano

A Primer on Gothic Romance – Employing his encyclopedic knowledge and passion for the genre, Guillermo del Toro traces the lineage of Gothic Romance in cinema. Using Crimson Peak as the basis, Del Toro outlines the history of cinematic terror and illuminates the differences between traditional scares and elevated horror

A Living Thing – An army of artisans was amassed to construct the Sharpe mansion on North America's largest soundstage. Witness first-hand and in great detail the construction of Del Toro's most elaborate set to date

Beware of Crimson Peak – Tom Hiddleston (Sir Thomas Sharpe) offers a walking tour of the many secret spaces in Allerdale Hall

Crimson Phantoms – Del Toro's approach to make-up effects is discussed by award-winning effects house DDT. In this piece, they offer an exclusive look inside their workshop, where they deconstruct the creation of the film's most disturbing prosthetic effects. The discussion delves into the mythology of these elegant creatures and how Del Toro's belief in the supernatural informed the design and narrative of the ghosts
DVD special features:
Deleted Scenes – The Park; Thomas' Presentation; Father Consoles Daughter; Thomas Sees A Ghost; Lucille At The Piano