Eureka Entertainment are to release Bernardo Bertolucci's 1900 [Novecento], a stunning five-hour saga featuring an award-winning international cast including Robert De Niro and Gérard Depardieu, on Blu-ray for the first time in the UK in April.
After the international firestorm of Last Tango in Paris, Bernardo Bertolucci went on to create one of the grandest and most legendary epics in modern cinema. A stunning five-hour saga following the intertwined fates of two childhood friends born on the same day in 1900 at opposite ends of the social scale through five decades of class struggle.
Described by Pauline Kael as making most other films "look like something you hold up on the end of a toothpick," Robert De Niro and Gérard Depardieu headline an extraordinary cast, which includes Burt Lancaster, Alida Valli, Sterling Hayden, Stefania Sandrelli and Donald Sutherland. Lustrously photographed by Vittorio Storaro and scored by Ennio Morricone.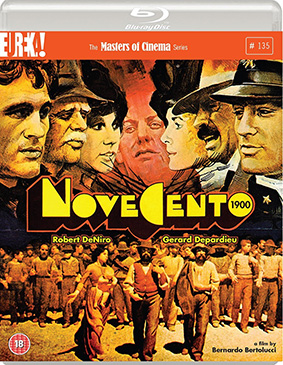 1900 [Novecento] will be released on UK Blu-ray on 18th April 2016 by Eureka Entertainment as part of the Masters of Cinema series at the RRP of £19.99.
Disc specifications:
1080p high-definition transfer

English and Italian uncompressed PCM soundtracks

English subtitles for the deaf and hard-of-hearing for the English audio and English subtitles for the Italian audio
Special features:
The Story, The Cast and Creating An Epic – two video pieces from 2006 featuring Bertolucci and Storaro

Bertolucci secondo il cinema – an hour-long on-set documentary about the making of 1900

A booklet featuring the words of Bernardo Bertolucci, archival imagery, and more!