As the Jean-Luc Godard season continues at BFI Southbank, one of his most loved films, 1964's Bande à part comes to Blu-ray for the first time in the UK, released by the BFI on 21st March. This release is packed with special features including a new interview with its star, Anna Karina, recorded when she was at BFI Southbank last month and a feature-length audio commentary by Adrian Martin.
Shot in just 25 days on the wintry streets of suburban Paris, Bande à part remains one of Godard's most loved films and is often remembered for its exhilarating café dance sequence and famous race through the Louvre.
Godard's playful reimagining of the Hollywood crime films of the 1940s follows young misfits Franz (Sami Frey), Arthur (Claude Brasseur) and Odile (Anna Karina) as their plan to burgle a rich old lady go tragicomically wrong.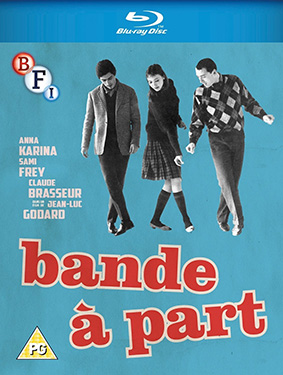 Bande à part will be released on UK Blu-ray on 21st March 2016 by the BFI at the RRP of £19.99.
Special features:
The Outsiders: alternative presentation of UK theatrical release credits

Original trailer

Feature-length audio commentary by film critic Adrian Martin

Anna Karina interviewed onstage at the BFI Southbank (2016, 31 mins): conversation with the critic Jason Solomons about Bande à part

Anna Karina on Jean-Luc Godard (2016, 10 mins)

An introduction to Bande à part by Ginette Vincendeau (2016, 20 mins)

Jean-Luc Godard/AK: an interview with Anna Karina (2010, 41 mins)

JLG/CC: an interview with Claude Chabrol (2010, 27 mins)

JLG/ADB: an interview with Antoine de Baecque (2010, 17 mins)

JLG/DB: an interview Denitza Bantcheva (2012, 23 mins)

JLG/AA: an interview with Alexandre Astruc (2012, 20 mins)

Les Fiancés du pont Mac Donald (Agnès Varda, 1961): delightful silent film starring Anna Karina, Jean-Luc Godard and Sami Frey

An interview with Raoul Coutard (2003, 11 mins)

Illustrated booklet featuring new writing by Andy Miller and full film credits
Here's an extract featuring the film's famous dance sequence:
And here's the BFI's little tribute video made last summer – Anna Karina's guide to being mesmerising: