The Criterion Collection and Sony Pictures Home Entertainment have announced additional new titles into their UK collection for June and July. Continuing the series, all are high-definition region B Blu-ray releases identical to the US releases in supplements and artwork.
Commencing 6th June, marking national commemorations of D-Day, with Stuart Cooper's Overlord, which was photographed by John Alcott, Stanley Kubrick's long-time cinematographer, Criterion presents a searingly authentic WW2 narrative of one young soldier's journey from basic training through to the front lines of D-Day, seamlessly interweaving archival war footage. 20th June brings the Academy Award winning Here Comes Mr. Jordan, a 1941 romantic comedy-fantasy starring Robert Montgomery as an amateur boxer mistakenly taken to Heaven before his time and given a second chance back on Earth. Concluding June' series 30th June is the legendary film noir Gilda, starring Rita Hayworth in perhaps her most iconic role as the ultimate femme fatale, driving both her criminal Kingpin husband and shadowy former lover mad with desire. July opens with Burroughs on 11th July, a one-of-a-kind revelatory portrait of the legendary author and poet followed on 25th July by Dr. Strangelove, Stanley Kubrick's subversive masterpiece on cold war anxiety starring Peter Sellers as an Air Force captain trying to avert a nuclear attack on the USSR being launched by an unbalanced general.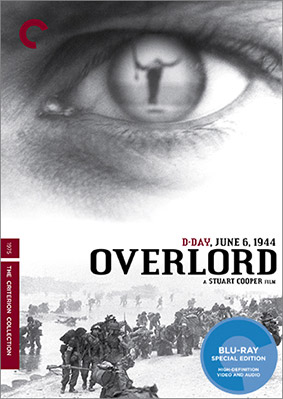 Overlord (1974) | 6th June 2016
Seamlessly interweaving archival war footage with a fictional narrative, this immersive account of one twenty-year-old's journey from basic training to the front lines of D-day brings to life all the terrors and isolation of war with jolting authenticity. Overlord, directed by Stuart Cooper and impressionistically shot by Stanley Kubrick's longtime cinematographer John Alcott, is both a document of World War II and a dreamlike meditation on human smallness in a large, incomprehensible machine.
Director-approved edition features:
Restored high-definition digital transfer, supervised by director Stuart Cooper, with uncompressed monaural soundtrack

Audio commentary featuring Cooper and actor Brian Stirner

Mining the Archive, a 2007 piece featuring archivists from London's Imperial War Museum detailing the footage used in the film

Capa Influences Cooper, a 2007 photo essay featuring Cooper on photographer Robert Capa

Cameramen at War, the British Ministry of Information's 1943 film tribute to newsreel and service film unit cameramen

A Test of Violence, Cooper's 1969 short film about the Spanish artist Juan Genovés

Germany Calling, a 1941 Ministry of Information propaganda film, clips of which appear in Overlord

Excerpts from the journals of two D-day soldiers, read by Stirner

Trailer

A booklet featuring an essay by critic Kent Jones, a short history of the Imperial War Museum, and excerpts from the Overlord novelization by Cooper and coscreenwriter Christopher Hudson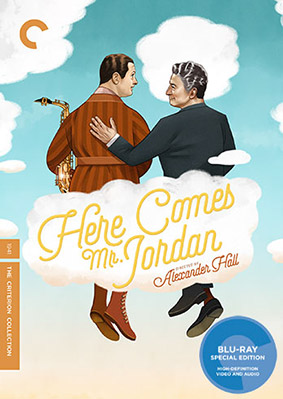 Here Comes Mr. Jordan (1941) | 20th June 2016
A sophisticated supernatural Hollywood comedy whose influence continues to be felt, Here Comes Mr. Jordan stars the eminently versatile Robert Montgomery as a working-class boxer and amateur aviator whose plane crashes in a freak accident. He finds himself in heaven but is told, by a wry angel named Mr. Jordan (Claude Rains), that his death was a clerical error, and that he can return to Earth by entering the body of a corrupt (and about-to-be-murdered) financier—whose soul could use a transplant. Nominated for seven Oscars (it won two) and the inspiration for a sequel with Rita Hayworth and two remakes, Alexander Hall's effervescent Here Comes Mr. Jordan is comic perfection.
Special Edition features:
New 2K digital restoration, with uncompressed monaural soundtrack

New conversation between critic Michael Sragow and filmmaker/distributor Michael Schlesinger

Audio interview from 1991 in which actor Elizabeth Montgomery discusses her father, actor Robert Montgomery

Lux Radio Theatre adaptation of Here Comes Mr. Jordan from 1942 starring Cary Grant, Claude Rains, Evelyn Keyes, and James Gleason

Trailer

An essay by critic Farran Smith Nehme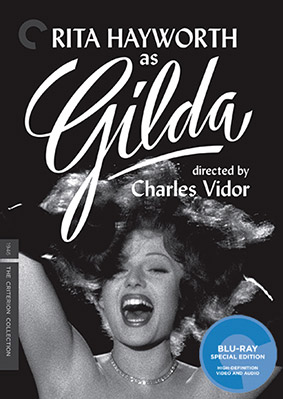 Gilda (1946) | 27th June 2016
"Gilda, are you decent?" Rita Hayworth tosses her hair back and slyly responds, "Me?" in one of the great star entrances in movie history. Gilda, directed by Charles Vidor, features a sultry Hayworth in her most iconic role, as the much-lusted-after wife of a criminal kingpin (George Macready), as well as the former flame of his bitter henchman (Glenn Ford), and she drives them both mad with desire and jealousy. An ever-shifting battle of the sexes set on a Buenos Aires casino's glittering floor and in its shadowy back rooms, Gilda is among the most sensual of all Hollywood noirs.
Special Edition features:
New 2K digital restoration, with uncompressed monaural soundtrack

Audio commentary from 2010 by film critic Richard Schickel

New interview with film noir historian Eddie Muller

Piece from 2010 featuring filmmakers Martin Scorsese and Baz Luhrmann discussing their appreciation for Gilda

Trailer

An essay by critic Sheila O'Malley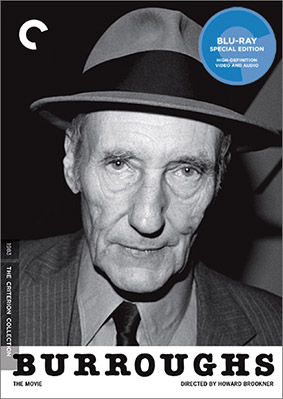 Burroughs (1983) | 11th July 2016
Made up of intimate, revelatory footage of the singular author and poet filmed over the course of five years, Howard Brookner's 1983 documentary about William S. Burroughs was for decades mainly the stuff of legend; that changed when Aaron Brookner, the late director's nephew, discovered a print of it in 2011 and spearheaded a restoration. Now viewers can enjoy the invigorating candidness of Burroughs: The Movie, a one-of-a-kind nonfiction portrait that was brought to life with the help of a remarkable crew of friends, including Jim Jarmusch and Tom DiCillo, and that features on-screen appearances by fellow artists of Burroughs's including Allen Ginsberg, Herbert Huncke, Patti Smith, and Terry Southern.
Special Edition features:
New, high-definition digital restoration, with uncompressed monaural soundtrack

New audio commentary by filmmaker Jim Jarmusch, who was a sound recordist on the film

Audio interview with director Howard Brookner from 1985, conducted by William S. Burroughs biographer Ted Morgan

New interview with Brookner's nephew, filmmaker Aaron Brookner, who oversaw the film's restoration

Rare outtakes

ootage from the 2014 New York Film Festival premiere of the film's restoration, featuring a Q&A with Jarmusch, Aaron Brookner, filmmaker Tom DiCillo, and Burroughs's friend and fellow writer James Grauerholz

hirty-minute experimental edit of the film from 1981 by inventor and photographer Robert E. Fulton III

An essay by critic Luc Sante and collage artwork by artist Alison Mosshart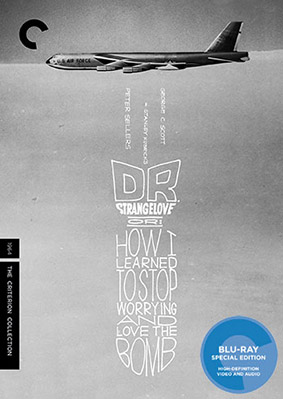 Dr. Strangelove, or: How I Learned to Stop Worrying and Love the Bomb | 25th July 2016
Stanley Kubrick's painfully funny take on Cold War anxiety is one of the fiercest satires of human folly ever to come out of Hollywood. The matchless shape-shifter Peter Sellers plays three wildly different roles: Royal Air Force Captain Lionel Mandrake, timidly trying to stop a nuclear attack on the USSR ordered by an unbalanced general (Sterling Hayden); the ineffectual and perpetually dumbfounded U.S. President Merkin Muffley, who must deliver the very bad news to the Soviet premier; and the titular Strangelove himself, a wheelchair-bound presidential adviser with a Nazi past. Finding improbable hilarity in nearly every unimaginable scenario, Dr. Strangelove, or: How I Learned to Stop Worrying and Love the Bomb is a subversive masterpiece that officially announced Kubrick as an unparalleled stylist and pitch-black ironist.
Special Edition features:
Restored 4K digital transfer, with uncompressed monaural soundtrack

Alternate 5.1 surround soundtrack

New interviews with Stanley Kubrick scholars Mick Broderick and Rodney Hill; archivist Richard Daniels; cinematographer and camera innovator Joe Dunton; camera operator Kelvin Pike; and David George, son of Peter George, on whose novel Red Alert the film is based

Excerpts from a 1966 audio interview with Kubrick, conducted by physicist and author Jeremy Bernstein

our short documentaries, about the making of the film, the sociopolitical climate of the period, the work of actor Peter Sellers, and the artistry of Kubrick

Interviews from 1963 with Sellers and actor George C. Scott

Excerpt from a 1980 interview with Sellers from NBC's Today show

Trailers

An essay by scholar David Bromwich and a 1994 article by screenwriter Terry Southern on the making of the film