Eureka Entertainment have annbounced the UK release of Sweet Bean (aka An), the heartbreakingly beautiful film and "ode to the simple joys in life" from director Naomi Kawase (The Mourning Forest, Still the Water), in selected cinemas and VOD from 5th August and as part of the Masters of Cinema Series in a Dual Format (Blu-ray & DVD) edition on 22nd August.
One of the most acclaimed figures in modern Japanese cinema, Naomi Kawase followed up her remarkable 2014 Still the Water with Sweet Bean [An], a small-town drama of culinary redemption, which opened the prestigious Un Certain Regard strain of the 2015 Cannes Film Festival.
Struggling street food vendor Sentaro (Masatoshi Nagase) finds himself confronted with Tokue (Kirin Kiki), an odd but sympathetic elderly lady looking for work. When he reluctantly accepts, it's not long before Tokue proves to have an extraordinary gift when it comes to making "an" – the sweet red bean paste filling used in his dorayakis – which starts a relationship that is about much more than just street food.
With Sweet Bean, Kawase again focuses on people at the periphery of Japanese society and investigates their place in the flow of life itself. Using cookery to explore her perennial theme of communion with nature, Kawase also poignantly addresses the discrimination that condemns many like Tokue to live their lives segregated from the rest of society. Beautifully shot and quietly moving, Sweet Bean is a humble masterpiece from a singularly accomplished filmmaker.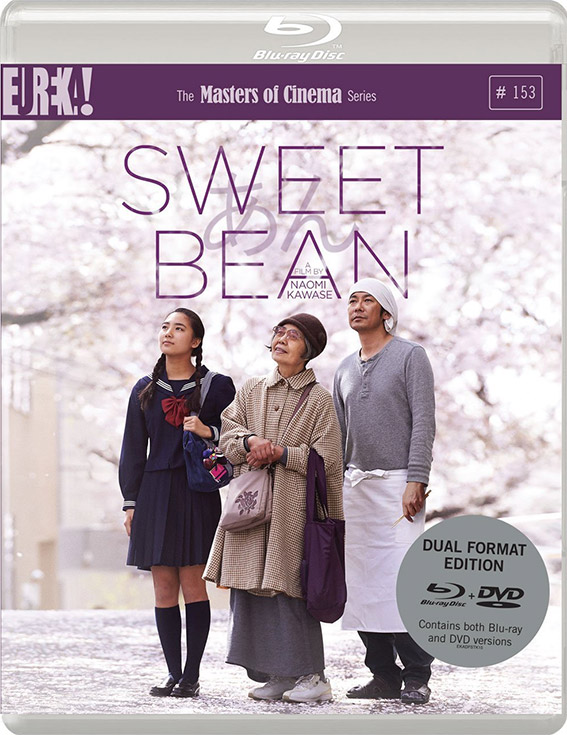 Sweet Bean comes to UK cinemas and VOD on 5th August 2016 and as a dual format disc set (DVD & Blu-ray) on 22nd August 2016 from Eureka Entertainment as part of the Masters of Cinema series at the RRP of £19.99.
Special features:
A new, exclusive video interview with Naomi Kawase

Theatrical trailer

A 32-page booklet featuring a new essay on the film by critic Philip Kemp; an interview and statement from Kawase, and production images