Arrow have announced their Arrow Academy line-up for November, and it's a real cinephile's treat.
Continuing with their slate of Woody Allen titles, mid-November sees the release of Interiors on Blu-ray. Notable for being Allen's first "serious" work, Interiors sees a stellar female cast, including Geraldine Page and Diane Keaton, come together to give pitch-perfect performances.
Bookending the release of Interiors are two spectacular Dual Format releases. Early in the month comes Alfred Hitchcock's early and oft overlooked Jamaica Inn. Adapted from Daphne Du Maurier's novel of the same name, Jamaica Inn is a tense tale of wreckers on the Cornish coast played out by a who's who of British character actors including Charles Laughton, Robert Newton and Basil Radford, as well as an early starring role from Maureen O'Hara as the film's heroine.
Later in November sees the release of The Hired Hand, Peter Fonda's directorial debut and one of the finest Westerns of the 1970s. Also starring Fonda, it tells the tale of of Harry, who returns to the family he once abandoned after years of exploring America's wide-open plains. A beautiful picture, it's seen here in a stunning high definition presentation.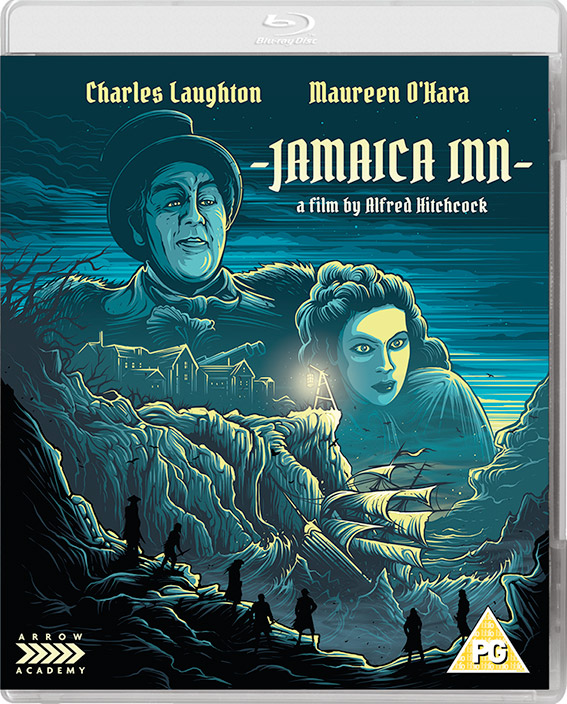 Jamaica Inn (1939) | Dual format Blu-ray & DVD | 7th November 2016 | £19.99
Alfred Hitchcock turned to the work of Daphne Du Maurier a number of times throughout his career. When he made the move to Hollywood, he adapted her novel Rebecca, the end results securing the Academy Award for Best Picture. When he needed to follow up the groundbreaking horror of Psycho, he adapted her short story The Birds and created another milestone of the genre. But before these came Jamaica Inn, based on Du Maurier's classic tale of wreckers in 19th century Cornwall.
Recently orphaned Mary Yellan (Maureen O'Hara in her first major film role) arrives at Jamaica Inn from Ireland to live with her aunt. Unaware that it serves as the headquarters for a murderous gang responsible for shipwrecks along the Cornish coast, she soon finds herself embroiled in backstabbing, conspiracy and villainy presided over by the local squire, Sir Humphrey Pengallan (Charles Laughton).
Though dominated by Laughton's wonderfully flamboyant performance, Jamaica Inn also finds room for a rogue's gallery of British character actors including Robert Newton (David Lean's Oliver Twist), Basil Radford (The Lady Vanishes), Leslie Banks (The Most Dangerous Game) and Mervyn Johns (Dead of Night). It also stands out as one of the most atmospheric of Hitchcock's British films as well as one of his most unfairly neglected works.
Special Edition contents:
New 4K digital restoration by the Cohen Film Collection and the BFI

High Definition Blu-ray (1080p) and Standard Definition DVD presentations

Uncompressed Mono 1.0 PCM Audio

Optional English subtitles for the deaf and hard of hearing

Audio commentary by film critic Jeremy Arnold

Shipwrecked in a Studio – a visual essay by Donald Spoto, author of The Dark Side Of Genius: The Life Of Alfred Hitchcock and Spellbound by Beauty: Alfred Hitchcock and His Leading Ladies

Trailer

Reversible sleeve featuring original and newly commissioned artwork by Dan Mumford

First pressing only: Collector's booklet containing new writing on the film by Nathalie Morris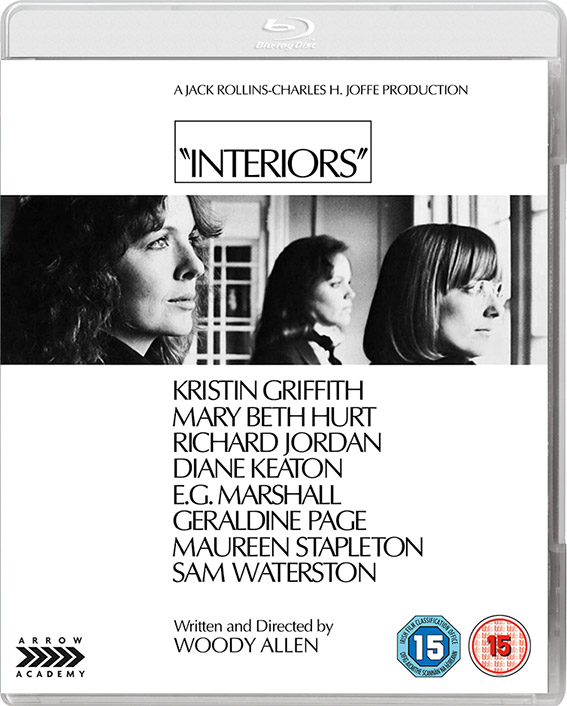 Interiors (1978) | Blu-ray | 14th November 2016 | £17.99
With Interiors, Woody Allen showed the world that he was more than a comedic filmmaker with the Evening Standard's noted critic Alexander Walker remarking "Woody Allen gives us the enormous excitement of seeing gifts in use that we never suspected he possessed."
When Eve (Geraldine Page), an interior designer, is deserted by her husband of many years, Arthur (E.G. Marshall), the emotionally glacial relationships of the three grown-up daughters are laid bare. Twisted by jealousy, insecurity and resentment, Renata (Diane Keaton), a successful writer; Flyn (Kristin Griffith), a woman crippled by indecision; and Joey (Marybeth Hurt), a budding actress; struggle to communicate for the sake of their shattered mother. But when their father unexpectedly falls for another woman (Maureen Stapleton), his decision to remarry sets in motion a terrible twist of fate…
Regarded as a startling departure at the time (although it now clearly anticipates later work), Interiors was Woody Allen's first entirely serious drama, an intimate family chamber-piece strongly influenced by his beloved Ingmar Bergman and performed by a pitch-perfect ensemble cast.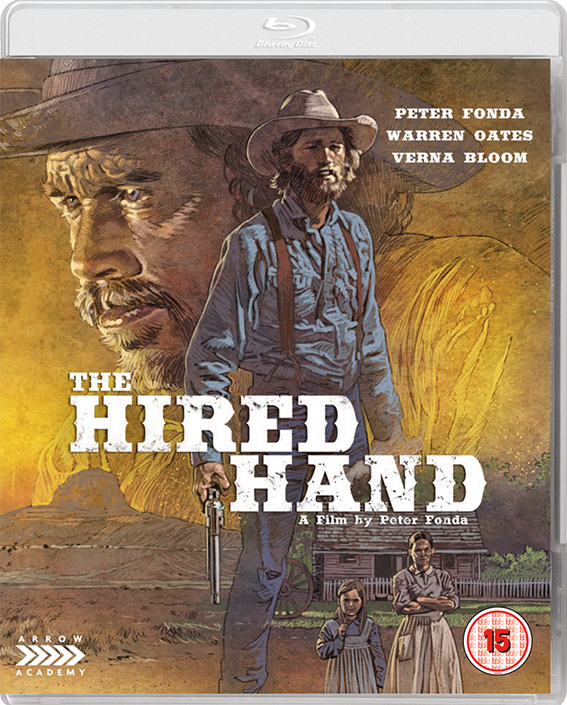 The Hired Hand (1971) | Dual format Blu-ray & DVD | 21st November 2016 | £19.99
Having been at the forefront of America's here-and-now with Easy Rider and the counterculture movies of Roger Corman, Peter Fonda retreated to the past and the American West for his directorial debut, The Hired Hand.
Fonda plays Harry, a man who deserted his wife and child to explore the wide-open plains with his best friend Archie (Warren Oates). "Tired of the life" he decides to finally return home in order to rekindle his marriage and reacquaint himself with his daughter.
Scripted by Alan Sharp (Ulzana's Raid, Night Moves), shot by Vilmos Zsigmond (Blow Out, The Long Goodbye) and with a standout score by folk musician Bruce Langhorne, The Hired Hand is a beautiful, elegiac picture that ranks alongside The Outlaw Josey Wales and Pat Garrett and Billy the Kid as one of the finest Westerns the seventies had to offer.
Special Edition contents:
High Definition Blu-ray (1080p) and Standard Definition DVD presentation of the feature, transferred from original film elements by Universal

Uncompressed Mono 1.0 PCM Audio

Optional English subtitles for the deaf and hard of hearing

Audio commentary by actor-director Peter Fonda

The Return of The Hired Hand – a 2003 documentary containing interviews with Fonda, cinematographer Vilmos Zsigmond, composer Bruce Langhorne, actor Verna Bloom and others

Deleted scenes

Trailer

TV spots

Radio spots

Reversible sleeve featuring original and newly commissioned artwork by Sean Phillips

First pressing only: Collector's booklet containing new writing on the film by Kim Morgan