Eureka Entertainment have announced the release of Tom Holland's directorial debut Fright Night, the iconic 1980s vampire classic starring Chris Sarandon, William Ragsdale and Roddy McDowall, for the first time on Blu-ray in the UK, in a Limited Edition Dual-Format SteelBook on 26 December 2016, and a Special Dual-Format Edition on 10 April 2017.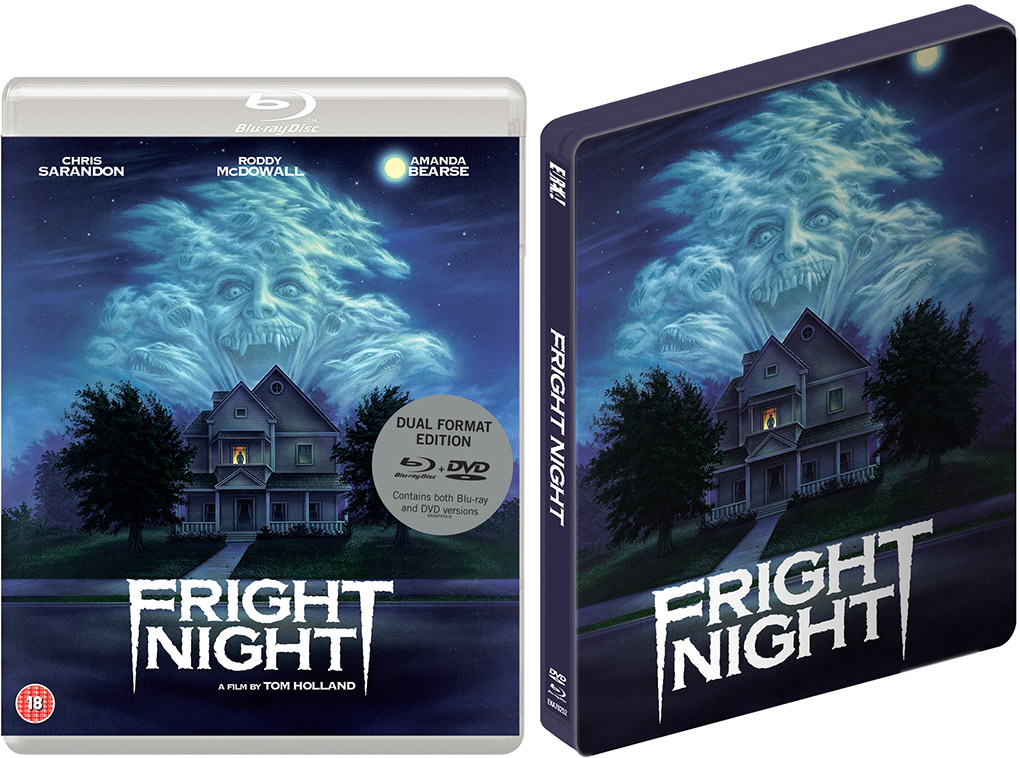 He's sweet, sexy, and he likes to get in late. You might think he's the perfect neighbour. But before inviting Jerry in for a nightcap, there's something you should know. Jerry prefers his drinks warm, red, and straight from the jugular! It's Fright Night, a horrific howl starring Chris Sarandon as the seductive vampire and William Ragsdale as the frantic teenager struggling to keep Jerry's deadly fangs out of his neck.
Only 17-year-old Charley Brewster (Ragsdale) knows Jerry's bloodcurdling secret. When Charley can't get anybody to believe him, he turns to TV horror host Peter Vincent (Roddy McDowall), who used to be the "Great Vampire Killer" of the movies. Can these mortals save Charley and his sweetheart Amy (Amanda Bearse) from the wrathful bloodsucker's toothy embrace? If you love being scared, Fright Night will give you the nightmare of your life!
Dual Format features:
4K digital restoration

Original stereo PCM soundtrack and 5.1 DTS-HD Master Audio options (on the Blu-ray)

English subtitles for the deaf and hearing-impaired

You're So Cool, Brewster!, a new two-hour version of the definitive 2016 documentary on the making of Fright Night, focusing on the first film, created exclusively for this release

What is Fright Night featurette, a 2016 video piece featuring cast and crew interviews (Blu-ray only)

Tom Holland: Writing Horror, a 2016 video piece featuring interviews with Holland and his collaborators (Blu-ray only)

Rowdy McDowall: From Apes to Bats, a 2016 video piece featuring archival footage of McDowall and cast and crew interviews (Blu-ray only)

Fear Fest 2, 2008 reunion panel featuring Tom Holland, Chris Sarandon, William Ragsdale, Stephen Geoffreys, Amanda Bearse, Jonathan Stark and moderated by Rob Galluzzo (Blu-ray only)

Shock Till You Drop Present Choice Cuts with Tom Holland and Ryan Turek, a three-part video interview on the film (Blu-ray only)

The full electronic press kit, featuring extensive on-set interviews and behind-the-scenes footage (Blu-ray only)

Stills and memorabilia from Tom Holland's personal collection (Blu-ray only)

G-rated and R-rated theatrical trailers (Blu-ray only)

A booklet featuring a new essay by Craig Ian Mann (Steelbook exclusive)