The Criterion Collection and Sony Pictures Home Entertainment have confirmed the titles they will be releasing in March of 2017, both of which are arriving on high definition region B Blu-ray format.
20 March sees the release of a brand new restoration of John Waters' second feature and cult classic Multiple Maniacs follows its February cinema re-release. On 27 March the Lone Wolf and Cub collector's box set is released in the UK featuring all six films. Based on the best-selling manga series, these films elevated Samurai cinema to bloody new heights.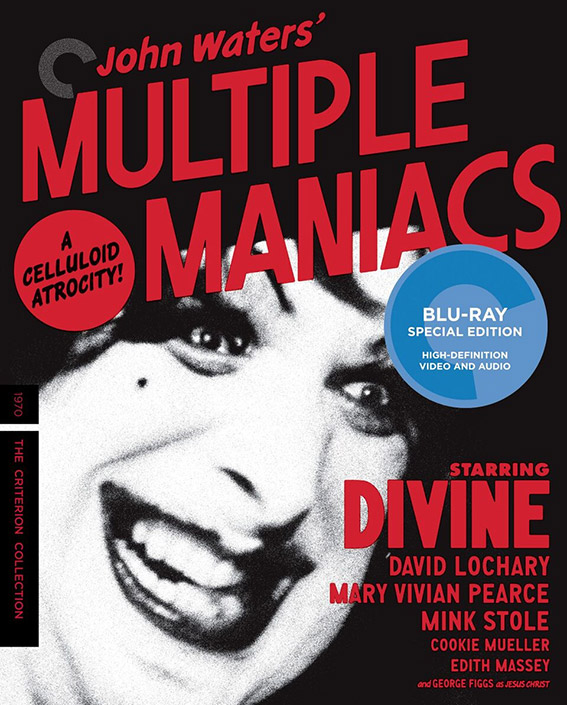 Multiple Maniacs (USA 1970)
The gloriously grotesque second feature directed by John Waters is replete with all manner of depravity, from robbery to murder to one of cinema's most memorably blasphemous moments. Made on a shoestring budget in Waters' native Baltimore, with the filmmaker taking on nearly every technical task, this gleeful mockery of the peace-and-love ethos of its era features the Cavalcade of Perversion, a traveling show mounted by a troupe of misfits whose shocking proclivities are topped only by those of their leader: the glammer-than-glam, larger-than-life Divine, out for blood after discovering her lover's affair. Starring Waters' beloved regular cast the Dreamlanders (including David Lochary, Mary Vivian Pearce, Mink Stole, Susan Lowe, George Figgs, and Cookie Mueller), Multiple Maniacs is an anarchic masterwork from an artist who has doggedly tested the limits of good taste for decades.
Director-approved Special Edition features:
New 4K digital restoration, supervised by director John Waters, with uncompressed monaural soundtrack

New audio commentary featuring Waters

New interviews with cast and crew members Pat Moran, Vincent Peranio, Mink Stole, Susan Lowe, and George Figgs

More to be announced

An essay by critic Linda Yablonsky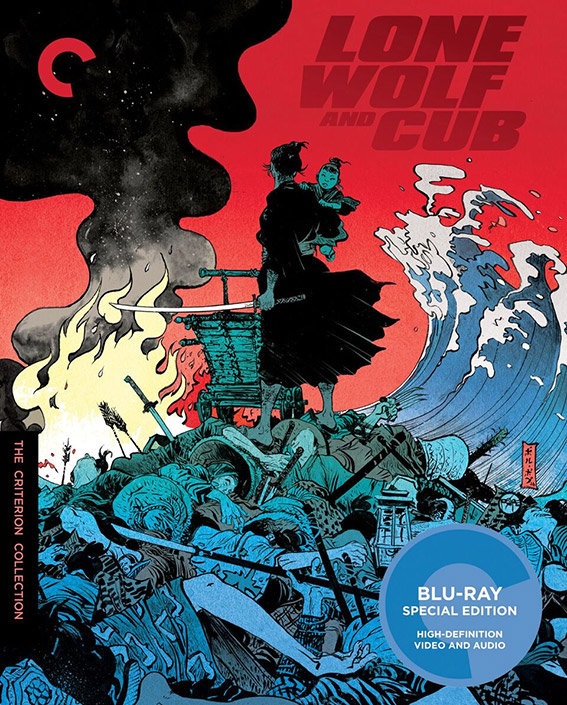 Lone Wolf and Cub (Japan 1972-1974)
Based on the best-selling manga series, the six intensely kinetic Lone Wolf and Cub films elevated chanbara to bloody new heights. The shogun's executioner, Itto Ogami (Tomisaburo Wakayama), takes to wandering the countryside as an assassin – along with his infant son Daigoro (Akihiro Tomikawa) and a seemingly infinitely weaponized perambulator – helping those he encounters while seeking vengeance for his murdered wife. Delivering stylish thrills and a body count that defies belief, Lone Wolf and Cub is beloved for its brilliantly choreographed action sequences as well as its tender depiction of the bonds between a parent and a child.
Collector's Set includes:
Sword of Vengeance (Kenji Misumi – 1972)
The inaugural film in the Lone Wolf and Cub series immediately thrust Itto Ogami into the ranks of the all-time great samurai movie icons.
Baby Cart at the River Styx (Kenji Misumi – 1972)
This exploitation-cinema classic took the action and graphic violence of the Lone Wolf and Cub series to delirious new heights.
Baby Cart to Hades (Kenji Misumi – 1972)
The third Lone Wolf and Cub film follows Itto Ogami and Daigoro as they stumble upon a crime scene involving a group of lowlife swordsmen from the watari-kashi class.
Baby Cart in Peril (Buichi Saito – 1973)
In this distinctly lowbrow entry in the Lone Wolf and Cub series, Itto Ogami is hired by the Owari clan to assassinate a tattooed woman who is killing her enemies and cutting off their topknots.
Baby Cart in the Land of the Demons (Kenji Misumi – 1973)
Balancing physical action with Buddhist musings on life and death, the most spiritual of the Lone Wolf and Cub films finds Ogami's combat skills put to the test by five different warrior-messengers.
White Heaven in Hell (Yoshiyuki Kuroda – 1974)
In the final Lone Wolf and Cub film, star Tomisaburo Wakayama decided to make the sort of wild movie he'd always wanted to: one in which Lone Wolf battles zombies and Daigoro's baby cart zips improbably across an icy landscape on skis.
Special Edition features:
New 2K digital restorations of all six films, with uncompressed monaural soundtracks

High-definition presentation of Shogun Assassin, a 1980 English-dubbed reedit of the first two Lone Wolf and Cub films

New interview with Kazuo Koike, writer of the Lone Wolf and Cub manga series and screenwriter on five of the films

Lame d'un père, l'âme d'un sabre, a 2005 documentary about the making of the series

New interview in which Sensei Yoshimitsu Katsuse discusses and demonstrates the real Suio-ryu sword techniques that inspired the ones depicted in the manga and films

New interview with biographer Kazuma Nozawa about Kenji Misumi, director of four of the six films

Silent documentary from 1939 about the making of samurai swords, with an optional new ambient score by Ryan Francis

Trailers

New English subtitle translations

A booklet featuring an essay and film synopses by Japanese pop-culture writer Patrick Macias