Newly restored by the BFI National Archive, with a new score from acclaimed violist/composer Garth Knox and premiered at the 2016 BFI London Film Festival, The Informer is one of the finest British films of the 1920s and deserves a place alongside other silent greats such as Blackmail, A Cottage on Dartmoor and Piccadilly.
The film now comes to DVD and Blu-ray in a Dual Format Edition, released by the BFI on 24 April 2017 at the RRP of £19.99. It contains the silent version alongside the rare sound version which was produced at the same time.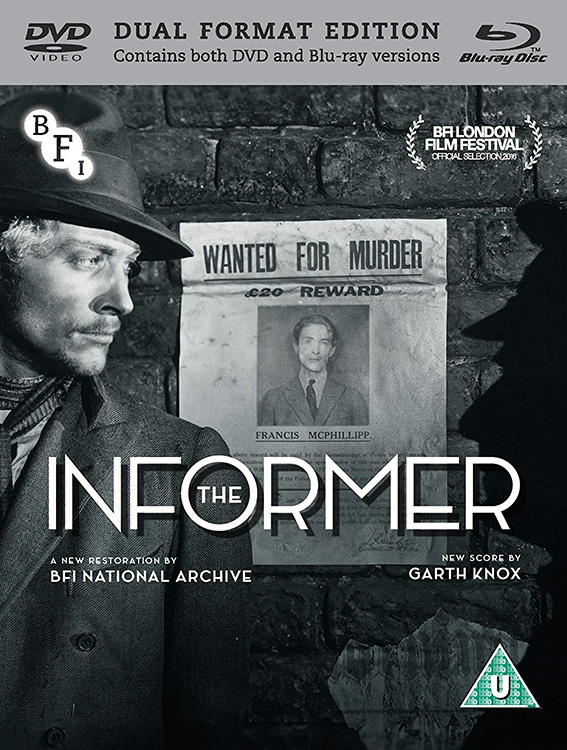 Based on Liam O'Flaherty's popular novel, this gripping thriller is set among a group of revolutionaries in the newly independent Ireland of 1922. When one of their number, Francis, kills the chief of police he goes on a run but when he returns to Dublin he is cruelly betrayed by his onetime friend, Gypo.
Dual Format edition features:
A new restoration presented in High Definition and Standard Definition
The sound version of The Informer (1929, 84 mins)
Restoration Demonstration (2016, 5 mins)
A selection of Topical Budget newsreels documenting Irish independence:

I Want Peace (1921)
Is it the Dawn? (1921)
Historic Unionist Conference At Liverpool (1921)
Irish Peace Imperilled By Extremists (1921)
Further Pictures of the Irish Peace (1921)
Surrender of Dublin Castle (1922)
British Evacuate Ireland after Hundreds of Years of Occupation (1922)
Dublin's Civil War (1922)

Booklet with credits, and essays by Bryony Dixon, Garth Knox and Michael Brook