The Criterion Collection and Sony Pictures Home Entertainment have announced the titles that they will be releasing on Blu-ray in the UK in September 2017. On 4 September comes the biggest, loudest comedy ever made, It's a Mad, Mad, Mad, Mad World, followed by Certain Women on 25 September. Kelly Reichardt's revelatory character study, a snapshot of four lives against the wide-open landscape of Montana.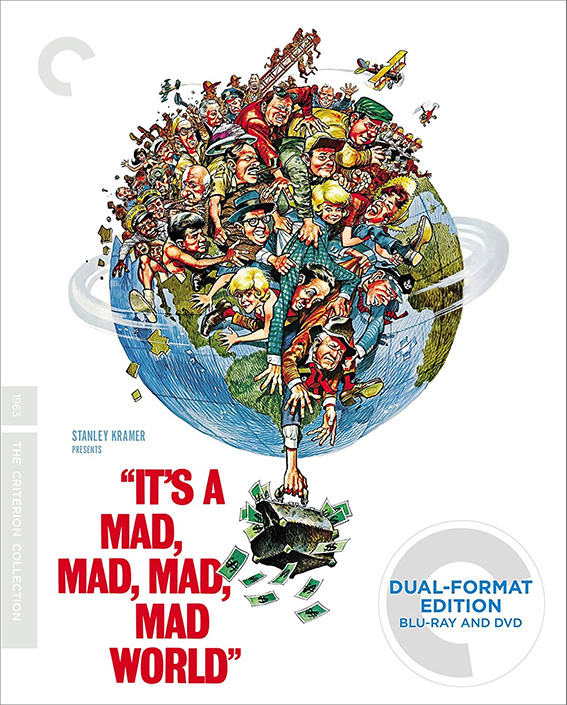 It's a Mad, Mad, Mad Mad World (1963)
Stanley Kramer followed his Oscar-winning Judgment at Nuremberg with this sobering investigation of American greed. Ah, who are we kidding? It's a Mad, Mad, Mad, Mad World, about a group of strangers fighting tooth and nail over buried treasure, is the most grandly harebrained movie ever made, a pileup of slapstick and borscht-belt-y one-liners performed by a nonpareil cast, including Milton Berle, Sid Caesar, Ethel Mermen, Mickey Rooney, Spencer Tracy, Jonathan Winters, and a boatload of other playing-to-the-rafters comedy legends. For sheer scale of silliness, Kramer's wildly uncharacteristic film is unlike any other, an exhilarating epic of tomfoolery.
Blu-ray Specieal Edition features:
Restored 4K digital film transfer of the general release version of the film, with 5.1 surround Master Audio soundtrack
New high-definition digital transfer of a 197-minute extended version of the film, reconstructed and restored by Robert A. Harris using visual and audio material from the longer original road-show version – including some scenes that have been returned to the film here for the first time – with 5.1 surround Master Audio soundtrack
New audio commentary featuring It's a Mad, Mad, Mad, Mad World aficionados Mark Evanier, Michael Schlesinger and Paul Scrabo
ew documentary on the film's visual and sound effects, featuring rare behind-the-scenes footage of the crew at work and interviews with visual-effects specialist Craig Barron and sound designer Ben Burtt
Talk show from 1974 hosted by director Stanley Kramer and featuring Mad World actors Sid Caesar, Buddy Hackett, and Jonathan Winters
Press interview from 1963 featuring Kramer and members of the film's cast
Interviews recorded for the 2000 AFI programme 100 Years . . . 100 Laughs, featuring comedians and actors discussing the influence of the film
Two-part 1963 episode of the CBC television program Telescope that follows the film's press junket and premiere
The Last 70mm Film Festival, a programme from 2012 featuring cast and crew members from Mad World at the Academy of Motion Picture Arts and Sciences, hosted by Billy Crystal
Selection of humorist and voice-over artist Stan Freberg's original TV and radio advertisements for the film, with a new introduction by Freberg
Original and rerelease trailers, and re-release radio spots
Two Blu-rays
A booklet featuring an essay by film critic Lou Lumenick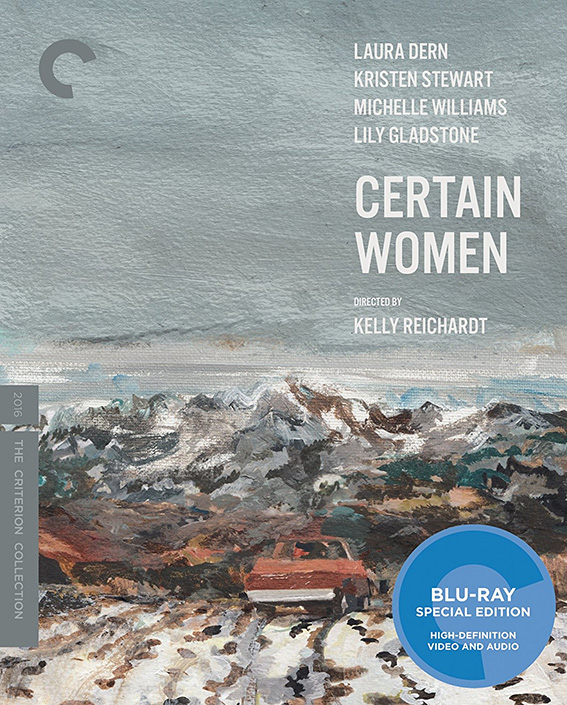 Certain Women (2016)
The expanses of the American Northwest take centre stage in this intimately observed triptych from Kelly Reichardt (Meek's Cutoff). Adapted from three short stories by Maile Meloy and unfolding in self-contained but interlocking episodes, Certain Women navigates the subtle shifts in personal desire and social expectation that unsettle the circumscribed lives of its characters: a lawyer (Blue Velvet's Laura Dern) forced to subdue a troubled client; a woman (Manchester by the Sea's Michelle Williams) whose plans to construct her dream home reveal fissures in her marriage; and a night-school teacher (Personal Shopper's Kristen Stewart) who forms a tenuous bond with a lonely ranch hand (Lily Gladstone), whose unguardedness and deep attachment to the land deliver an unexpected jolt of emotional immediacy. With unassuming craft, Reichardt captures the rhythms of daily life in small-town Montana through these fine-grained portraits of women trapped within the landscape's wide-open spaces.
Director-Approved Special Edition features:
New 2K digital transfer, supervised by director Kelly Reichardt and cinematographer Christopher Blauvelt, with 5.1 surround DTS-HD Master Audio soundtrack
New interviews with the film's cast and crew, including Reichardt and executive producer Todd Haynes
New interview with Maile Meloy, author of the stories on which the film is based
Trailer
An essay by critic Ella Taylor