Curzon Artificial Eye has announced that The Other Side of Hope [Toivon tuolla puolen], the latest film from the Finnish master of deadpan comedy, Aki Kaurismäki, will be released on UK Blu-ray and DVD later this month.
Khaled (Sherwan Haji) arrives at the port of Helsinki concealed in a coal container, fleeing war-torn Syria to seek asylum in Finland. Dazed and frustrated by the monolithic administration he encounters at the detention centre, he makes a break for it and heads out onto the streets. There he meets Wikström (Sakari Kuosmanen), a former shirt salesman who has recently left his alcoholic wife for a new life as a bachelor restaurateur. Together, they help each other to navigate the adversities they face in these unfamiliar and often baffling new worlds.
With hilarious sight gags, poker-faced one liners and a toe-tapping rockabilly soundtrack, Kaurismäki's latest balances his unparalleled wit with a pressing critique of the unforgiving bureaucracy that greets vulnerable asylum seekers in modern-day Europe. Humane and sincere, it's proof of cinema's power to tell stories that matter, with beauty and heart.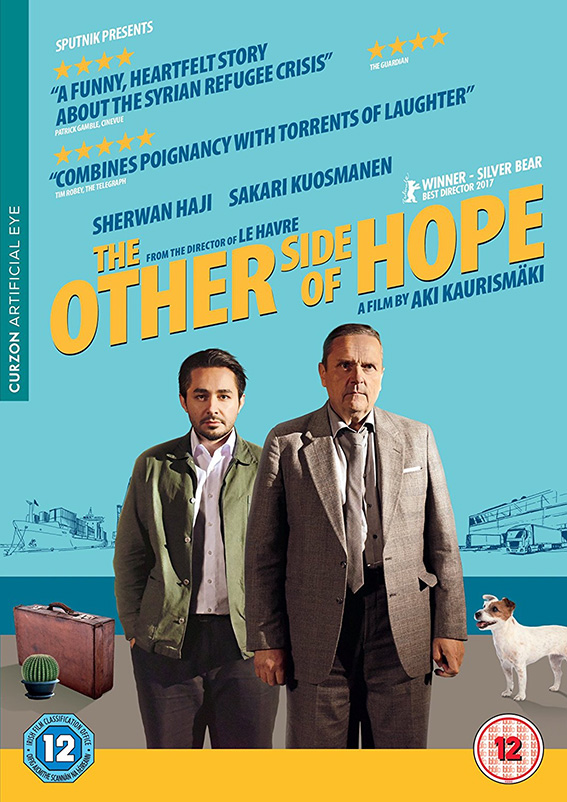 Described by Empire as "A two-finger salute to cold-hearted bureaucracy and his homeland's apathy in the face of the humanitarian crisis," The Other Side of Hope will be released on UK Blu-ray and DVD on 24 July 2017 by Curzon Artificial Eye at the RRP of £15.99 for the DVD and £19.99 for the Blu-ray.
Special features: