In 1957, Hammer's first ever horror film in colour was released: The Curse of Frankenstein. Its huge success spawned many more Hammer Horror films and the studio's domination of the horror genre, which was to last for a decade and a half.
So 60 years on, to commemorate this anniversary, Studiocanal and Park Circus, in conjunction with FrightFest, Scalarama and more tbc, are releasing brand new restorations of eight classic Hammer Horror titles at cinemas and on DVD/Blu-ray doubleplay.
From the gothic horrors Scars of Dracula, Blood From The Mummy's Tomb, Dr Jekyll & Sister Hyde, Horror Of Frankenstein and psychological chillers Fear In The Night, Straight On Till Morning and Demons Of The Mind to Hammer's last horror film of the 20th century To The Devil A Daughter, the eight films are selected from the glory years of the iconic house of horror.
On Sunday 27th August 2017, FrightFest will host the restoration premieres of Demons Of The Mind and Blood From The Mummy's Tomb at the Prince Charles Cinema, London.
On 19th September 2017 Scalarama's annual month-long celebration of movies presents 'Hammer Day', with screenings across the UK of all eight restored Hammer films, in conjunction with Park Circus. 19th September would have been the birthday of Hammer producer/screenwriter Anthony Hinds.
Studiocanal will release the newly restored films as Doubleplay editions on 23rd October 2017 [Blood From The Mommy's Tomb, Demons Of The Mind, Fear In The Night, Scars of Dracula] and on 13th November 2017 [Dr. Jekyll and Sister Hyde, Straight On 'Til Morning, To The Devil A Daughter, Horror Of Frankenstein]. Extra features will be confirmed nearer the release dates.
Details on the films themselves are below.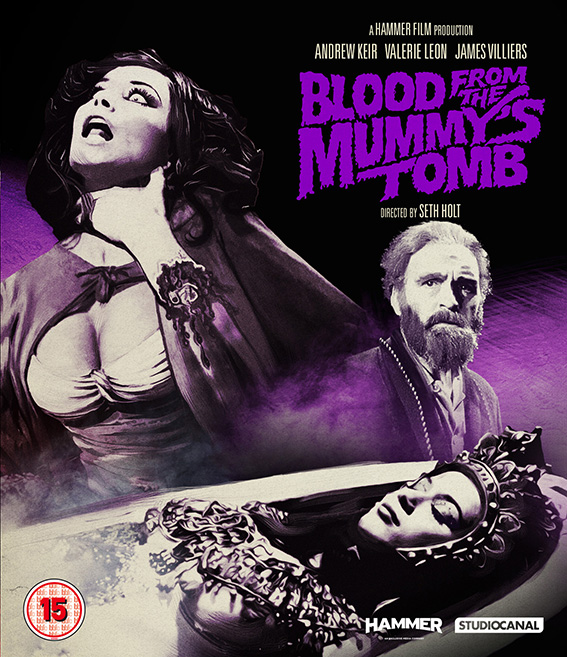 Blood From the Mummy's Tomb
Directed by Seth Holt | Starring Andrew Keir, Valerie Leon | UK | 1971 | 89 mins
Adapted from Bram Stoker's mystical thriller The Jewel of the Seven Stars, this supernatural shocker is one of Hammer's most enduring classics. A British expedition team in Egypt discovers the ancient sealed tomb of the evil Queen Tera but when one of the archaeologists steals a mysterious ring from the corpse's severed hand, he unleashes a relentless curse upon his beautiful daughter. Is the voluptuous young woman now a reincarnation of the diabolical sorceress or has the curse of the mummy returned to reveal its horrific revenge? Blood From The Mummy's Tomb was plagued by the sudden deaths of director Seth Holt and the wife of original star Peter Cushing, leading to rumours of a real-life curse. Michael Carreras completed the movie that made a Scream Queen of Valerie Leon as the Mummy who, in a titillating twist, forgoes the usual rotting-bandages and is instead resurrected sporting a negligée.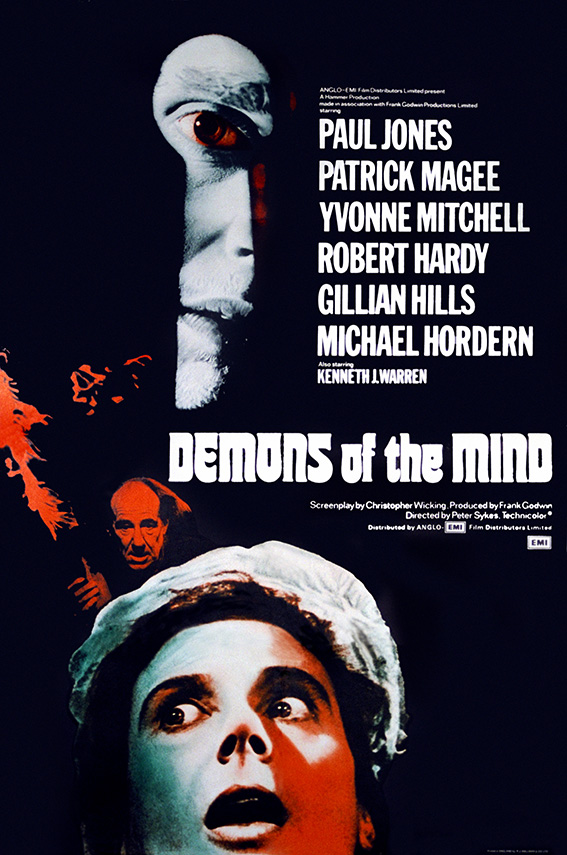 Demons of the Mind
Directed by Peter Sykes | Starring Robert Hardy, Shane Briant, Patrick Magee | UK | 1972 | 89 mins
In 19th century Bavaria, deranged Baron Zorn (Hardy) keeps his children Emil (Briant) and Elizabeth locked up because he thinks they are possessed by tainted hereditary madness. It's up to discredited psychiatrist Professor Falkenberg (Magee) to unravel the dark family secrets involving incest, traumatic suicide and proxy fantasies in this satisfying and unusual late-period masterpiece.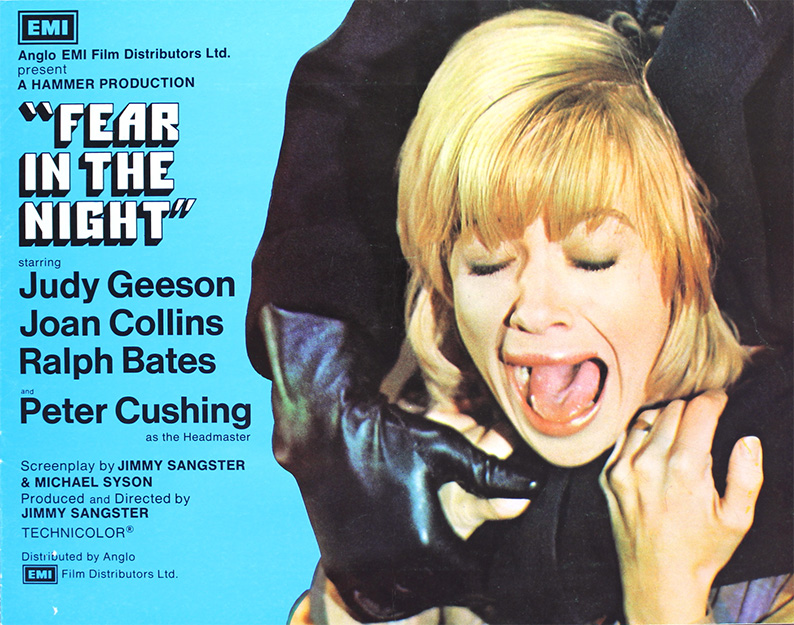 Fear in the Night
Directed by Jimmy Sangster | Starring Judy Geeson, Joan Collins, Ralph Bates, Peter Cushing | UK | 1976 | 94 mins
A damaged young girl (Geeson), recovering from a recent nervous breakdown, is about to move with her new husband (Briant) to a secluded boarding school in the country but, the night before they are due to leave, she is attacked by a one-armed man with a prosthetic hand. With no evidence remaining, her kindly old neighbour and the local doctor conclude that she may have imagined the attack and the intruder altogether. The terror follows her and at the school she is attacked again but again her story is met by doubt, this time from her kind and loving new husband. She continues to be terrorised by the mysterious one-armed man, but nobody believes her.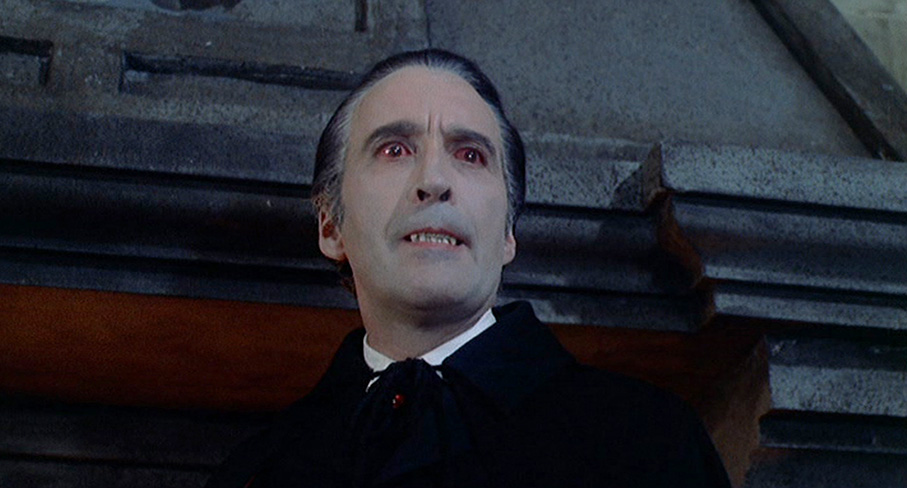 The Scars of Dracula
Directed by Roy Ward Baker | Starring Christopher Lee, Dennis Waterman, Jenny Hanley, Patrick Troughton | UK | 1970 | 96 mins
Count Dracula (Lee) is brought back from the dead when blood from a bat falls on his mouldering ashes and once again spreads his evil from his mountaintop castle. When a young man, Paul, disappears one night, his brother Simon (Waterman) and his girlfriend (Hanley) trace him to the area, discovering a terrified populace. Thrown out of the local inn, they make their way, like Paul before them, towards the sinister castle and its undead host.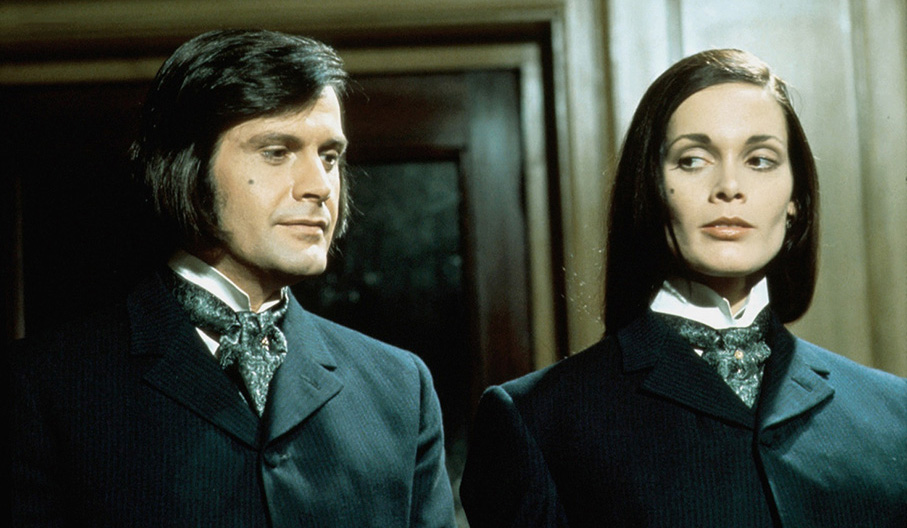 Dr. Jeckyll and Sister Hyde
Directed by Roy Ward Baker | Starring Ralph Bates, Martine Beswick | UK | 1971 | 97 mins
In Victorian London, Professor Jekyll (Bates), an earnest scientist, obsessively works day and night haunted by the fear that one lifetime will not be enough to complete his research. Side-tracked from his objective he becomes consumed with developing an immortality serum. Once convinced his findings are complete, he consumes the potion only to discover that he is to become two as he turns into half Jekyll and half Hyde. Desperate to cover up his newfound identity he calls her his sister, but things take a turn for the worse when he realises that he needs female hormones if he is to maintain his existence. Before long he is battling with his alter ego Mrs Hyde (Beswick), as a number of young girls begin to go missing in the streets of London…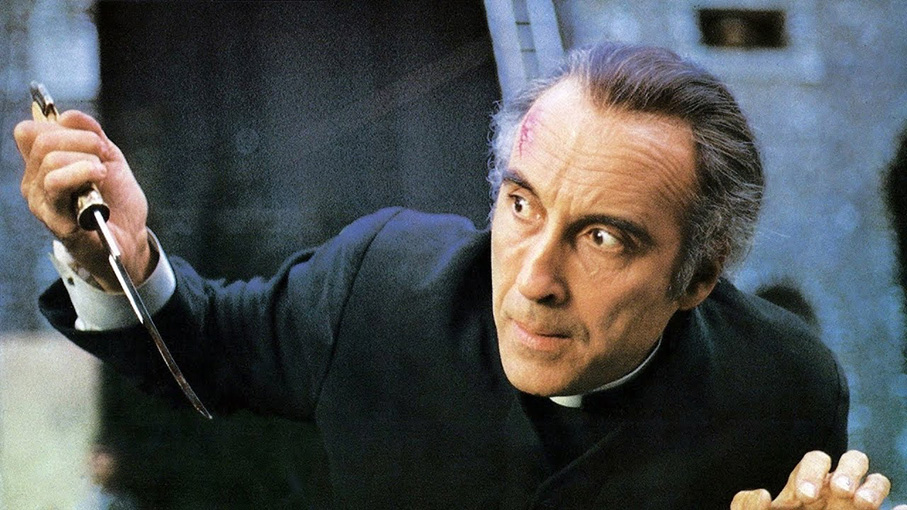 To the Devil a Daughter
Directed by Peter Sykes | Starring Richard Widmark, Christopher Lee, Honor Blackman, Denholm Elliott, Nastassja Kinski | UK | 1976 | 95 mins
In 1970s London John Verney (Widmark), a renowned occult writer, is approached by Henry Beddows (Elliot) to help rescue his daughter Catherine (Kinski) from a Satanic cult. Catherine is a nun with the Children of the Lord, a mysterious heretical order based in Bavaria and founded by the excommunicated Roman Catholic priest (Lee). When Catherine arrives from Germany, Verney sneaks her away from her bodyguard and takes her to his apartment. The order, however, are determined to get Catherine back and use all the powers of black magic at their disposal in the ensuing battle between the forces of light and darkness.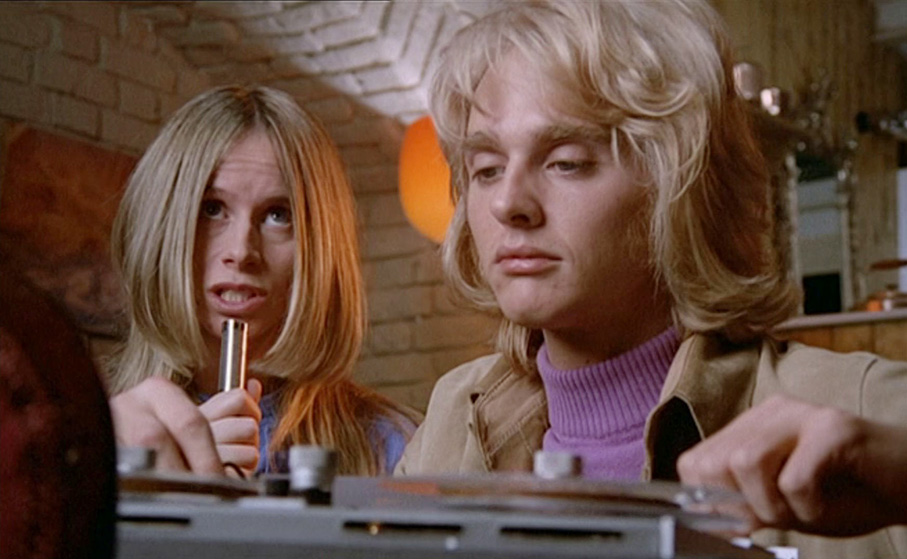 Straight on Till Morning
Directed by Peter Collinson | Starring Rita Tushingham, Shane Briant, James Bolam | UK | 1972 | 96 mins
Brenda (Tushingham), an innocent young girl, leaves her hometown of Liverpool for London in search of love. By chance she meets Clive (Briant). Attractive, debonair and rich he seems to be the handsome Prince Charming she's been looking for, but Clive is actually a deeply disturbed young man and his psychotic tendencies soon manifest themselves and destroy Brenda's dreams of a fairy-tale life.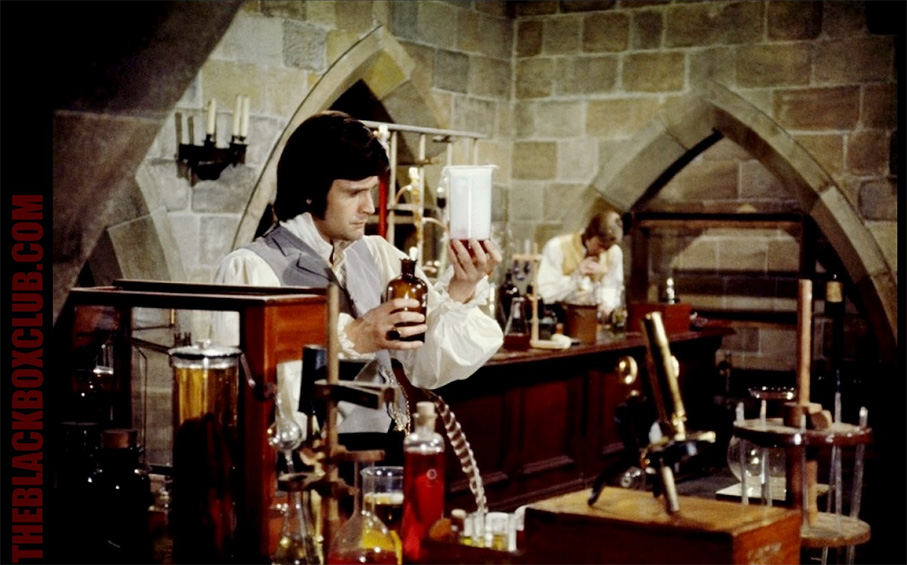 The Horror of Frankenstein
Directed by Jimmy Sangster | Starring Ralph Bates, Kate O'Mara | UK | 1970 | 95 mins
Young Victor Frankenstein (Bates) returns from medical school with a depraved taste for beautiful women and fiendish experiments. But when the doctor runs out of fresh body parts for his 'research' he turns to murder to complete his gruesome new creation. Now his monster has unleashed its own ghastly killing spree and the true horror of Frankenstein has only just begun…