The lovely people at Indicator are planning to celebrates Halloween in High Definition with a nerve-shredding selection of classic British horror films, all packaged in lovingly produced Blu-ray-only Limited Editions.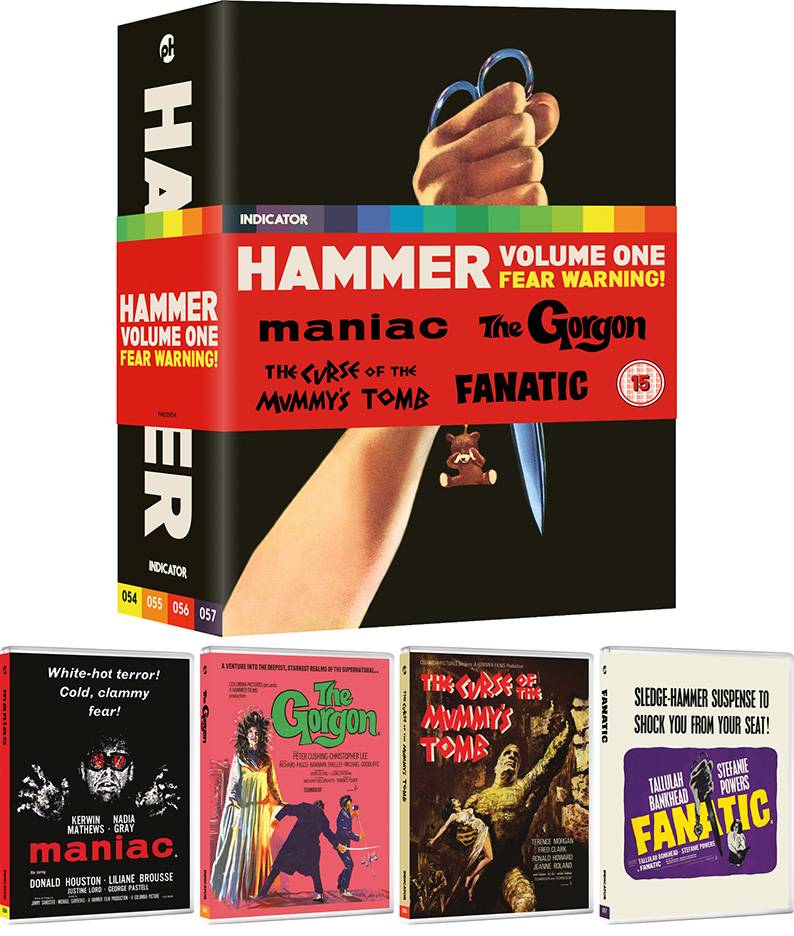 16 October 2017 sees Hammer Volume One: Fear Warning! – the first in a series of Blu-ray-only Limited Edition box sets dedicated to British cinema's most iconic and celebrated film production company. Collecting four of the best Hammer Films productions of the early 60s, this fright-filled set includes two films by the great producer-director Michael Carreras – the intense Maniac (1963) and the horror classic The Curse of the Mummy's Tomb (1964) – along with Terence Fisher's horrifying The Gorgon (1964) and Silvio Narizzano's lurid psycho-thriller Fanatic (aka Die! Die! My Darling!, 1965), starring Tallulah Bankhead and Stefanie Powers. All four films are presented on Blu-ray for the very first time in the UK, and are accompanied by a wealth of new and exclusive extra features, including individual booklets.
Indicator Limited Edition Blu-ray Box Set features:
HD restorations of all four films 
Original Mono audio 
All-new documentaries exploring aspects of each film
The Gorgon audio commentary with Daughters of Darkness' Samm Deighan and Kat Ellinger
The Gorgon introduction by actor and filmmaker Matthew Holness
New interviews with actors Barbara Shelley and Mike McStay
New interviews with cameramen Michael Reed and Douglas Milsome
Playwright Matthew Lombardo on Tallulah Bankhead and Fanatic
Hammer's Women – an exclusive series of filmed appreciations of Nadia Gray, Barbara Shelley, Jeanne Roland and Tallulah Bankhead
Original trailers and promotional films
Promotional and on-set photography, poster art and archive materials
Four box set exclusive booklets with new essays, contemporary reviews, historic articles, and full film credits
UK premieres on Blu-ray 
Limited edition box set of 4,000 copies
...AND MORE!
Then, on 24 October, Indicator resurrects two more full-on frighteners: Freddie Francis' gruesome Amicus anthology Torture Garden (1967), written by Psycho author Robert Bloch, and starring screen giants Peter Cushing, Jack Palance and Burgess Meredith; and the rarely-seen Fragment of Fear (1970), penned by Goldfinger screenwriter Paul Dehn, directed by Richard C. Sarafian the year before he made Vanishing Point, and starring the iconic talents of David Hemmings, Gayle Hunnicutt and Wilfrid Hyde-White.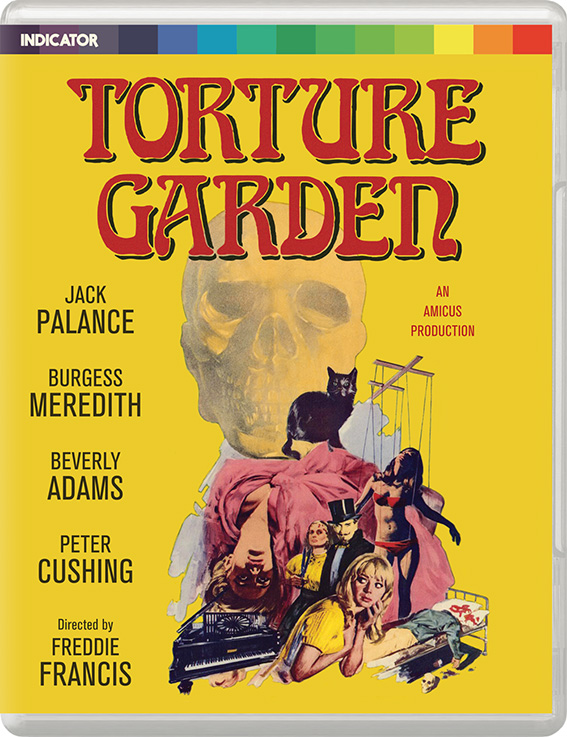 Torture Garden
From Hammer-rival Amicus Productions comes this horror anthology penned by Robert Bloch (author of Psycho) and directed by the great British cinematographer Freddie Francis. Genre legend Peter Cushing stars alongside Jack Palance and Burgess Meredith in an omnibus of chilling and gruesome stories, inspired by E.C. Comics' Tales from the Crypt comic-book series of the 1950s.
Indicator Limited Edition Blu-ray features:
High Definition remaster 
Original mono audio 
Ramsey Campbell on Robert Bloch (2017, tbc mins) 
Interview with Fiona Subotsky (2017, tbc mins) 
Interview with actor Barbara Ewing (2017, tbc mins) TBC 
Hannah Gordon on husband DoP Norman Warwick (2017, tbc mins) TBC 
Original theatrical trailer 
Image gallery: on-set and promotional photography 
New and improved English subtitles for the deaf and hard-of-hearing 
Limited edition exclusive booklet with a new essay by Laura Mayne, an overview of contemporary critical responses, and historic articles on the film 
UK premiere on Blu-ray 
Limited Edition of 3,000 copies 
More TBC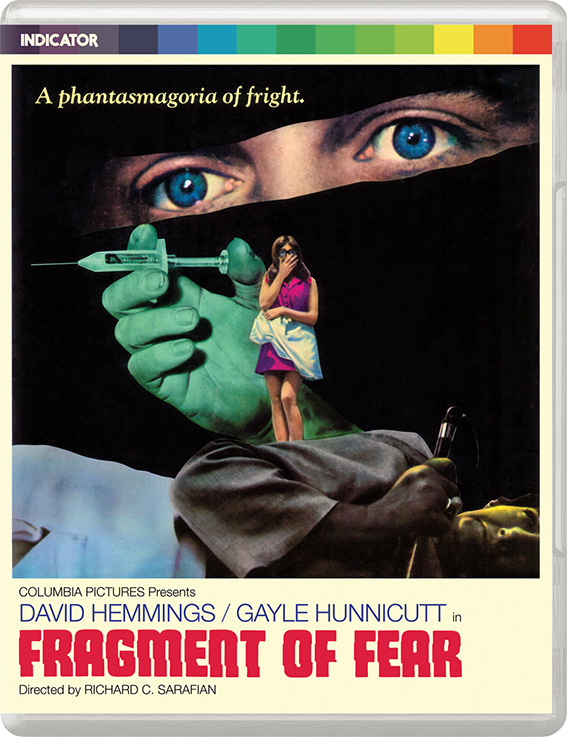 Fragment of Fear
Based on the novel A Fragment of Fear by former M15 spy John Bingham, 7th Baron Clanmorris, this stylish cine-trip from Vanishing Point director Richard C. Sarafian features David Hemmings and Gayle Hunnicutt (then real-life husband and wife) falling into a waking nightmare of murder, mystery and paranoia.
Limited Edition Blu-ray featiures:
High Definition remaster
Original mono audio
David Kipen on author John Bingham and screenwriter Paul Dehn (2017, tbc mins)
Interview with assistant director William P. Cartlidge (2017, tbc mins)
Original theatrical trailer 
Image gallery: on-set and promotional photography
New and improved English subtitles for the deaf and hard-of-hearing
Limited edition exclusive booklet with a new essay by Johnny Mains, an overview of contemporary critical responses, and historic articles on the film 
World premiere on Blu-ray
Limited Edition of 3,000 copies 
More TBC