Studiocanal has announced that a new restoration of Leslie Norman's classic wartime epic Dunkirk (1958) will be released on Blu-ray, DVD and Digital Download in September. Featuring brand new extras, Ealing Studios' remarkable Dunkirk (1958) will be released as part of Studiocanal's Vintage Classics Collection – a showcase of iconic British films, all fully restored and featuring brand new extra content.
Dunkirk follows the dramatic events leading up to Operation Dynamo, where upon the British Army attempted to rescue fellow soldiers and allied troops from Nazi occupied France. Seen from the dual perspectives of a jaded journalist in search of propaganda and a weary soldier desperately trying to give his troop some hope, Dunkirk never shies away from the brutality of war and the bravery of its soldiers.
Directed by Leslie Norman (The Long, The Short And The Tall), starring John Mills (Ice Cold In Alex, Goodbye Mr Chips, Great Expectations) Richard Attenborough (Brighton Rock, The Great Escape) and a cast featuring genuine army officers, Dunkirk is one of the most authentic representations of conflict during World War II.
The film will premiere on the very beaches of Camber Sands where it was shot, on the evenings of Wednesday 20 September and Thursday 21 September. The event is produced in association with The Luna Cinema and The Vintage Festival, and is part of the BRITAIN ON FILM collection: COAST AND SEA.
As well as the screening, event-goers will enjoy an evening of themed 1940s homegrown entertainment, including food and drink of the era, 1940s dance classes and set dressing, music and walkabout re-enactments. Gates will open at 5:30pm, and the screening will begin at 7.30pm.
The screening of DUNKIRK will be preceded by archive short films, including a specially compiled montage of footage from the local coastal area at the time of the production by Screen Archive South East. There will also be a special guest introduction.
This event has been made possible as part of a special programme of screenings and events taking place at coastal locations around the UK, staged supported by the BFI Film Audience Network (FAN), organisations with funds from the National Lottery, and led by Film Hub Central East (Broadway Cinema Nottingham) to launch BFI's Britain on Film Coast and Sea collection.
For more information and to book tickets please visit:
http://www.vintagefestival.co.uk/events/dunkirk-camber-sands-20th-and-21st-september-2017/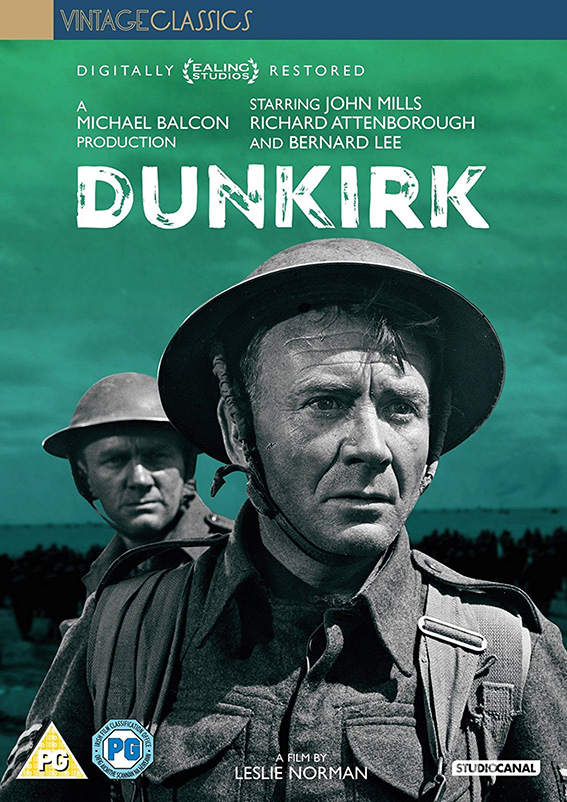 Dunkirk will be released in a new 2K restoration on UK Blu-ray, DVD and Digital Download on 25 September 2017 by Studiocanal at the RRP of £22.99 for the Blu-ray and £17.99 for the DVD.
Special features:
Interview with actor Sean Barrett
Dunkirk Operation Dynamo Newsreel
Young Veteran Ealing short
John Mills home movie footage
Behind the Scenes stills gallery