Studiocanal has announced the release of a brand-new box set of six key films from one of France's most celebrated and truly original filmmakers, Jean-Pierre Melville, in celebration of his centenary this year.
Featuring several brand-new 4k restorations and exclusive new extras, Melville – The Essential Collection will be available to own on Blu-Ray on 11 December 2017 at the RRP of £69.99.
A number of the titles featured in the collection – Le Doulos, Bob Le Flambeur, Léon Morin, Prêtre, L'Armée Des Ombres and Le Cercle Rouge – will also be available to own individually on a later date. Probably (this has yet to be confirmed). The set will also include a bonus DVD.
Often regarded as the godfather of the Nouvelle Vague, the films in Melville – The Essential Collection are all examples of the daring and innovative filmmaking that would see the controversial director influence many artists and filmmakers even now, from Godard to Tarantino to Johnnie To.
Though remembered now primarily for his intense, spare 1960s gangster films, French filmmaker Jean-Pierre Melville had a startlingly varied career, encompassing wartime dramas, psychosexual character studies, and a collaboration with Jean Cocteau. Jean-Pierre Grumbach (he would eventually change his name to Melville to honour the American author of Moby Dick), though a lover of classical studio directors (William Wyler and John Huston among them), worked mostly independently, even building his own studio. It was this fierce do-it-yourself attitude, and such startling, uncompromising films as Les Enfants Terribles and Bob le Flambeur, that appealed to the filmmakers of the French New Wave, who adopted Melville as a godfather of sorts (Godard even famously gave him a cameo in Breathless). During the New Wave, however, Melville went his own way, making highly idiosyncratic crime films – classically mounted if daringly existential – that were beholden to no trend, including Le Doulos, Le Deuxième Soufflé, and Le Samouraï. His most personal movie was L'Armée des Ombres, which, though misunderstood upon its initial French release in 1969, is now widely considered a masterpiece. Melville died of a heart attack in 1973 at the age of fifty-five.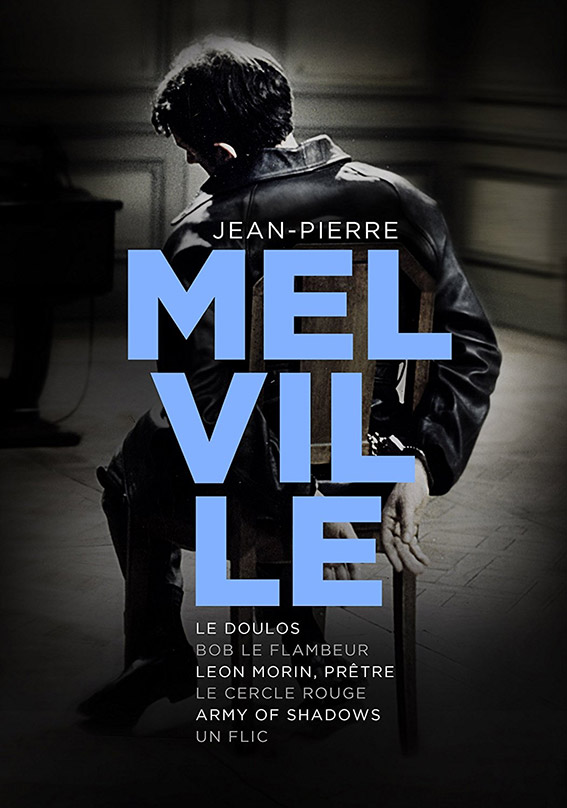 Bob le Flambeur [Bob the Gambler] (1956) – New 4K restoration
Suffused with wry humor, Jean-Pierre Melville's Bob le Flambeur melds the toughness of American gangster films with Gallic sophistication to lay the road map for the French New Wave. In Paris, Bob Montagne (Roger Duchesne) is synonymous with gambling -- and winning. He is kind, classy and well-liked by virtually everyone in town, including police inspector Ledru (Guy Decomble). However, when Bob's luck turns sour, he begins to lose friends and makes the most desperate gamble of his life: to rob the Deauville casino during Grand Prix weekend, when the vaults are full….
Special features:
NEW retrospective documentary by the film critic Dominique Maillet (20 mins)

Léon Morin, Prêtre [Léon Morin, Priest] (1961) – New 4K restoration
Jean-Paul Belmondo delivers a subtly sensual performance as the titular character in Léon Morin, Priest In a French town during the Occupation, Barny (Emmanuelle Riva) is a young, wayward, sexually frustrated widow living with her young daughter. A communist militant who long ago decided that the easiest way was the best, one day Barny enters a church, randomly chooses a priest to confess to and, while in confessional, attempts to provoke him by criticizing Catholicism. Instead of being affronted, the priest engages her in an intellectual discussion regarding religion. The priest is Léon Morin. Young, handsome, smart and altruistic, he invites Barny to continue the conversation outside of confessional. She begins regularly seeing him and is impressed by his moral strength, while he makes it his mission to steer her onto the right path.
Special features:
NEW Master class with Melville's friend and apprentice Philippe Labro and Melville's nephew Rémy Grumbach (59 mins)

Le Doulos [The Finger Man] (1963) – New 4K restoration
The backstabbing criminals in the shadowy underworld of Jean-Pierre Melville's Le Doulos have only one guiding principle: "Lie or die." Having recently been released from prison, burglar Maurice Faugel (Serge Reggiani) murders his friend Gilbert Vanovre (René Lefèvre) and steals the spoils from previous robbery. As Maurice prepares for another burglary, his friend Silien (Jean-Paul Belmondo) brings him the necessary equipment. What Maurice doesn't know, however, is that Silien is a police informant. Shot and edited with Melville's trademark cool and featuring masterfully stylized dialogue and performances, Le Doulos (slang for "informant") is one of the filmmaker's most gripping crime dramas.
Special features:
NEW Interview with first assistant director Volker Schlondorff (20 mins)

L'armée des ombres [Army of Shadows] (1969)
This masterpiece by Jean-Pierre Melville about the French Resistance was unreleased in the United States for thirty-seven years, until its triumphant theatrical debut in 2006. Atmospheric and gripping, Army of Shadows is Melville's most personal film, featuring Lino Ventura, Paul Meurisse, Jean-Pierre Cassel, and the incomparable Simone Signoret as intrepid underground fighters who must grapple with their conception of honour in their battle against Hitler's regime.
Special features:
L'armée des ombres... le dessous des cartes (Army of Shadows: the hidden side of the story): documentary (87 mins)

Le Cercle Rouge [The Red Circle] (1970)
When English criminal Corey (Alain Delon) gets released from prison, he resolves to never return. Crossing paths with a notorious prison escapee (Gian Maria Volonté) and an alcoholic ex-cop (Yves Montand), he nevertheless agrees to undertake an intricate heist with his unlikely accomplices. Soon, a relentless inspector (Bourvil) and the gang's own pasts contrive to seal their fates. Le Cercle Rouge combines honorable antiheroes, coolly atmospheric cinematography, and breathtaking set pieces to create a masterpiece of crime cinema.
Special features:
Interview with Le Cercle Rouge's first assistant director Bernard Stora (30 mins)
Code Name Melville (76 mins)
Interview with first assistant director Bernard Stora (30 mins)
Interview with novelist José Giovani (15 mins)
Présentation by Ginette Vincendeau (21 mins)

Un Flic [Dirty Money] (1972)
In Melville's final feature film, Un Flic, Parisian police chief Edouard Coleman's (Alain Delon), life investigating violent crimes has left him feeling despondent. After beginning an affair with a beautiful but cold woman named Cathy (Catherine Deneuve), he befriends her boyfriend, Simon (Richard Crenna), a local nightclub owner. Unbeknownst to Edouard, however, Simon is also a ruthless bank robber and drug smuggler who is planning one final heist. Edouard is forced to pursue Simon after learning his true identity.
Special features:
Documentary featuring interviews with Un Flic's script supervisor Florence Moncorgé-Gabin and first assistant director Jean-François Delon (24 mins)

Additional special features:
In the Mood for Melville documentary (52 mins)
24 Heures de la vie d'un clown – Melville short (22 mins)