Tunnel of Fear is the twentieth episode of the first series of the 1960s cult British spy-fi television series The Avengers, starring Ian Hendry, Patrick Macnee and Ingrid Hafner and was broadcast by ABC Television on 5 August 1961. It's one of only three known complete season 1 episodes to have survived since the original broadcast. Lost for 55 years, the episode came to light in a private film collection in 2016 and was recovered by the British television preservation group Kaleidoscope.
Now for the first time ever, Avengers fans will be able to own the episode its entirety on DVD with a host of extra content.
Harry Black, an escaped convict, bursts into Dr David Keel's surgery wounded. He claims to have been framed for a crime that he did not commit – and begs the doctor not to hand him over to the police. Steed arrives and ascertains that Black has links to Southend-on-Sea which might well tie in with an investigation currently being undertaken by his department. They are aware that top government secrets are being leaked from a fun fair in Southend, and Black's story, if true, could possibly lead them to the source of the operation. Can Steed and Keel bring down the operation, prove Harry's innocence and get out of Southend with their lives?
The DVD includes a new interview with John Dorney, the writer of the Big Finish episode, historic interviews with Ian Hendry and Patrick Macnee, surviving scripts from Series 1 and reconstruction slideshows. The DVD will also include an insert 64-page booklet of rare stills from the episode and of the stars of the show, with a forward by Neil Hendry, Ian Hendry's nephew, and an essay from Alan Hayes, the author of Two Against the Underworld – the guide to The Avengers Series 1.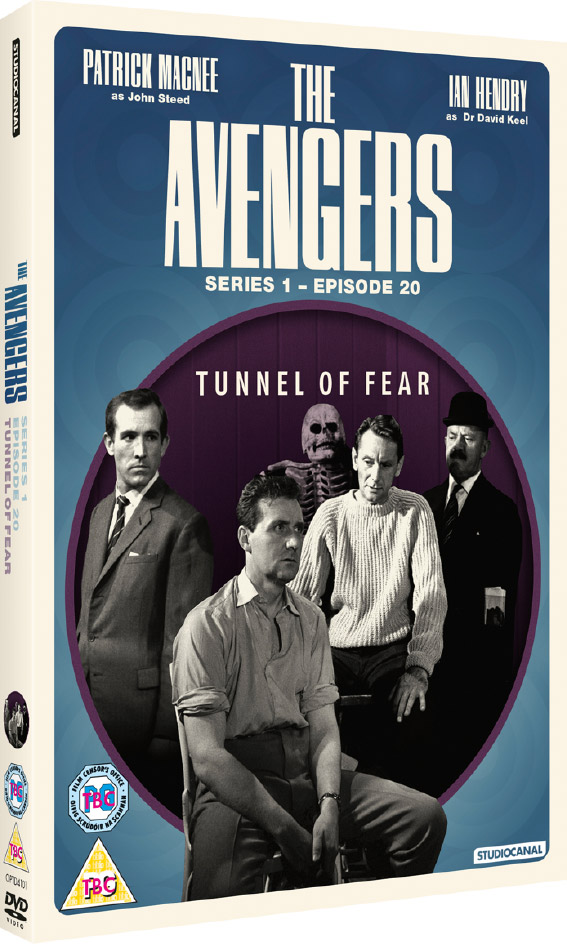 The Avengers – Tunnel of Fear will be released on UK DVD on 9 April 2018 by Studiocanal at a yet-to-be confirmed RRP.
Special features:
Big Finish Audio Play Series 1 reconstruction – Tunnel of Fear
New interview with John Dorney, writer of the Big Finish episode
Ulster TV interview: Ian Hendry (1962)
Ulster TV interview: Patrick Macnee (1964)
Reconstruction – Series 1: slideshow
Series 1 surviving scripts