Regarded as a British classic, The Dam Busters was directed by the late Michael Anderson (Logan's Run, Around the World in 80 Days). Based on the legendary true story of Commander Guy Gibson and his squadron, The Dam Busters (1955) captures all the thrilling action and suspense of the magnificent exploits of a group of young pilots and their crews, charged with taking out the supposedly impenetrable Ruhr river dams of Germany with an ingeniously designed bouncing bomb. Starring Richard Todd as Gibson and Michael Redgrave as scientist and engineer Dr Barnes Wallis, the film also immortalised composer's Eric Coates's masterpiece: The Dam Busters March.
The Dam Busters will be available on Blu-ray, DVD and EST, as well as a Collector's Edition via STUDIOCANAL'S Vintage Classics label from 4 June 2018, with a host of extras including an exclusive Making of The Dam Busters documentary. The Collector's Edition will include the feature in 1.37:1 and 1.75:1 aspect ratios, a 64-page booklet, a rare aerial photographic print of the Möhne Dam following the raid (signed by the surviving members of the original 617 Squadron), an RAF Chastise Lancaster Bombers poster and a set of 5 art cards.
On the 17th May, the actual anniversary of the raid, TV historian Dan Snow will host commemorations at the Royal Albert Hall, including a screening of the film. The event will also be simulcast into over 380 cinemas nationwide. Tickets are available from https://www.thedambusters75.co.uk/
For the 2018 restoration of the film, Studiocanal went back to the original 1954 camera negative and sound negative. The camera negative was scanned at 4K resolution in 16bit and the ACES workflow was applied to the restoration process which resulted in the creation of a 4K DCP, UHD version and a new HD version which were produced with the same high technological standards as today's biggest international film releases.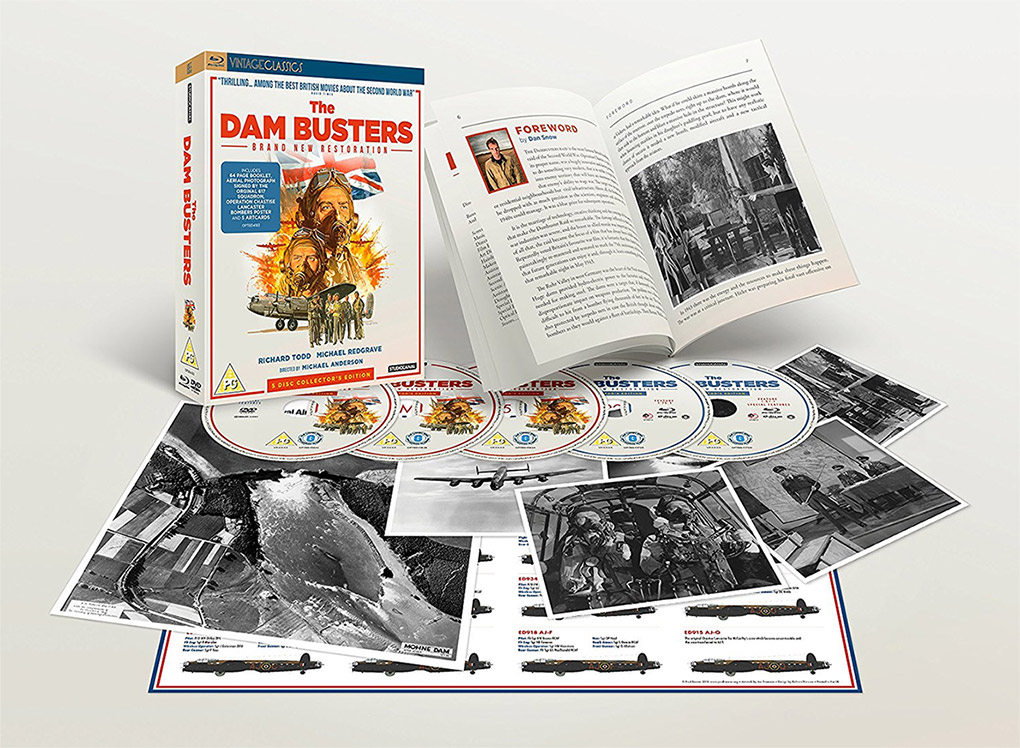 Blu-ray and DVD features:
Main feature in 1.37:1 and 1.75:1 (Blu-ray and Collector's Edition only)
NEW: The Making of The Dam Busters documentary (39 mins)
NEW: Restoration featurette (5 mins 57)
617 Squaron Remembers – 2010 documentary (56 mins)
Sir Barnes Wallis – 1972 documentary (28 mins)
Footage of the bomb tests (6 mins 42)
Dam Busters Royal Premiere (1955) (3 mins 09)
Dam Busters Reunion (1955) 2 mins 55)
Behind-the-scenes stills gallery
Additional features in the Collector's Edition:
64-page booklet with foreword by Dan Snow
5 Art Cards
RAF Chastise Lancaster Bombers poster
Reproduction photograph of the Möhne Dam after the raid signed by the original 617 Squadron