Third Window Films has announced the world's first Blu-ray and DVD remastered release of Osamu Tezuka's Animerama: A Thousand and One Nights / Cleopatra in June. Both films are presented with new 2K restorations handled by Tezuka Productions, together in a Limited Edition slipcase with reversible sleeves for each film.
In the late 60s and early 70s the world's most famous manga artist Osamu Tezuka, nicknamed "The Godfather of Manga" and creator of Astro Boy and Black Jack, made a series of adult-oriented anime called Animerama, pushed the boundaries of anime.
As well as the erotic themes, they are also defined by mixing more typical traditional animation with sequences of UPA and Yōji Kuri–influenced experimental use of modern design, limited animation, and still paintings akin to Tezuka's experimental short films and like those largely were all directed, sometimes sharing the billing with Tezuka, by Eiichi Yamamoto. The first, A Thousand & One Nights, was the first erotic animated feature film and, at 130 minutes, remains one of the longest ever animated films. The second, Cleopatra, was an even more outlandish tale and a commercial flop in Japan which ended up bringing down Tezuka's company. They are also notable for having scores by famed composer and electronic rearranger Isao Tomita.
There was an unofficial third part of the series called Belladonna of Sadness which was also directed by Eiichi Yamamoto but without Tezuka's involvement, and it too was recently remastered and played many large international film festivals.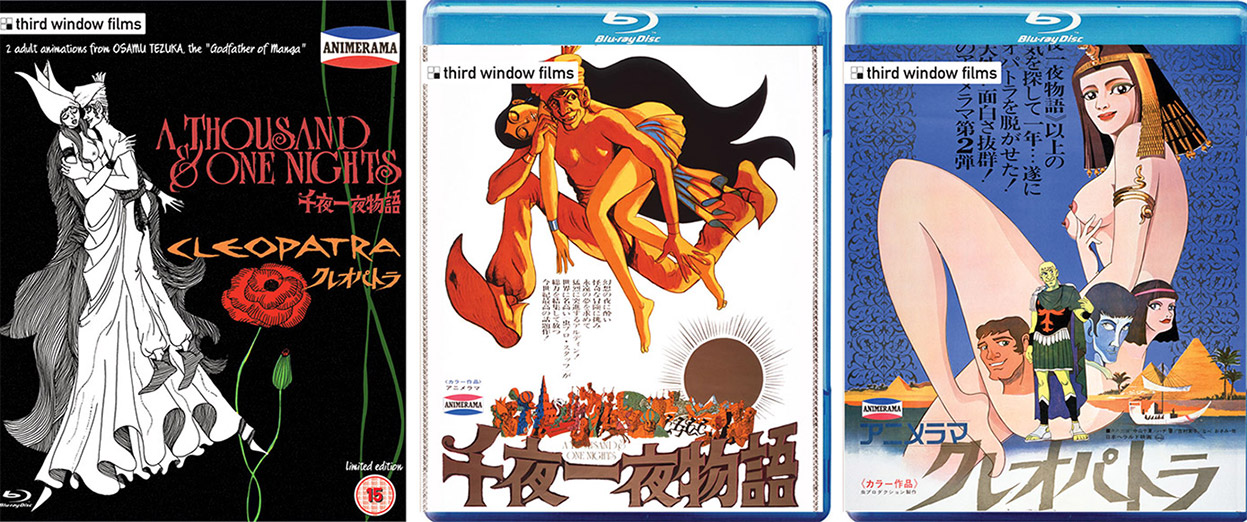 Animerama: A Thousand and One Nights / Cleopatra will be released on UK Blu-ray and DVD on 18 June 2018 from Third Window Films at the RRP of £29.99 for the Blu-ray and £19.99 for the DVD.
These Limited Editions will be restricted to 2000 units for the Blu-ray and 1000 units for the DVD.
Limited Edition special features:
Audio commentaries for both films by Helen Mccarthy, author of The Art of Osamu Tezuka: God of Manga
New hour-long interview with director Eiichi Yamamoto
Liner notes by film critic Simon Abrams
One Thousand and One Nights Trailer:
Cleopatra trailer: