Today Arrow announced the August Blu-ray release of two exquisite world cinema titles on the Arrow Acedemy label.
First up is A Gentle Creature, a nominee for 2017's Palme d'Or at the Cannes Film Festival. This Kafkaesque film sees a woman travel to a remote region in Siberia to discover why a parcel sent to her imprisoned husband has been returned undelivered. Riveting, brutal and darkly humorous - and with a wonderful central performance by Vasilina Makovtseva - the film sees her simple task become increasingly challenging.
The second August title from Arrow Academy is Mohsen Makhmalbaf: The Poetic Trilogy, featuring three of the most lyrical films from the Iranian auteur: Gabbeh, The Silence and The Gardener. This box set includes brand new restorations of Gabbeh and The Silence, bringing the films' opulent colours and imagery to life like never before.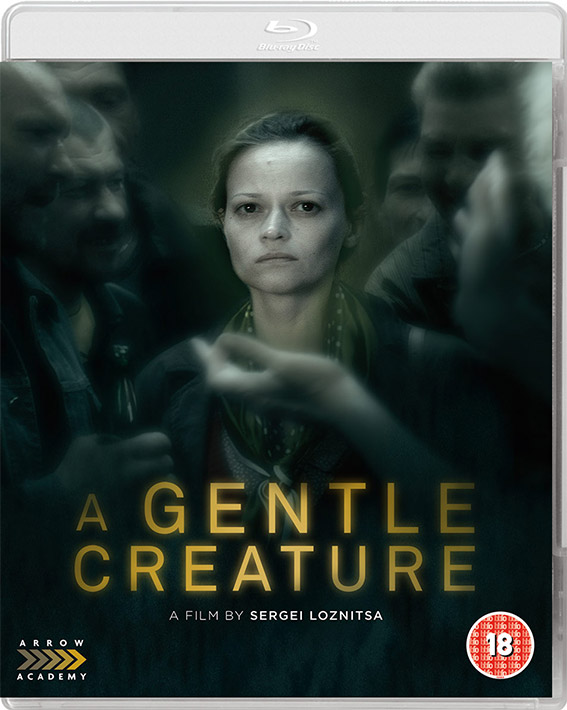 A Gentle Creature | 20 August 2018 | Blu-ray | £19.99
Nominated for the Palme d'Or at the 2017 Cannes Film Festival, A Gentle Creature is the third fiction feature by Ukrainian filmmaker Sergei Loznitsa (In the Fog, Donbass).
Loosely adapted from the short story by Fyodor Dostoevsky, the film concerns the 'gentle creature' of the title, played by Vasilina Makovtseva. A parcel sent to her imprisoned husband is returned undelivered, prompting her to travel from her rural home to the remote region in Siberia where he is being held in the hope of an explanation. But this seemingly simple task becomes an infinitely difficult challenge taking on Kafkaesque proportions.
Beautifully shot by Oleg Mutu, a key figure in the Romanian New Wave whose credits include The Death of Mr. Lazarescu and 4 Months, 3 Weeks and 2 Days, and powered by a stunning performance from Makovtseva, A Gentle Creature is a riveting, brutal, but blackly humorous masterpiece.
Special Edition contents:
High Definition Blu-ray (1080p) presentation
5.1 DTS-HD Master Audio
Optional English subtitles
Interview with writer-director Sergei Loznitsa
Brand-new appreciation by writer and critic Peter Hames
Theatrical trailer
Reversible sleeve featuring two artwork options
First pressing only: Illustrated booklet featuring new writing on the film by critic Jonathan Romney and an interview with Loznitsa.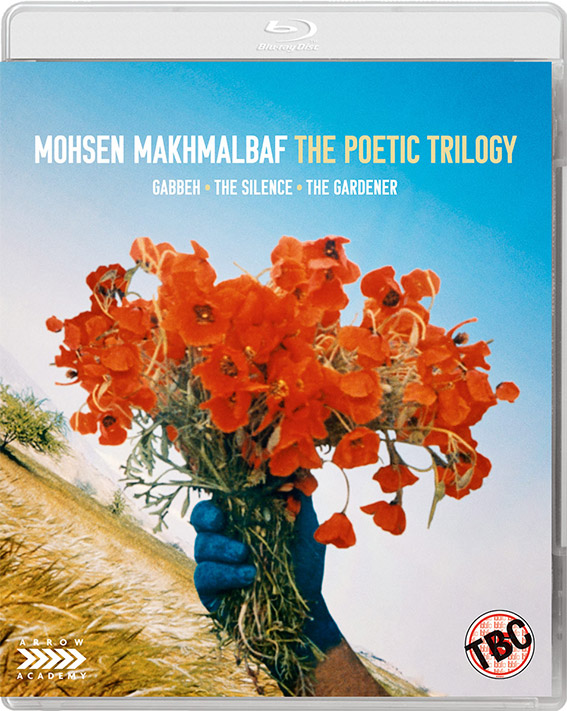 Mohsen Makhmalbaf: The Poetic Trilogy | 27 August 2018 | Blu-ray | £29.99
One of the preeminent figures of Iranian cinema, Mohsen Makhmalbaf has written and directed an impressive array of acclaimed films, winning accolades at international film festivals and the admiration of world cinema audiences. This collection presents three of Makhmalbaf's most lyrical films which the director has termed his Poetic Trilogy. 
Gabbeh tells of an elderly couple who stop by a stream to wash a vividly woven traditional Persian rug ('Gabbeh'). A beautiful woman, depicted in in the rug's elaborate design, suddenly appears and tells a heart-rending story of love and loss. A film imbued with the ideas of Sufism, The Silence tells of Khorshid, a young blind boy from Tajikistan who earns rent money for his family by tuning rare instruments but becomes enraptured by the sonorous music he hears on his way to work each day. The Gardener is an imaginative documentary which follows Makhmalbaf, and his son Maysam, to Israel to investigate the Bahá'í Faith, a religion with 7 million followers, which originated in Iran 170 years ago.
As well as presenting a wealth of extras, this collection boasts stunning new restorations of Gabbeh and The Silence which truly bring the films' rich colours and imagery to life.
Special Edition contents:
Brand new 2K restorations of The Silence and Gabbeh from the original camera negatives
High Definition Blu-ray (1080p) presentations of all three films
Original Persian soundtracks with uncompressed LPCM audio
Newly translated English subtitles
Audio commentary on Gabbeh by critic Godfrey Cheshire
Poetry in Motion: An Interview with Mohsen Makhmalbaf, an in-depth conversation between the Iranian auteur and film critic Jonathan Romney, newly produced for this edition
Mohsen with Closed Eyes, an imaginatively filmed archival interview with Makhmalbaf on The Silence
Original trailers
Stills and collections gallery
Reversible sleeve featuring original and newly commissioned artwork by Scott Saslow
First pressing only: Illustrated booklet featuring new writing by film academic Negar Mottahedeh and Mohsen Makhmalbaf.