To mark the 25th anniversary of its original theatrical release and ground-breaking 1993 Palme D'Or win at Cannes, Studiocanal has announced that Jane Campion's multi Oscar-winning classic, The Piano, will be rereleased on 2 disc DVD and Blu-Ray and via digital download in July. Complete with a brand new and exclusive extra, The Piano at 25, which includes interviews with Jane Campion and the film's producer, Jan Chapman (filmed at Karekare beach in New Zealand: the iconic location made famous by the film). The Blu-Ray release also comes complete with essay booklet, alternative artwork poster as well as a copy of the soundtrack.
Starring Holly Hunter (O Brother, Where Art Thou?, The Big Sick), Harvey Keitel (Mean Streets, Bad Lieutenant), Sam Neill (Dead Calm, Sirens, Hunt for The Wilderpeople) and Anna Paquin (X-Men, The Squid and The Whale), The Piano won widespread critical and audience acclaim on its release. The film's writer, director and producer, Jane Campion was the first female director to win the Cannes Palme d'Or for the triumphant masterpiece that centres on a mute woman's rebellion in a newly colonised, Victorian-era New Zealand. Soundtracked by Michael Nyman's evocative score, the film also won Oscars for both Holly Hunter (Best Actress in a Leading Role) and Anna Paquin (Best Actress in a Supporting Role) in career-defining roles as well as a Best Screenplay statue for Campion's typically individualistic and female-centric script.
Hunter (who has an impressive three screen credits; besides her starring role, she played all of the piano pieces and served as sign language teacher for Paquin) gives a majestic silent performance as Ada McGrath, the mute Scotswoman and talented pianist who arrives with her strong-willed young daughter Flora (Paquin) in the New Zealand wilderness.
She is to marry frontiersman Alistair Stewart (Sam Neill), having been sold him by her father, but takes an immediate dislike to him after he refuses to carry her beloved piano home with them, instead selling it to his overseer George Baines (Harvey Keitel). Attracted to Ada, Baines agrees to return the piano in exchange for lessons that gradually become a series of erotically charged sexual encounters. As the story unfolds like a Greek tragedy, complete with a chorus of Maori tribes, all of the characters' long suppressed emotions come to the fore, as if elicited by the wildness of the natural world around them.
Concerning itself with Campion's prevailing theme – women on the edge of societal norms (arriving after 1989's Sweetie and An Angel at My Table and before Portrait of a Lady, Holy Smoke, In the Cut, Bright Star and her acclaimed HBO/BBC TV series Top of the Lake), The Piano remains perhaps Campion's most definitive work. A tale of immediate urgency and tremendous expressive power by one of the most compelling filmmakers at work today, and long overdue for revisiting in its 25th Anniversary year.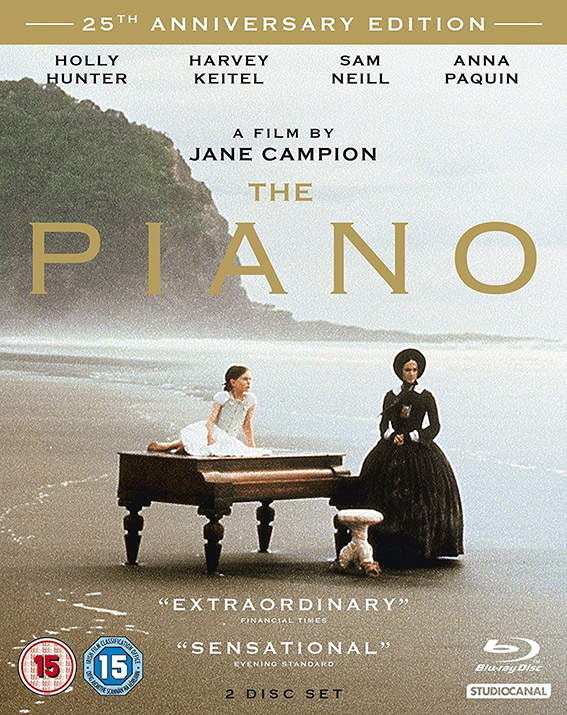 The Piano 25th Anniversary Edition will be released on UK 2-disc Blu-ray, 2-disc DVD and Digital Download on 16 July 2018 by Studiocanal at a yet to be confirmed RRP.
2-disc DVD special features:
Audio commentary with Jane Campion and Jan Chapman
NEW The Piano at 25
NEW Making of The Piano
2-disc Blu-ray special features:
Audio commentary with Jane Campion and Jan Chapman
NEW The Piano at 25
NEW Making of The Piano
Original Soundtrack CD
Alternative artwork poster
Booklet featuring new essays by: Film critic & broadcaster Anna Smith, Screenwriter & critic Kate Muir and Film journalist and Editor-at-large of Empire magazine Helen O'Hara
The Piano will screen on extended run at BFI Southbank from June 15th, while a special event looking at the film's enduring legacy will take place on June 18th. The film is a key release in BFI Southbank's June programme which, to coincide with the 100th anniversary of the Representation of the People Act, is being dedicated to championing work by and about women.