A stunning new restoration of one of the most enigmatic and distinctive films ever made, Last Year in Marienbad, comes to high definition on Blu-ray, DVD and Digital Download in September. The astounding collaboration between acclaimed French director Alain Resnais (Night and Fog, Hiroshima Mon Amour) and leading French novelist Alain Robbe-Grillet is a key moment in the French New Wave.
Widely regarded as Resnais's greatest work, this latest release from Studiocanal's Vintage World Cinema series boasts brand new bonus materials including two short films by Resnais, two featurettes, an interview with Film Historian Ginette Vincendeau, and more.
In a baroque spa hotel, an unnamed sophisticate (Giorgio Albertazzi) attempts to persuade a similarly unnamed married woman (Delphine Seyrig) that they have not only previously met, but that they were also romantically involved and had planned to elope together. The woman recalls no such encounter and so begins a sensual and philosophical examination of the uncertainty of truth.
Delphine Seyrig's costumes were designed by Coco Chanel, who have kindly supported the new restoration and are hosting an event following the Venice Festival screening.
Strikingly composed and beautifully shot in Cinemascope by Sacha Vierny, Last Year in Marienbad hypnotically merges chronology to radically blur the boundaries of reality and fantasy. A seductive and utterly fascinating cinematic puzzle.
Supervised by Studiocanal, the scan and restoration of Last Year in Marienbad were realised in 4K, from the original negative. The 4K resolution allows to reproduce all the information from the 35mm film and to regain the finesse and elegance of the black and white photography on a large screen. The sound has also been restored from an original mix in 35mm. This work has been carried out with Hiventy laboratory with the support of the National Film and Movibng Image Center (CNC) and Chanel.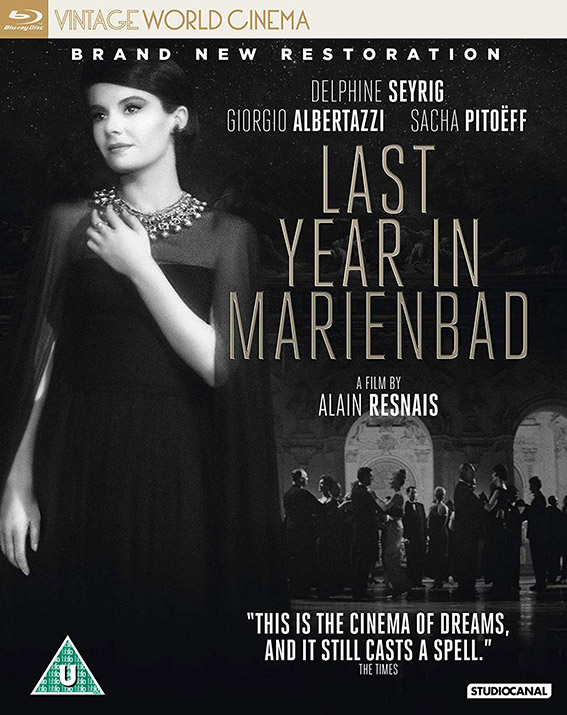 Last Year in Marienbad will be released on UK Blu-ray, DVD and Digital Download on 17 September 2018 by Studiocanal as part of their Vintage Classics Collection.
Special features:
New: Resnais and Robbe-Grillet – The Wanderers of Imagination
Interview with Film Historian Ginette Vincendeau
2 short films by Alain Resnais: The Styrene's Song and All the Memory of the World
In the Labyrinth of Marienbad
Restored trailer
Blu-ray only: Documentary on Alain Robbe-Grillet