Michael Radford's Il Postino (aka The Postman) has been lauded as 'one of the most romantic movies ever made' and garnered critical acclaim and multiple accolades on its release in 1994, delighting audiences with its engaging blend of humour and sunny romance, set against a stunning Italian backdrop.
Now this epoch-making film is set for delivery as a stunningly restored Dual Format Edition, including a Blu-ray and DVD version on 15 October 2018 thanks to CultFilms, who have also announced a one-off screening at the Regent Street Cinema with an exclusive Q & A with Michael Radford on 30 August 2018.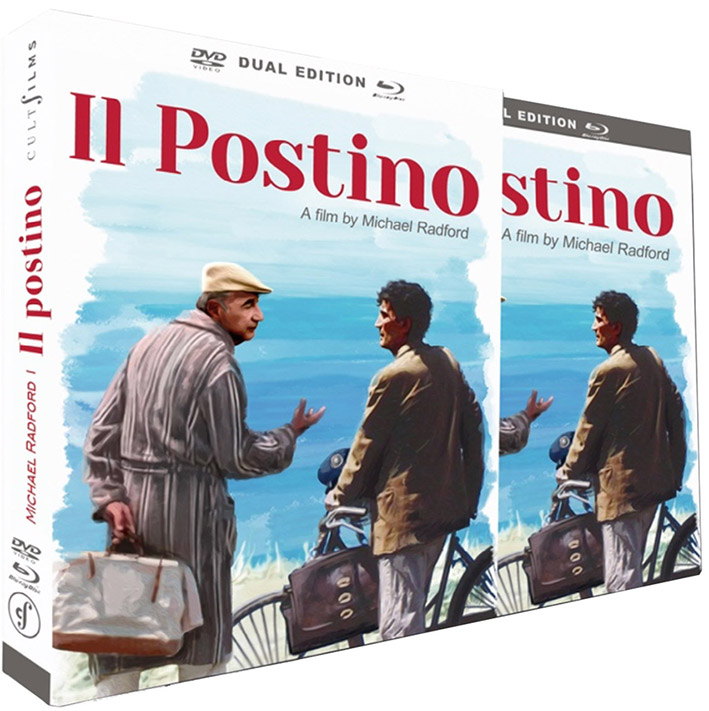 not final artwork

Telling the fictional story of the real-life Nobel laureate poet Pablo Neruda, the film won an Oscar and was nominated in all main categories, as well as several BAFTA wins, and a multitude of international awards. It became one of the highest-earning foreign films, and the second highest grossing foreign film of its decade in the USA, earning $22 million on its US theatrical release alone – more than double that of Cinema Paradiso.
Scripted by Furio Scarpelli together with Anna Pavignano, Massimo Troisi and Michael Radford, the story follows Pablo Neruda's exile to a tiny island off Italy where, being a high profile figure, he receives such huge quantities of mail that the local post office must hire an extra postman: Il Postino.
Though shy and poorly educated, our postman (Troisi – Nothing Left to Do But Cry, I'm Starting From Three), is so intrigued by Neruda (Philippe Noiret – Cinema Paradiso, La Grande Bouffe, Coup de Torchon, Life and Nothing But), he devises ploys to engage the attention of the great man. Neruda is charmed by the fresh simplicity of the postman's enthusiasm and the unlikely duo become friends; to the extent that the Poet of Love – as Neruda was known – ends up helping his young friend to follow his dreams and express his love to win the heart of the island beauty Beatrice (Maria Grazia Cucinotta – The World is Not Enough, The Rite).
Noiret does a grumpy but compassionate Neruda to perfection, while Troisi exudes a child-like simplicity of heart, mind and soul whilst never being over sentimental. The duo's seductive charm coupled with Radford's apparently unobtrusive yet inspired direction permeates this beautiful and thought-provoking story, framed by the unforgettable Luis Enrique Bacalov's (Kill Bill, Django Unchained) Oscar-winning emotional score.
Special features:
A new, exclusive, candid interview with director Michael Radford