Following its theatrical release earlier this year, Xavier Legrand's award-winning critically acclaimed debut feature Custody comes to DVD, Blu-ray and Digital in September. A huge critical success at various international festivals, including Glasgow, Dublin and the BFI London Film Festival 2017, Legrand's intensely gripping film features some stunning performances, making it one of the must see films of 2018.
After a bitter divorce, Miriam (Léa Drucker) and Antoine (Denis Ménochet) battle for sole custody of their son, Julien (Thomas Gioria). Miriam claims the father is violent but lacks proof. Antoine accuses her of manipulating their son for her own ends. Both sides seem to be hiding something with the truth buried beneath layers of deceit and jealousy. When the judge awards joint custody, an already tense situation soon brings the family's fraught past to light. And as the truth slowly begins to emerge, a chain of events is set in motion with Julian an innocent bystander in an increasingly dangerous situation.
Along with the feature itself, the DVD and Blu-ray discs will also include the Oscarp-nominated short Just Before Losing Everything written and directed by Xavier Legrand. Starring both Lea Drucker and Denis Ménochet in the same roles they portray in the film, it provides a link to the feature itself and is the perfect accompaniment to any screening of the film.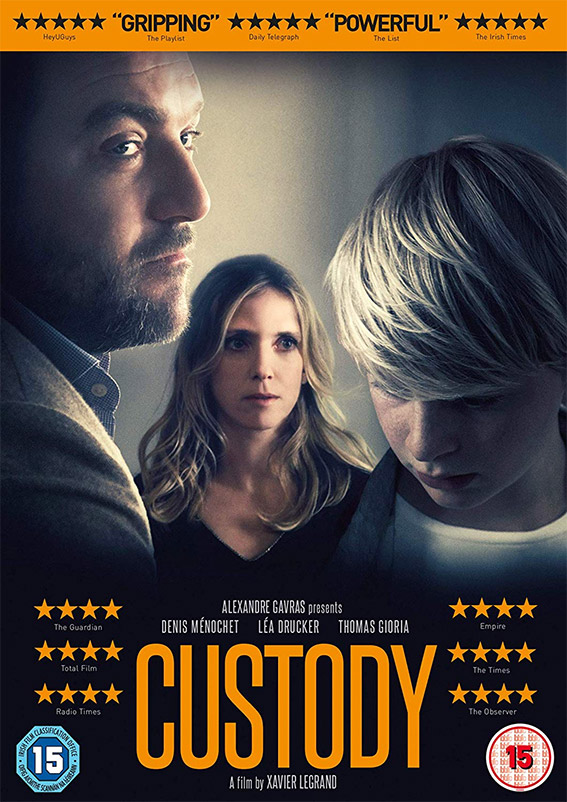 Custody [Jusqu'à la garde] will be released on UK Blu-ray, DVD and Digital formats on 3 September 2018 by Picturehouse Entertainment at the RRP of £15.99 for the DVD and £17.99 for the Blu-ray.
Special features:
Short film – Just Before Losing Everything (dir. Xavier Legrand, 29 mins. Approx.)
Theatrical trailer