From the creators of Spirited Away and Ponyo, the acclaimed Studio Ghibli animated classic My Neighbour Totoro [Tonari no Totoro] will be released as a limited-edition 30th Anniversary Box Set in November from Studiocanal. With only 1,000 units releasing exclusively on Amazon – each one of which numbered – this is looking like a must-own for Ghibli enthusiasts.
While their mother recovers from an illness, Satsuki and her little sister Mei (voiced in in the EWnglish language version English by Dakota Fanning and Elle Fanning) get away from it all in an idyllic rural retreat. Far from the bustle of the city, they discover a mysterious place of spirits and magic, and the friendship of the Totoro woodland creatures.
Conceived as a family film devoid of conflict and suffused with the joy of country living, My Neighbour Totoro is a masterpiece for the whole family. It unites the unique vision of Hayao Miyazaki with a feel-good tale of childlike wonder and true originality. A universal classic for all generations, My Neighbour Totoro shows Japanese animation's famous Studio Ghibli at its very best and is an elegy to two ever-fading miracles: the fairy-tale world of childhood and the disappearing countryside.
My Neighbour Totoro: 30th Anniversary Edition Box Set includes a Doubleplay (DVD and Blu-ray) edition of the film, packed in a deluxe oversized rigid box with brand new exclusive artwork and holographic numbering. Packaged with a 176-page hardback The Art Of My Neighbour Totoro book, the Box Set also includes artcards, a 16' x 24' poster featuring original Japanese theatrical artwork, a premium heavy cotton tote bag, a Magnetic sticker set and a Hardback My Neighbour Totoro Notebook, all exclusive to the 30th Anniversary Edition.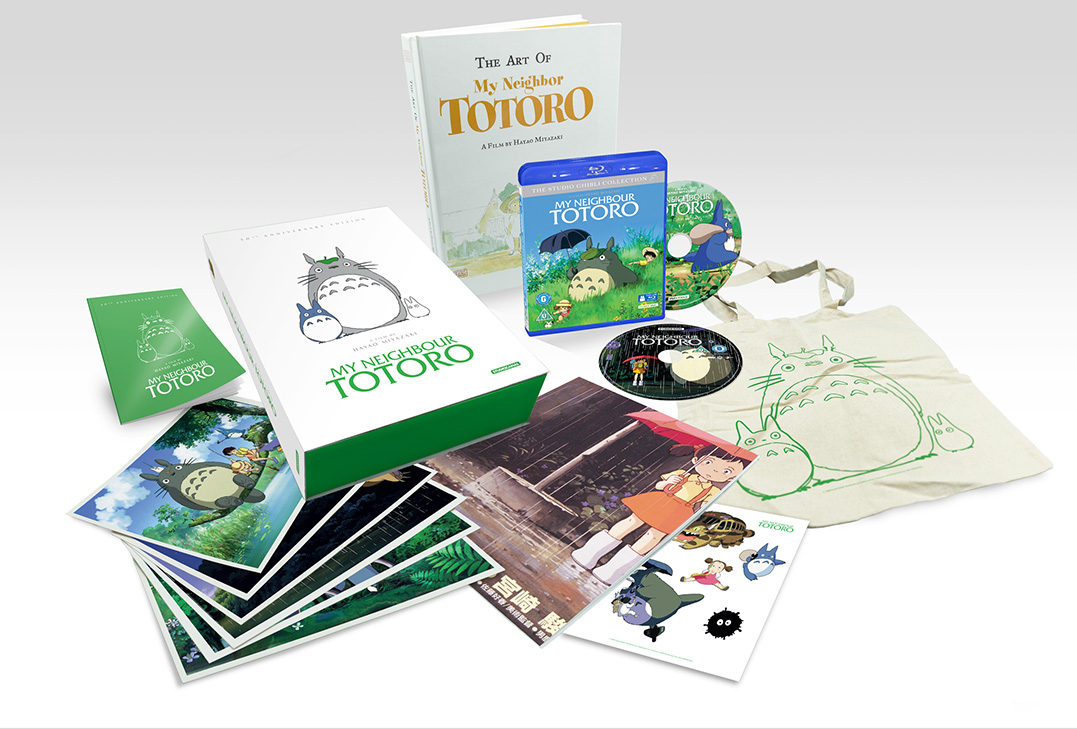 My Neighbour Totoro: 30th Anniversary Edition will be released on UK Blu-ray exclusively through Amazon (it'll be available for pre-order tomorrow) from Studiocanal on 19 November 2018 at a yet-to-be-confirmed RRP.
Special features:
Storyboards
Creating My Neighbour Totoro featurette
Creating the Characters featurette
The Totoro Experience Producer's Perspective: Creating Ghibli
The Locations of Totoro
Scoring Miyazaki
Behind the Microphone featurette
Textless Opening & Closing Credits
Original Japanese Theatrical Trailer
Studio Ghibli Trailers Reel
What has not yet been confirmed is whether this edition will include the original Japanese soundtrack with optional English subtitles as well at the English language redub. It had better...